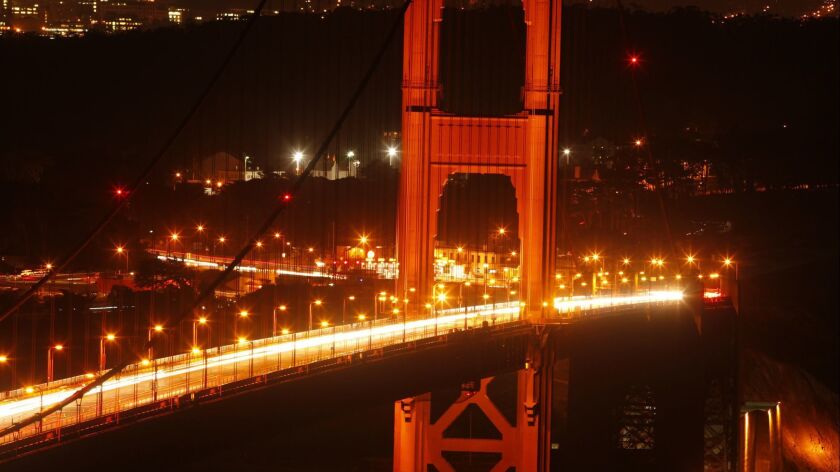 Those who drove a Hertz rental car across the Golden Gate Bridge and then discovered that the company charged them as much as $32 for the pleasure won't face that kind of bill anymore after a $3.65-million settlement with the San Francisco City Attorney's Office, announced Tuesday.
The suit, filed in March 2017, stemmed from the use of PlatePass, a device included in some Hertz rental cars that allows tolls to be assessed electronically. Consumers often had sticker shock when they returned the car because using one toll road triggered a use fee for each day the car was rented, not just the days on which a toll road was driven. Service fees were often added.
San Francisco's crooked Lombard Street might see a new twist: A driver's fee »
Drivers do not have the option of paying cash on a Golden Gate Bridge crossing.
"Many Hertz customers were unwittingly paying more than quadruple the actual toll just to cross the Golden Gate Bridge once," City Atty. Dennis Herrera said in a statement.
"The Golden Gate Bridge is an international icon, but charging someone $32 to cross it is simply wrong. We put a stop to that. And because of this case, Hertz has reduced its toll service fee nationwide."
In an emailed statement, Hertz said, "Our customers told us they value the ease of Hertz PlatePass but want a simpler pricing model that better aligns with their travel needs. We took that to heart in adapting PlatePass. On Feb. 1, 2018, Hertz made various changes to the PlatePass program including moving to usage-day pricing in which renters who use PlatePass are charged only for days on which they incur electronic tolls."
Consumers will not receive refunds for the wrongly assessed and higher fees, said John Cote, communications director for the City Attorney's Office. Instead, the money will go to "future enforcement," Cote said in an email.
"It…would have been difficult to determine which individual consumers were misled by Hertz's practices," Cote said. "Given those uncertainties, we felt that achieving a significant reduction in the price of the PlatePass service nationwide, which has saved consumers millions of dollars already — was the best way to benefit Hertz customers."
Other terms of the settlement mean that Hertz will distribute a brochure called "Crossing the Golden Gate Bridge in a Rented Vehicle."
Renters also can go to Golden Gate's toll payment option page. Those who do not use the bridge frequently can use a one-time payment plan that allows them to use a credit card online or by phone or pay cash in person. To learn more: bit.ly/goldengateonetimepay
---