Saving money on Maui
If you're traveling to Maui, you may worry that your pockets need to be as deep as the water surrounding this popular island. That there's no way to go to Hawaii without breaking the bank.
In my 25 trips to Maui in the last 25 years, I have accumulated some tips that let you achieve "Maui wowee" without your wallet saying "Owie."
Visit the beaches — they're all free
By state law all of Hawaii's beaches are open to the public, even the spectacular sands fronting the best luxury resorts.
Snare the beach fronting the Sheraton Maui Resort & Spa at Black Rock. (Bring your own snorkel or rent one weekly at Snorkel Bob's.)
At sunset, remain at the Sheraton to watch the free nightly torch-lighting ceremony and the remarkable cliff diver performance. From 3 to 5 p.m. at the hotel's Cliff Dive Grill, prices drop: $5 draft beers, $6 wine by the glass, and $8 classic tropical cocktails.
After sunset, stroll the romantic Kaanapali Beach Walk that goes from the Sheraton to the Hyatt Regency. Yes, sometimes the best things in life are free.
Info: Sheraton Maui Resort & Spa, 2605 Kaanapali Parkway, Lahaina; (888) 627-8114
Go natural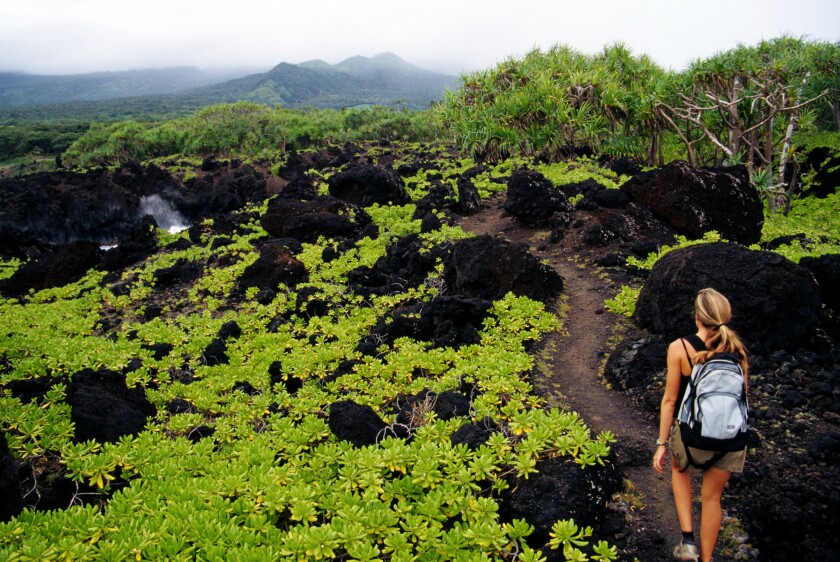 What else is free? Many of Maui's natural beauties, including valleys and waterfalls, are there for the enjoying.
Consider driving halfway to Hana and then heading back. You'll be delighted with jaw-dropping scenery.
Pack a picnic lunch and explore the funky vibe in Paia. If you prefer to go all the way to Hana, you can reserve a $99-per-night cabin in Hana on the black-sand beach at Waianapanapa State Park.
Besides lodging, you can picnic, shore-fish and hike. (And if you're like me, you'll try to figure out where Oprah's house is in Hana.)
Info: Waianapanapa State Park, Hana; (808) 984-8109. Cabin reservations
Snag a local mag
For the most up-to-date deals pick up one of the free tourist guides, which offer plenty of bargains, discounts, coupons and two-for-one deals.
Make a smart check-in choice
Where to stay without breaking the bank? Maui does have Airbnb options, so an expensive oceanfront hotel isn't the only option.
But check out Maui Accommodations, which has a quarterly Maui Deals & Steals newsletter with good bargains. Travelers book directly with the property owners and managers for the best possible price with no service fees.
Info: Maui Accommodations
Have an evening adventure
One of Maui's best values is the dinner and comedy magic show at Warren & Annabelle's in Lahaina.
Talented magician Warren Gibson wows audiences with his sleight-of-hand and hilarious clean comedy. On nights when Gibson is out of town, two magicians perform who also excel at comedy.
Book the Royal Flush package ($113 a person) offering the two-hour magic show plus two cocktails of your choice, a combination platter of four huge gourmet appetizers, an enormous homemade dessert and gratuity. Plus there is a 50% discount for admission on the Royal Flush package for anyone with an active military ID. (Military who have served in Afghanistan since 2003 get a 100% discount.) Book before you leave home because the show sells out.
Another excellent option is Hyatt Regency Maui's rooftop stargazing program Tour of the Stars. You'll learn all about the night's sky above the Pacific Ocean when thousands of stars are visible to the naked eye overhead.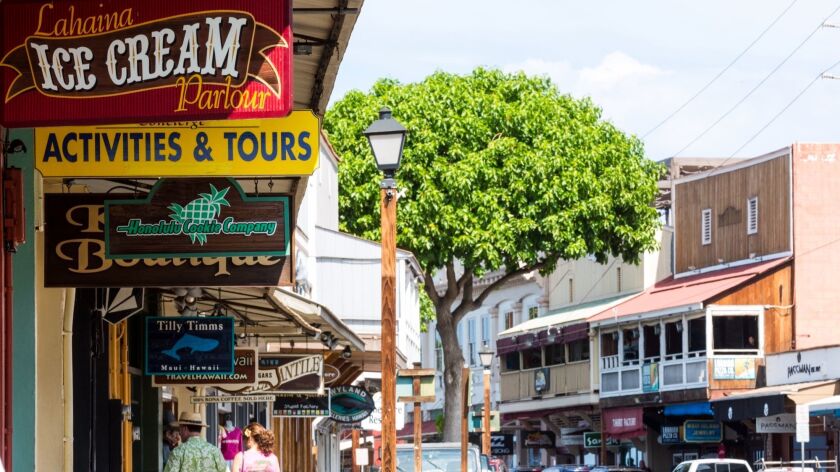 Director of astronomy Eddie Mahoney identifies 1,000 objects in the sky including stars, planets, galaxies and nebulae. Tour of the Stars takes place nightly, depending on the weather. The show costs $30 per adult/non-Hyatt guest, $20 per child/non-Hyatt guest. Reservations are required.
Info: Warren & Annabelle's, 900 Front St. A202, Lahaina; (808) 667-6244; Hyatt Regency Maui, 200 Nohea Kai Drive, Lahaina; (808) 667-4727.
Dine at reasonably priced restaurants
It's a shrimp-alooza at Bubba Gump Shrimp Co. on Lahaina's Front Street, where you can try coconut shrimp ($19.49) or Baja shrimp tacos ($13.99). The spectacular ocean view is free.
Cheeseburger in Paradise and Maui Tacos in Lahaina are other thrifty options.
Info: Bubba Gump Shrimp Co., 889 Front St., Lahaina; (808) 661-3111; Cheeseburger in Paradise, 811 Front St., Lahaina; (808) 661-4855; Maui Tacos, 840 Wainee St., Lahaina; (808) 662-0717.
Eat during aloha hour
(Happy hour) for reduced prices. At Fleetwood's on Front St. between 2 and 5 p.m. for example, all drinks and wine are half-price; oysters on the half-shell are just $1 each.
If you're going to visit only one Maui restaurant, make it Ko at the Fairmont Kea Lani Resort. But go during aloha (happy) hour to save big bucks and treat your taste buds.
Lava Flows and mai-tais are $10, and for the same price you can revel in the Hamakua mushroom pizza, Filipino spring rolls and stir-fried shrimp.
Or sample a local plate lunch. It's a Hawaii tradition: two scoops of rice, macaroni salad and a choice of meat at Aloha Mixed Plate (closed until early November for remodeling). It features chicken, fresh fish and teriyaki beef for $12.95.
Info: Fleetwood's on Front St., 744 Front St., Lahaina; (808) 669-6425; Ko at the Fairmont Kea Lani Resort, 4100 Wailea Alanui, Wailea; (808) 875-2210; Aloha Mixed Plate, 1285 Front St., Lahaina; (808) 661-3322
Go ABC
Some folks say ABC Stores are a tourist trap, but I love 'em for the affordable — and mostly adorable — souvenirs and gifts.
Check out the locally made Maui Babe Browning Lotion, Bubble Shack made-in-Hawaii tropical soaps and lotions, and Mauicello, the island's lemon alternative to Italian limoncello.
Buy an inexpensive inflatable ring so you can make a splash anywhere. (ABC stores will blow it up for you.)
Info: ABC Stores. Locations throughout Hawaii.
Make Friday nighttime the right time
Maui County holds free rotating Friday town parties from 6-9 p.m. in Wailuku, Lahaina, Makawao and Kihei. Insider tip: Many of Maui's hotel workers live in Kihei, and the area is a great place to find budget-friendly restaurants and supermarkets.
The Friday-night festivities are filled with live music, food trucks, crafts and local artisans.
Info: Maui Friday Town Parties
Consider cultural attractions
The Shops at Wailea offer a wealth of fun free activities, from lei-making to ukulele lesson to a Polynesian show. Check the website for details, along with info on concerts and farm-fresh shopping.
Info: Shops at Wailea
ALSO
How to save big on Hawaii Island
Hawaii's snack li hing is everywhere: margaritas, malasadas and more
---
Get inspired to get away.
Explore California, the West and beyond with the weekly Escapes newsletter.
You may occasionally receive promotional content from the Los Angeles Times.