San Francisco's Hayes Valley is a place of nowhere-else finds, exquisite cuisine, thanks to accident and activism
Colorful residences in the Hayes Valley area of San Francisco.
(Wally Skalij / Los Angeles Times)
A couple drives their car through the Hayes Valley area of San Francisco.
(Wally Skalij / Los Angeles Times )
A diner sits outside the Boulangerie restaurant in the Hayes Valley area of San Francisco.
(Wally Skalij / Los Angeles Times)
A man climbs monkey bars in the Hayes Valley area of San Francisco.
(Wally Skalij / Los Angeles Times)
People relax outside during a spring day in the Hayes Valley area of San Francisco.
(Wally Skalij / Los Angeles Times )
A man sits on a bench in the Hayes Valley area of San Francisco.
(Wally Skalij / Los Angeles Times)
A mural in the Hayes Valley area of San Francisco.
(Wally Skalij / Los Angeles Times )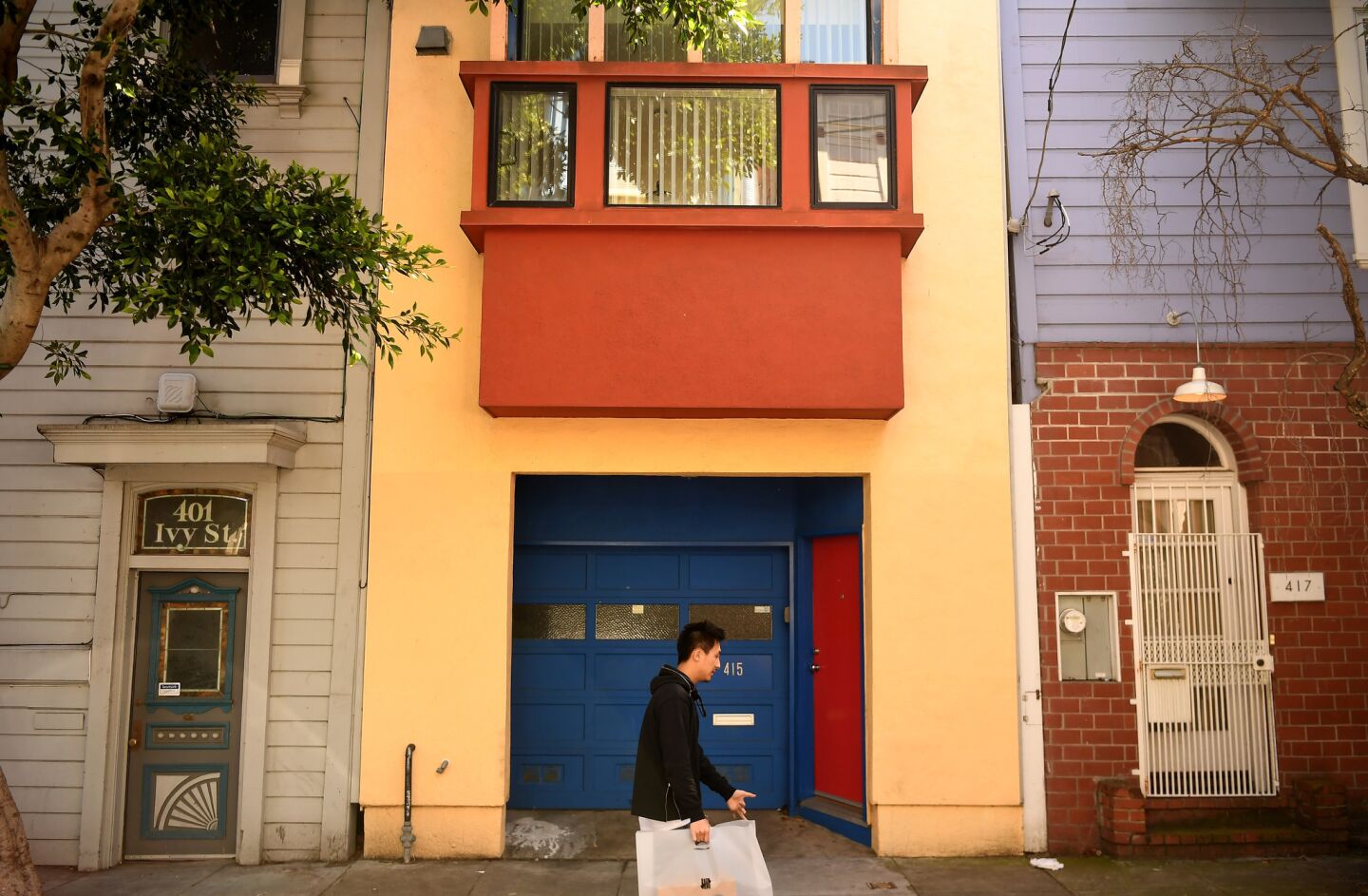 A street scene in the Hayes Valley area of San Francisco.
(Wally Skalij / Los Angeles Times)
A mural in the Hayes Valley area of San Francisco.
(Wally Skalij / Los Angeles Times)
Reporting from San Francisco —
We got married on a Tuesday morning last spring at San Francisco City Hall, and, after saying our "I dos" and touching Harvey Milk's bronze bust for luck, we emerged into a drizzly day. Rain is also good luck, right?
The 10 guests at what I called our Small, Slender Gay Wedding gamely insisted it wasn't too wet to walk to the restaurant we had chosen for a celebratory lunch.
This damp but cheery post-wedding march took us through Hayes Valley, an easygoing part of the city that features restaurants and boutiques galore and a building stock that mixes the city's trademark old Victorians with the new, gleaming condo mid-rises favored by the latest of those rushing here for gold, the techies.
We rounded onto Hayes, a street named for a Gold Rush-era county clerk, one Col. Thomas Hayes, not, as I once suspected, President Rutherford B.
The annual Mardi Gras in sneakers, the Bay to Breakers race, sends the runners, clad in all manner of costumes, up Hayes, up, up, up a treacherous hill.
One year, I was running along Hayes, readying myself for the climb, and almost smacked into a group of runners dressed as salmon.
They were, appropriately enough, jogging against the race's flow, which seemed a particularly San Francisco thing to do.
An unscripted feel
As we passed a paved plaza on the left, I remembered one visitor we had, sampling, with almost unseemly enjoyment, an ice cream cone from Smitten, the locally beloved maker that uses liquid nitrogen to freeze each scoop to order. Smitten had set up its first shop in one of several converted shipping containers selling food and drink.
On our right, as we walked through a retail-heavy block, is Timbuk2, a San Francisco success story. Not one but two visiting friends bought handsome messenger bags here that they couldn't get online or at home.
We take visitors to Hayes Valley often, mainly after they've exhausted their must-see lists. The neighborhood has this unscripted feel, with something for most, if not quite all.
I tell them, if they seem interested, about how the neighborhood's current congenial state resulted from a happy mix of accident and activism.
A stretch of the Central Highway that bisected — and blighted — Hayes Valley came down in the 1989 Loma Prieta earthquake, and a local group fought hard and, ultimately, successfully, to prevent the elevated freeway's reconstruction.
Into that rare urban vacuum rushed many good things, the best of which is a bench- and art-filled park, Patricia's Green, named after one of those activists, the late Patricia Walkup.
As a result of a bylaw banning so-called formula retail, the shopping in Hayes Valley is full of nowhere-else finds.
Partly because of nearby public housing complexes and a requirement that at least some below-market-rate housing gets built, Hayes Valley is not just the province of the young and well-heeled — it mainly is, of course, but it's not theirs exclusively.
For the visitor, its current diversity of folk means good people-watching and decent eavesdropping.
The food scene has taken off. We had our festive lunch at local chef Dominique Crenn's least fancy of her three local restaurants.
In the all-white interior of Petit Crenn, she serves elegant versions of comfort food from her native Brittany by day, a multi-course tasting menu by night.
Two years ago, the judges of the San Pellegrino list of the top 50 restaurants internationally called her the best female chef in the world — based, of course, primarily on the food she serves at the two-Michelin-star Atelier Crenn, elsewhere in the city.
Valley of the Dolls
Crenn is an example of this curious phenomenon playing out in Hayes Valley in the #MeToo era. A culinary insider jokingly calls it the Valley of the Dolls, because most of the top restaurants are run by women.
Just behind the opera house, Traci des Jardins set up Jardinière in 1997. It is the first of her now several local restaurants, and it was a game-changer for this neighborhood.
"There weren't so many places to eat then if you were going to the symphony or opera," des Jardins said. "The space we took over meant something to me. It was where I had my 16th birthday, where we went when we saw the ballet.
"And, yes, San Francisco's long had this tradition of women chefs — Alice [Waters] in Berkeley, Judy [Rodgers] at Zuni not far away. For me, the more, the better.
"If I need something, or someone else does, we call each other to get it."
Two of this year's James Beard Award nominees work nearby, Kim Alter at Nightbird, and Sarah Rich, who, with her co-nominee (and husband), Evan Rich, runs the Michelin-starred Rich Table.
Right across from Rich Table is the 20th Century Cafe, the Austro-Hungarian cake shop founded by Michelle Polzine, after visiting Vienna and Prague, Czech Republic, on a tasting trip with her brother.
Polzine cuts a vivid figure, with horn-rimmed glasses, a penchant for bright vintage dresses and her red hair often tied into two buns.
"I've learned how to bake these classic cakes, but I also improvise some, and then people say, 'It's exactly like my grandmother's!'" Polzine said.
Steps from the new SFJAZZ Center, Mexico City chef Gabriela Cámara last year set up Cala, her first American restaurant. (To try: her Rockfish a la Talla, a subtly spiced dish for two.)
Kid-friendly area
When I first visited San Francisco, Hayes Valley was a rough neighborhood, one socioeconomic rung above the Tenderloin, with drug and prostitution dens.
After the highway battle was won, the strong neighborhood association proposed building a playground in the space at Octavia Boulevard and Fell Street that has become Patricia's Green. Many questioned why, because there seemed to be few children locally.
But they did build it, and the children came. Now, in this city where, famously, dogs outnumber kids, Hayes Valley has become something of a destination for small folks. You see them getting treats in Miette, a local candy and patisserie shop of dreams, or getting kitted out in new clothes in one of three shops that cater to them.
The neighborhood has also, like everywhere else in the city, been affected by the seemingly never-ending tech boom.
At B8ta, a store introducing tech gadgets in the early phases of rollout, I watched a staffer demo a cradle that helps screaming babies get back to sleep. (Their cries trigger rocking and white noise.) Then, an apparently homeless man was escorted out. (His exit line: "I'll be back to buy something; you see if I won't.")
Although Twitter's tax-break-abetted arrival not far from Hayes Valley was — and remains — controversial, chef Alter acknowledged that she would probably not be able to practice her craft, at least not at the level she does, without regular visits from its employees and others working in the tech sector.
High-Victorian style
After our wedding lunch, we walked alone up the hill I've puffed up in Bay to Breakers, to Alamo Square, with its much-photographed postcard row of colorful Victorians.
At the conclusion of one of the walking tours we took early on in this neighborhood, the docent took us inside a local house, done up in high-Victorian, saloon style, complete with gold sphinxes and scarlet damask settees.
Its owner had several player pianos in the basement, and he set them all to bang out the old movie theme, "San Francisco," delighting all of us.
Old-time star Jeanette MacDonald had a hit with it, its lyrics beginning: "It only takes a tiny corner of this great big world to make the place we love."
This city has been good to us. If we have to leave it, we're resolved to walk that walk, from City Hall, our City Hall, Harvey Milk's City Hall, through Hayes Valley and up this big hill one last time.
If you go
THE BEST WAY TO SAN FRANCISCO
From LAX, American, Alaska, Delta, Southwest and United offer both non-stop and connecting (change of planes) service to San Francisco. Restricted round-trip fares from $88, including taxes and fees.
WHERE TO STAY
Chateau Tivoli Bed & Breakfast, 1057 Steiner St.; (415) 776-5462. On the hill above Hayes Valley, this 1892 Queen Anne-style mansion, decorated in period finery, was once the home of an opera impresario, and the suites are, accordingly, named for the singers and artists who might have frequented the house. Doubles from $205.
Proper Hotel, 45 McAllister St.; (415) 735-7777. This 131-room luxury hotel occupies an old flat-iron building and is a short, keep-your-wits-about-you walk to Hayes Valley. The rooftop bar, Charmaine's, is a go-to for fashionable San Franciscans. Doubles from $315.
WHERE TO EAT
Cala, 149 Fell St.; (415) 660-7701. Celebrated Mexico City chef Gabriela Cámara opened this airy space, her first American restaurant, last spring.
Jardiniere, 300 Grove St.; (415) 861-5555. The opening of this white-tablecloth, French-Cali place in 1997 started chef Traci des Jardins on her path to local domination and jolted awake Hayes Valley's then-sleepy dining scene.
Nightbird, 330 Gough St.; (415) 829-7565. Kim Alter opened her tiny, tasting-menu-only spot last year and, this year, earned a James Beard nomination to call her own. With a sweet little cocktail bar, the Linden Room, attached.
Petit Crenn, 609 Hayes St.; (415) 864-1744. Dominique Crenn serves elegant, French-accented fare in this white room, the most casual of her three local outlets.
Rich Table, 199 Gough St.; (415) 355-9085. There's good-time music playing at Evan and Sarah Rich's newish restaurant, the only one in Hayes Valley yet to land a Michelin star.
20th Century Cafe, 198 Gough St.; (415) 621-2380. Self-taught baker Michelle Polzine's tribute to the classic Austro-Hungarian konditorei, features praiseworthy sweets and decent savories too.
WHERE TO SHOP
Miette, 449 Octavia St.; (415) 626-6221. A patisserie and candy shop out of a sweet-toothed child's fantasies, a pastel-colored space where the focal point is a case of multihued macarons.
Timbuk2, 506 Hayes St.; (415) 252-9860. This messenger bag and knapsack purveyor, founded in 1989, set up its first shop in Hayes Valley, before it got trendy, and then wisely stayed put.
---
Get our L.A. Goes Out newsletter, with the week's best events, to help you explore and experience our city.
You may occasionally receive promotional content from the Los Angeles Times.