New York City, with a toddler in tow. Yes, it's doable.
New York City wasn't what I envisioned as a fun vacation destination with a toddler in tow. Just the thought of lugging my wiggly half-pint to a city filled with persnickety urbanites sparked anxiety dreams before our departure.
I happily discovered I'd worried needlessly.
With a little bit of planning, our 17-month-old daughter and her parents found the Big Apple to be a big, fun playground with accommodating natives.
Simply strolling down the streets during rush hour and watching New Yorkers hustle home is amusing enough for a babe. But here are some suggestions to keep the little ones further entertained.
Manhattan's iconic green oasis is a definite kid-pleaser. Initially, we aimed for Billy Johnson Playground at the southern end of the park to check out its popular granite slide set into a hill. It's touted as one of Central Park's best play areas, with its stone bridge, generous shade, swings and a small amphitheater.
We also hoped to picnic with the baby, but she had other ideas: She was so fascinated by the blinding green landscape on our way to the playground that she insisted on getting out of her stroller.
She spent a good hour running around a meadow-like expanse of lawn, exploring the trees and rocks while tourists and New Yorkers sunbathed on the grass.
The activity tuckered her out, and she fell asleep before we could get to the playground. But it's a good lesson to remember: Sometimes you need to let your child set the schedule.
The park is so ginormous — 840 acres, about 10 time the size of Disneyland — and child-centric that families could take several trips during a stay and still not see it all.
Some fun offerings include the Central Park Zoo, where kids can spend time with an estimated 130 species that call the 6½- acre corner of the park home.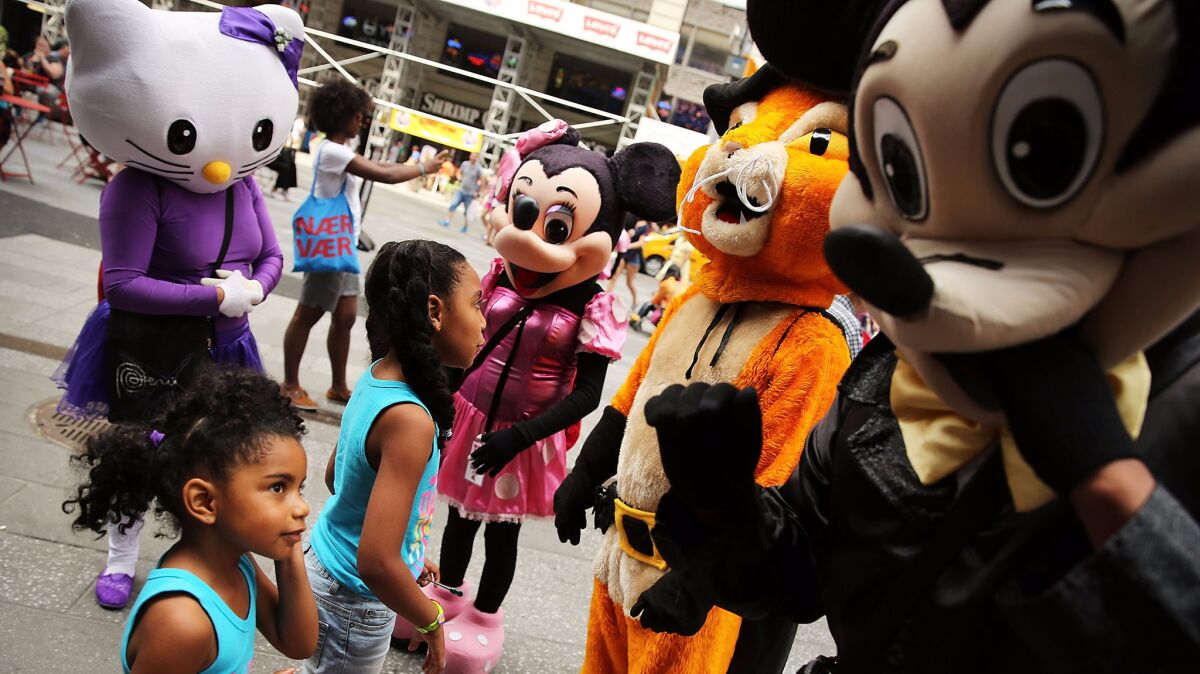 About a 10-minute walk northwest, kids can choose from 57 vintage horses on the popular Friedsam Memorial Carousel. The carousel dates to 1908, when it was crafted by Brooklyn firm Stein & Goldstein. The current carousel, found at an old trolley terminal on Coney Island, was installed some time after 1950 when the previous carousel burned down in Central Park. It remains one of the largest carousels in the nation.
Farther north, children can peer into microscopes and telescopes and take in the panoramic views of Turtle Pond at Belvedere Castle, which is set on one of the highest points in the park.
The park is open daily from 6 a.m. to 1 a.m., with free entry. Ticket prices vary for the carousel and zoo.
Info: Central Park
This longtime Polish enclave with homey restaurants and green spaces to spare is incredibly kid-friendly and sometimes downright kid-focused. My family stayed in the neighborhood a few nights and found that children were the norm at sidewalk eateries.
My daughter and I developed something of a routine during our stay. We started our day at the Brooklyn Label café, where we gorged on a fluffy, cheesy omelet, country-style potatoes and kale salad.
The waitress was so accommodating that she brought over a high chair immediately and didn't seem annoyed when my toddler — at the stage of saying "hi" to everyone, repeatedly — smiled and waved at her.
Next, we strolled to McCarren Park, a 35-acre stretch of greenery that bleeds into Williamsburg, a Brooklyn neighborhood of hip restaurants and high rents.
On a weekday morning, the park's Vincent V. Abate Playground buzzed with children climbing up and down slides, zipping through the air on swings and chasing one another in circles.
The equipment is a bit worn but functional. We soon ventured across the street, where my daughter could run around in grassy fields.
For dinner, we chose a slice of pie at Franklin Pizza. The manager waved at my babe and invited us in, making sure I had enough napkins for the messy pizza, which even still resulted in a messy baby. My babe yelled "Ummy" immediately after she bit into her cheesy slice.
Info: The Brooklyn Label, 180 Franklin St., Brooklyn; (718) 609-1901, brooklynlabelnyc.com/
Vincent V. Abate Playground at McCarren Park, corner of Lorimer Street and Driggs Avenue, Brooklyn; www.nycgovparks.org/parks/mccarren-park/facilities/playgrounds
Franklin Pizza, 109 Franklin St., Brooklyn; (718) 349-2472; www.franklinpizzamenu.com
There was a time when setting foot in Times Square with a child was scary, but not anymore. The area has undergone major changes, and it's now pretty safe and family-friendly, compared with a couple decades ago.
For instance, parts of the streets are closed to traffic, so you don't have to worry about getting run over.
But make sure your child is ready for a high-sensory experience. The giant screens, neon lights and throngs of humanity can quickly become overwhelming.
Still, for those with tykes who thrive on intense visual stimulation, this is the place to be. M&M's World, where you can find every kind and color of the candy, and the Disney Store with its magical mirrors and vast selection of products are fun, particularly for the older set.
Younger kids may be pleased with all the high-wattage marquees and knock-off Elmos, Elsas and superhero characters. Look for them in designated activity zones. (The recent move is intended to curb aggressive tip solicitation.) Still, if the kiddo insists on taking a photo with a character, a tip is expected.
The lights and crowds enthralled my toddler for about an hour. She waved and yelled "Hi" at everyone. We knew it was time to go when she put her hands over her ears. That's when we headed to Central Park.
You can also skip the chaos on the streets and duck into a show. The New Victory Theater on 42nd Street connects children with New York theater by using dance, music and even puppetry. Some shows cater to children as young as 2.
Info: Times Square, and New Victory Theater
Tip for visiting New York with a child:
Lodging: Stay in an Airbnb in Brooklyn. If not, try a family-friendly hotel, such as the Franklin Guesthouse in Greenpoint. We did both. It's cheaper than Manhattan and you get more space for your greenback. It's also an easy subway ride to Manhattan, in most places.
Transportation: If the subway will be your main mode of getting around, take a lightweight stroller that you can fold easily. Bring the baby carrier too. Many subway stops don't have elevators. That's when it's time to fold the stroller and strap on the baby carrier.
Thankfully, we had a tiny stroller, which my husband carried over his shoulder while I wore the kiddo. My daughter squealed with excitement as I braced myself to board the packed car. Of course, she proceeded to say "hi" to everyone, drawing smiles from many of the otherwise stoic passengers. A man urged me to take his seat. I thanked him and sat down. The grandpa to my right played peek-a-boo with with my babe, entertaining her most of the way.
Lighten your load: Consider renting a stroller, Pack 'N Play, baby swing and other baby gear. There are rental places that will deliver to your hotel. I looked into Baby Chic NY, but I ended up not using the service when I found out the Franklin Guesthouse offered free use of Pack 'N Plays.
Ship it: Consider shipping bulky items ahead of time, such as diapers and baby formula. I used Amazon for my diaper deliveries.
---
Get our L.A. Goes Out newsletter, with the week's best events, to help you explore and experience our city.
You may occasionally receive promotional content from the Los Angeles Times.