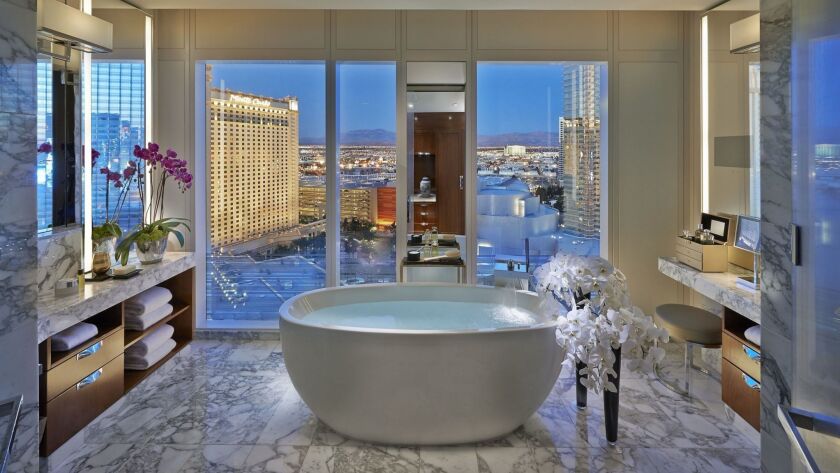 The 392-room Mandarin Oriental on the Las Vegas Strip will become a Waldorf Astoria in August, according to a news release from Hilton, which includes the Waldorf under its brands.
Hilton's release said it planned to "reimagine and renovate the hotel with brand touches and improvements." Hotel Management reported that "a $50-million renovation will accompany the change."
This will be the Waldorf's first property in Las Vegas. The Waldorf Astoria Beverly Hills opened in summer 2017.
The Mandarin, which opened toward the end of 2009, is part of CityCenter, a lodging and retail complex that includes the Aria Resort & Casino and Vdara Hotel & Spa.
Early in 2010, The Times wrote, "As the most luxurious, nongaming hotel in CityCenter, the 47-story Mandarin Oriental brings new aesthetics and expectations to hospitality. Guests get stunning views from the 23rd floor check-in desk, which is flanked by a tea lounge….
"Interior designer Adam D. Tihany created an elegant, intimate and, ultimately, escapist environment where guests can, he said, 'have moments where you don't have to think about anything but enjoying yourself.'"
The hotel, at 3752 S Las Vegas Blvd., does not have a casino. The hotel website listed a cityscape room for two for May 25-28, Memorial Day weekend, at $384 a night. That does not include a $45 a night resort fee or a 13.38% room tax, which adds nearly $100 to the cost.
---