Eataly opens first 24-hour site in Las Vegas, with 7 specialty food counters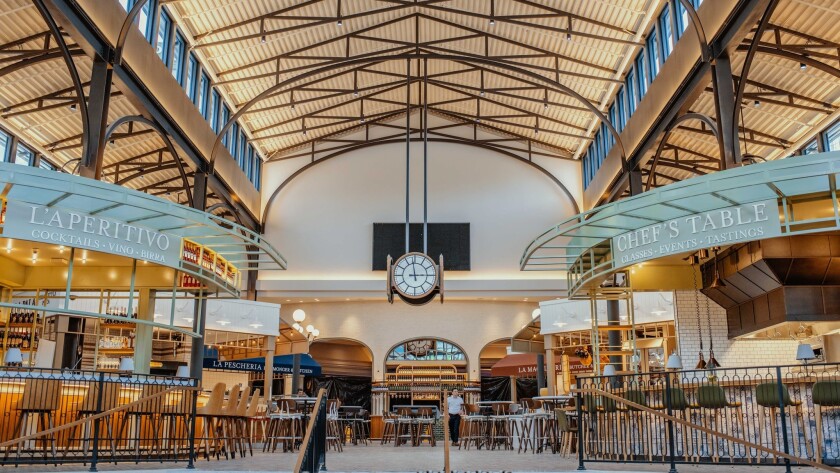 Eataly Las Vegas opened Thursday in the Park MGM with seven specialty food counters, two restaurants, three bars, a chef's demonstration table and a "kitchen of the market" concept that lets customers eat in or take home.
It's the first Eataly to offer 24-hour service too. So far, only the site's Gran Caffé Milano, which serves coffees and cocktails alongside breakfast, lunch and dinner bites, will stay open 24/7. The rest of Eataly is open from 11 a.m. to 11 p.m.
The 40,000-square-foot food hall sells 5,000 products, such as wine, olive oil, pasta, chocolates and other imported items.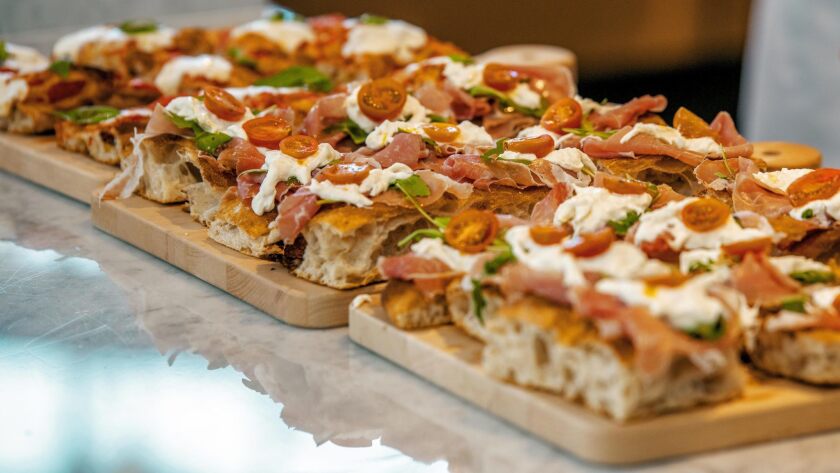 After a pasta ribbon-cutting ceremony, the doors opened at 5 p.m. Thursday, and the wait to get inside was 45 minutes.
Once inside, Irvine residents Brian Luong and Angekica Nguyen weren't disappointed.
"[Eataly L.A.] always has good wine, good food and is a great place to hang out," Luong said. "Compared to L.A., this is smaller but feels more open and easier to get around."
"And parking isn't a hassle like it is in L.A.," Nguyen said.
"There are more little places to eat inside the Vegas Eataly than in L.A.'s, and the food is less expensive," said Alicia Kwong, a Los Angeles resident and frequent Las Vegas visitor. "It's also a lot less crowded."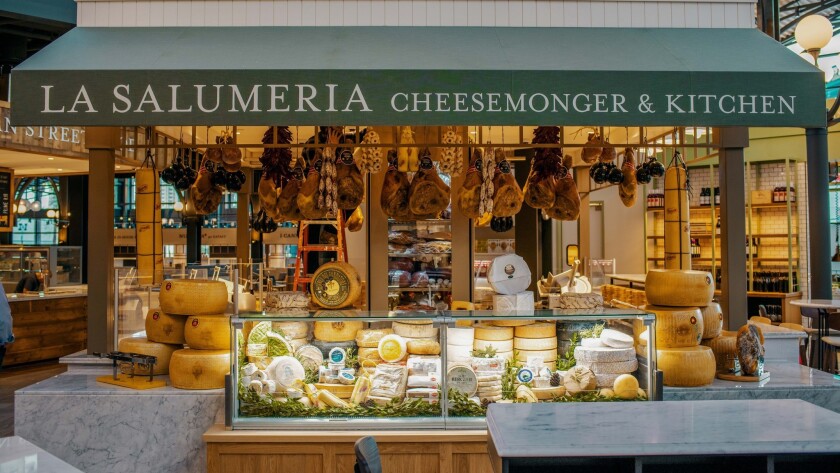 The cucina del mercato, or kitchen of the market, allows customers to sample items at counters such as La Macelleria (the butcher) and La Pescheria (the fishmonger). Each features a specialty food, such as bread, cheese, pasta, pastries, pizza and others.
Customers can purchase food prepared by chefs to be taken home or eaten at tables in the market's central court.
"We're taking out the barrier between restaurant and retail," said Nicola Farinetti, chief executive of Eataly USA. "In Los Angeles, you don't have this possibility of going to the counter, choosing a piece of steak and asking the guy to cook it for you. This is all new."
Eataly stands just inside the hotel's front doors along Las Vegas Boulevard. Guests must pass through Eataly to reach the casino and the reception desk. Suitcase-toting tourists give the massive place the feel of a European railway station.
For the uninitiated, Eataly is an Italian-based hospitality company with the mantra: "Eat. Shop. Learn." It aims to teach customers how to use the freshest ingredients to create flavorful and healthful dishes.
Farinetti is hopeful the food-to-market service will appeal to the millions of people who walk past the company's newest location each year.
"The vast majority of our customers will be tourists," he said Wednesday, back in Las Vegas after spending Christmas with family in Alba, Italy.
The Strip is already chock full of eateries — from fast-food to the restaurants of Michelin-starred chefs — but Farinetti said he thinks Eataly Las Vegas will fill a void.
"Vegas doesn't have a food park where you can spend three or four hours and randomly taste things that you might like, and hopefully learn a little something about food as well."
Although much of the space is devoted to counters where guests can order and eat quickly, Eataly Las Vegas also plans to open sit-down restaurants with table service.
Manzo, an upscale restaurant familiar to diners at other Eataly locations, is set to open Jan. 23.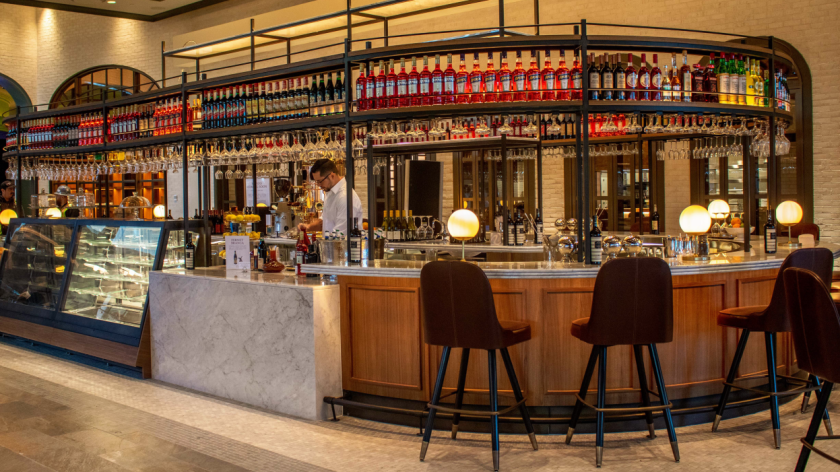 Each Eataly has a unique theme. For example, Eataly Roma pays homage to beauty, while Eataly Istanbul is a tribute to history. In Las Vegas, the theme is "anything is possible."
"It's like a family with siblings," Farinetti said of the Eataly empire. "We try to have the same values, but [locations] have their own personalities and they become their own people."
The Las Vegas site is the sixth in the U.S. for the Italian-based chain, with two in New York City and one each in Chicago, Boston and Los Angeles. There are 37 Eatalys worldwide.
Michael Hiller contributed to this story. Follow him on Instagram at @Checkingincheckingout.
Twitter: @latimestravel
---
Get inspired to get away.
Explore California, the West and beyond with the weekly Escapes newsletter.
You may occasionally receive promotional content from the Los Angeles Times.