Lost your cellphone on the road? Here's how to get it back — if you take steps now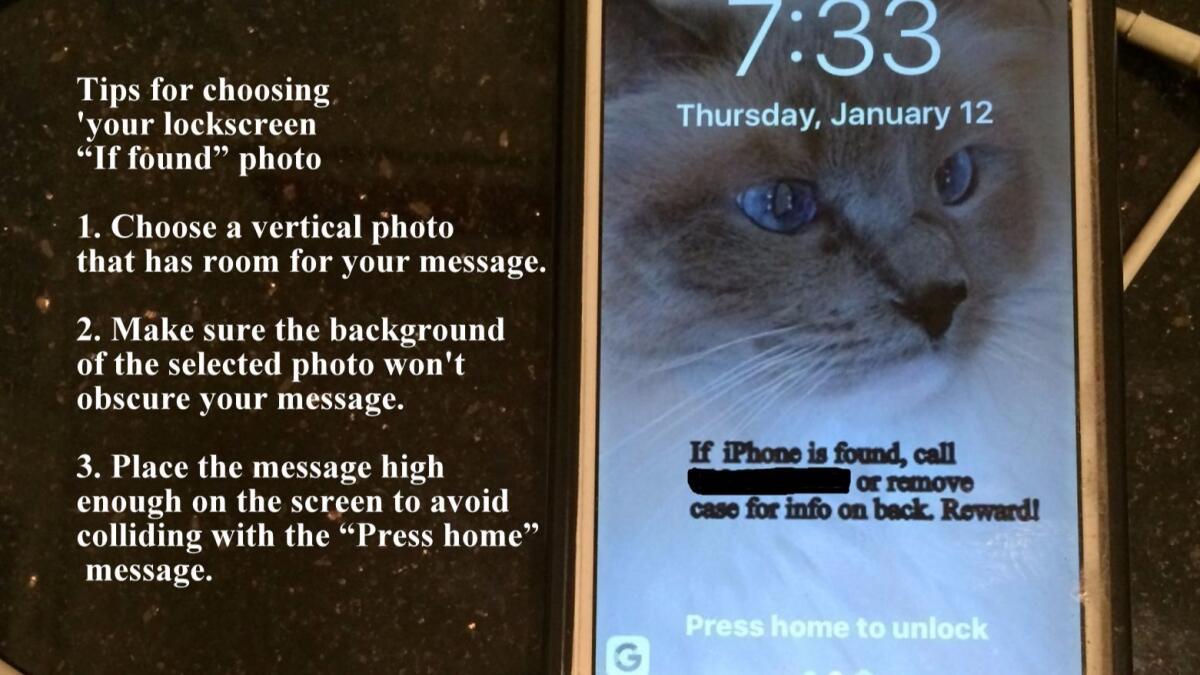 Travelers, here's a way to improve of your chances of getting your cellphone back if you lose it on the road.
I recently found a cellphone in the women's restroom. On the lock screen was a number to call in case it was found. I did, and the phone found its way back to its grateful owner.
On the advice of retired LAPD Det. Kevin Coffey, who also speaks often on travel safety, I keep my business card under the case on the back of my iPhone.
Coffey, who created Corporate Travel Safety to help travelers ward off problems on the road, says cellphones are the items most frequently lost. He urged me — and, at Times Travel events, all travelers — to make "if found" contact information visible on our personal lifelines.
I wanted to take a lesson from him and from the woman who lost her phone, but I also wanted to keep the photo of my cat Barnie on my lockscreen. (She — she is she — makes me smile.)
My solution is pictured above. (I have blacked out my contact number for security reasons.) It took me a few tries to do this until I realized the background needed to be conducive to writing and the message needed to be placed away from the "Press home" instruction. (See tips on photo above.)
You can use iPhone's editing tools in the photo mode. You can add text (it's hidden under the "more" symbol — the three dots in a circle — and select Markup to get text. Save the photo, then follow the directions for "Wallpaper" below.)
I did mine on my desktop so I could see it a bit better. Here's what I did:.
I took a vertical photo and sized it to about 320 pixels wide by 480 pixels deep. The sizing is easy with the Paint program on Windows PC.
I placed the text on the photo up high enough that it's out of the field of the iPhone's reverse type "Press home to unlock" message you get when your phone is idle. I didn't use Paint for this, but I could have. (I happened to be working in Picasa, a Google photo program that is going to fade away, but one I have liked using.)
I saved the photo to the iPhone, then clicked "Settings."
Under "Wallpaper," I clicked "Choose a new Wallpaper." Voilà.
My contact info is on my lock screen; if that's not enough, the finder is directed to my business card, which is under the case. And I still have the pleasure of seeing those limpid blue eyes.
Me-ow.
ALSO:
Fellow airline passengers, how do we hate you? Let us count the ways
Free day at more than 30 museums in Southern California
Ancient rock at a U.S. weapons center at Ridgecrest? Yes, and you can visit too.
travel@latimes.com
@latimestravel
Get our L.A. Goes Out newsletter, with the week's best events, to help you explore and experience our city.
You may occasionally receive promotional content from the Los Angeles Times.