The big game may be over, but you'll warm to Minneapolis. We promise.
Aerial shot of U.S. Bank Stadium.
(Steven Bergerson / SMG and Meet Minneapolis)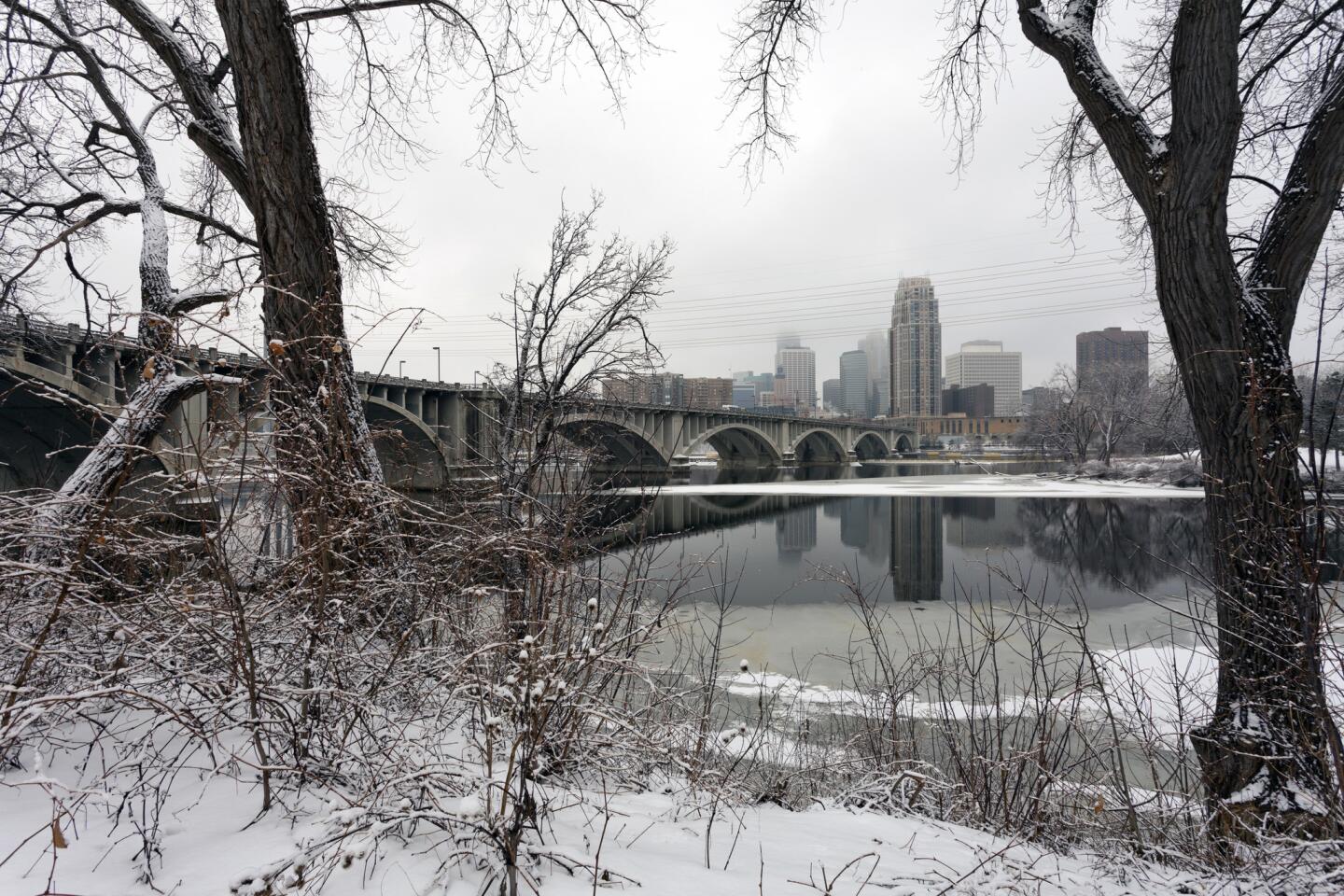 Minneapolis is seen from across the Mississippi River.
(LMaru / Getty Images/iStockphoto )
Zipline enthusiasts including politicians, celebrities and media, cross the Mississippi River in Minneapolis Friday, Jan. 26, 2018, as the 10-day Bold North theme festival got underway, one of many events leading up to the Super Bowl.
(Jim Mone / AP)
Reporting from Minneapolis —
I'm writing this just before New Year's, and the morning sky is cloudless blue crystal, the fresh snow-white snow is sparkling like, well, snow, and it's beautiful outside. It really is.
It's also 13 degrees below zero.
I swore I wouldn't write the old "guess what — it's cold in Minnesota" story. I mean, doesn't everybody know that? Surely, they've at least heard the rumors.
I just brought in my shivering dogs from a one-block forced march, and the only thing I have to say to Super Bowl visitors from the Golden State is what we've been telling outsiders since before statehood 160 years ago:
I hope you have warm clothes.
Here is where any decent Minnesota-in-winter story lays out all the state's wonderful attractions: world-class museums, an acclaimed symphony orchestra, a great university, lots of good live theater, trendy restaurants, Lake Superior, the Mall of America.
All good, all true, but note that with one exception, everything on that list is indoors. And none of it changes the fact that it's still 13 below zero.
But such sustained low temps are good news. They mean downtown St. Paul's 70-foot-tall Ice Palace will stay frozen, and so will the ice sculptures on Minneapolis' Lake of the Isles as well as the snowmen and snowwomen on residents' lawns.
At least 100,000 guests are in town this weekend. Demand for rooms was so high that locals moved in with friends and relatives so they could rent their homes. Gridlock threatened. And one premier event — the Bold North Zip Line across the Mississippi and into downtown — sold all its 10,000 tickets in a matter of hours.
The Super Bowl isn't the only thing making the Twin Cities more crowded and complicated. The big game falls in the middle of St. Paul's 17-day Winter Carnival, an annual celebration since 1886 with its own traditions, throngs of revelers and the Ice Palace.
The Super Bowl's centerpiece, of course, is the shining 18-month-old U.S. Bank Stadium, set like a giant nonmelting ice crystal on the edge of downtown Minneapolis. It blends so well with the sky that birds keep trying to fly through it.
But the whole city has been primping ever since the NFL's choice for the game was announced in May 2014, and it shows.
Minneapolis trivia
Beyond the glitter and hullabaloo, there are subtler things about Minneapolis and St. Paul that are worth sharing. Here are a dozen:
1. Any place name starting with "Min," "Minne " or "Mne" has its root in the Dakota (Sioux) word for "water."
Hence Minnesota, usually translated as "land of sky-blue water,'' Lake Minnetonka, "great water" in Dakota, and towns such as Minnetrista, Mineota and Minneapolis itself. That name combines "water" in Dakota with the Greek word for "city" — a great example of early civic confidence.
2. Minnesota's premier historic site, Ft. Snelling — the first U.S. military post built west of the Mississippi — has a new name in time for its 200th birthday this year. It is now Ft. Snelling at Bdote.
That Dakota word connotes "confluence," which is what the fort guards. Its gray stone walls overlook the Minnesota River, which joins the Mississippi here.
3. There's a sobering reason behind that name change: About 1,700 Native Americans were held in Ft. Snelling through a harsh winter after the U.S.-Dakota War of 1862. Many died. The Minnesota Historical Society, which manages the fort, changed the name to honor their heritage too.
4. It's impolite to point out that St. Paul was originally called Pig's Eye. Especially while you're in St. Paul.
The old name had little to do with pork and a lot to do with booze. It came from a disreputable settler of French descent, Pierre "Pig's Eye" Parrant, who sold whiskey in the early 1840s from a rough establishment at what would become downtown St. Paul.
5. We aren't all Scandinavians, although a lot of 19th century immigrants were. Hence lutefisk recipes at Christmastime — lutefisk jokes year round, for that matter — and blond people who occasionally mutter "uff-da'' when startled. (In case you don't know, lutefisk is dried whitefish reconstituted with lye before cooking.)
6. Minnesota's largest ethnic group is of German descent. And the rest of us are pretty international. The Twin Cities area, for example, has a big Southeast Asian community as well as the largest number of Somali immigrants in the country.
7. "Twin Cities'' is a real thing. Believe this. There really are two — count 'em, two — cities here.
Yes, I know: From the air, it does look like one big city with two downtowns. And yes, they are within sight of each other on opposite banks of the Mississippi River.
But Minneapolis and St. Paul are not twins.' They are separate, distinct, full-fledged and definitely-not-the-same cities. Just ask anybody.
8. There's a friendly rivalry between the twins but no animosity. If a local on one riverbank urges you to hurry back to your hotel on the other bank before the drawbridges are pulled up for the night, regard that as a joke.
There aren't any drawbridges. Just an occasional drawback, one of which is currently 13 below. But now I'm whining.
9. Minnesotans of a certain age (namely, mine) may assure you that winters used to be lots colder than this when they were kids. And somehow the winters were better, with snowbanks higher than your head....
10. Be warned that winter in Minnesota can display a snarky sense of humor. Some years, everything is nicely frozen and then there's a sudden thaw, kind of like having a rug pulled out from under February. It's not funny: You can't skate in slush.
11. The most famous description of Minnesota in winter is probably this nostalgic fragment from "The Great Gatsby,'' by St. Paul's hometown boy F. Scott Fitzgerald. It certainly gets quoted a lot:
"That's my Middle West ... the thrilling returning trains of my youth and the street lamps and sleigh bells in the frosty dark and the shadows of holly wreaths thrown by lighted windows on the snow. I am part of that...."
12. If you are here for Super Bowl, for a little while you will be part of that too. Just don't expect sleigh bells, and it's too late for holly. But do bring mittens and a nice, warm muffler.
If you go
THE BEST WAY TO MINNEAPOLIS
From LAX, Delta, American and Sun Country offer nonstop service to Minneapolis; Southwest offers direct service(stop, no change of planes); and Delta, Southwest, United, American and Alaska offer connecting service (change of planes). Restricted round-trip fares from $290, including taxes and fees.
Heading to the Twin Cities? Here's what I take my friends to see, winter or summer:
Minnesota History Center, 345 W. Kellogg Blvd., St. Paul; (651)-259-3000. $12 for adults, $10 for age 65 and older, $6 for ages 5-17 and free for children 4 and younger. See the "1968" exhibit about national life and world realities that year (through Jan. 21, 2019). It's a don't-miss for anyone who remembers that period in American life. And for anybody who doesn't but should. Open daily at 10 a.m., noon Sundays. Closed Mondays.
Mill City Museum, 704 S. 2nd St., Minneapolis; (612) 341-7555. $12 for adults, $10 for age 65 and older, $6 for ages 5-17, and free for age 4 and younger. Billed as "the most explosive museum in the world," this is one of the few really interesting industrial museums in the country. It incorporates the stabilized ruins of an old flour mill, which really did blow up, once one of many that made fortunes for 19th century entrepreneurs. Closed Mondays.
Summit Avenue, St. Paul. A scenic drive nearly five miles long and lined with mansions, what F. Scott Fitzgerald famously called "a mausoleum of American architectural monstrosities." The author was born near the eastern end of Summit and is most closely associated with a red-stone row house at 599 Summit, where he finished "This Side of Paradise" in an upstairs bedroom. (Private home, not open for tours.)
James J. Hill House, 240 Summit Ave., St. Paul; (651) 297-2555. Guided tours Wednesdays-Sundays. $10 for adults, $8 for age 65 and older, $6 for ages 5-17 and free for age 4 and younger. Grandest of the grand mansions on St. Paul's grandest street. It was built by the founder of the Great Northern Railway, a Canadian American entrepreneur known as the Empire Builder. That's still the name of his most famous train, which Amtrak runs daily between Chicago and Seattle.
Minnesota State Capitol, 75 Rev. Dr. Martin Luther King Jr. Blvd., St. Paul. Free. It's magnificent — a newly restored 1905 Cass Gilbert gem overlooking downtown. Guided tours 10 a.m. to 2 p.m. Mondays-Saturdays, 1-3 p.m. Sundays.
Science Museum of Minnesota, 120 W. Kellogg Blvd., St. Paul; (651) 221-9444. $18.95 for adults, $12.95 for age 65 and older and children ages 4-12, and free for age 3 and younger. Interactive science exhibits and displays on the Minnesota National River and Recreation Area, the 74-mile-long corridor of the Mississippi River as it flows through St. Paul and Minneapolis. Open 9 a.m. to 5 p.m. daily except Mondays.
Minnesota Children's Museum, 10 W. 7th St., St. Paul; (651) 225-6000. $12.95 for adults and children ages 1-17. Hands-on-everything and a great place if you have little kids. Open daily 9 a.m., closing varies.
ART
Walker Art Center, 725 Vineland Place, Minneapolis; (612) 375-7600. Closed Mondays. $15 for adults, $13 for age 62 and up, free for children 18 and younger. Also free on Thursday nights and first Saturdays. Current show is "Adiós Utopia,'' art from post-revolutionary Cuba.
The Minneapolis Sculpture Garden is across the street from the Walker. Open 6 a.m. to midnight daily. Free. Its "Spoon Bridge and Cherry" fountain-sculpture, by Claes Oldenburg and Coosje van Bruggen, is a city icon.
Minneapolis Institute of Art, 2400 Third Ave. South, Minneapolis; (612) 870-3000. Free. Closed Mondays. Excellent, extensive collection with more than 89,000 works of art from around the world.
OUTDOORS
"The Coolest Celebration on Earth,'' a.k.a. the St. Paul Winter Carnival, through Feb. 10this year. The carnival began in 1886 to prove you could indeed go outside in winter and have fun in what's now being called the Bold North. It's the oldest winter festival in the United States. This year's centerpiece is the seven-story, $800,000 Ice Palace in St. Paul's Rice Park. It's the first one since 2004 and is surrounded by ice sculptures and ice bars selling craft beers, local wines and hot drinks.
NATURAL BEAUTY
River Parkways: West River Parkway in Minneapolis and East River Parkway in St. Paul offer some of the prettiest scenery in the region. Both lie within the Mississippi National River and Recreation Area. They bracket the Mississippi River gorge, which cuts through the metropolitan area. The chasm has a 100-foot drop to the water and is the only true gorge on the entire 2,350-mile length of the Mississippi.
Chain of Lakes: Lake Calhoun, Lake Harriet, Cedar Lake, Brownie Lake and Lake of the Isles.There are more than a dozen lakes within Minneapolis city limits, but the Chain is these five.
Minnehaha Falls: Named for the heroine of William Wadsworth Longfellow's poem, "The Song of Hiawatha,'' it turns into an ice cascade in winter, visually beautiful but illegal to climb on. In Minnehaha Regional Park, just off West River Parkway in Minneapolis. A life-sized replica of Longfellow's yellow-frame New England home stands nearby.
Como Park Zoo and Conservatory, 1225 Estabrook Drive, St. Paul; (651) 487-8201. Free. Close-up views of animals including gorillas, orangutans, bison, wolves and polar bears. The conservatory offers tropical warmth and floral displays, right now in Super Bowl colors. Open 10 a.m. to 4 p.m. daily.
FOOD
Here's a teensy sample of restaurants in the Twin Cities. For others, go to the Mpls-St. Paul Magazine website for reviews of 1,000 restaurants.
Bachelor Farmer, 50 N. 2nd Ave., Minneapolis; (612) 206-3920. The menu reflects devotion to the Bold North.
Fika, 2600 Park Ave., Minneapolis; (612) 871-4907. The restaurant of the American Swedish Institute serves New Nordic Cuisine in a magnificent turn-of-the-century mansion-museum. Fika means "coffee break" in Swedish and is a nationwide institution.
Victor's 1959 Café, 3756 Grand Ave. S., Minneapolis; (612) 827-8948. Cozy and Cuban funky, with oilcloth tables and autographed walls. Pairs well with a visit to the Cuban art show at the Walker Art Museum.
ABOUT PRINCE
Paisley Park, 7801 Audubon Road, Chanhassen, Minn. Prince's palatial home and recording studio complex is about 20 minutes from the Minneapolis-St. Paul International Airport. Closed Tuesdays and Wednesdays. Admission begins at $38.50. Available online only and in advance, not at the site.
Weisman Art Museum, 333 E. River Parkway, Minneapolis; (612) 625-9494. Free. Frank Gehry-designed museum on the University of Minnesota campus. Current show is "Prince from Minneapolis," photography of — and inspired by — the Purple One.
TO LEARN MORE
Meet Minneapolis, includes a list of 52 must-sees in the Twin Cities.
Get our L.A. Goes Out newsletter, with the week's best events, to help you explore and experience our city.
You may occasionally receive promotional content from the Los Angeles Times.