I know where I'll be staying in Washington D.C., but here are more hotels to consider
I saw many new, renewed and soon-to-open hotels in Washington, D.C., in September. But the place that got me thinking was one of the city's oldest lodgings: the Tabard Inn.
Opened in 1922, the Tabard Inn (1739 N St. N.W.; [202] 785-1277) is a hotel and restaurant occupying three conjoined 19th century townhouses in Dupont Circle.
Inside the four-story inn, the design is Colonial, the walls crowded with original artwork. On the way to the dining room, the fireplace lounge demands that you sink into a chair, have a stiff drink and argue about agricultural subsidies. Or, if you prefer, listen to live jazz, which is offered on Sunday, Monday and Tuesday nights.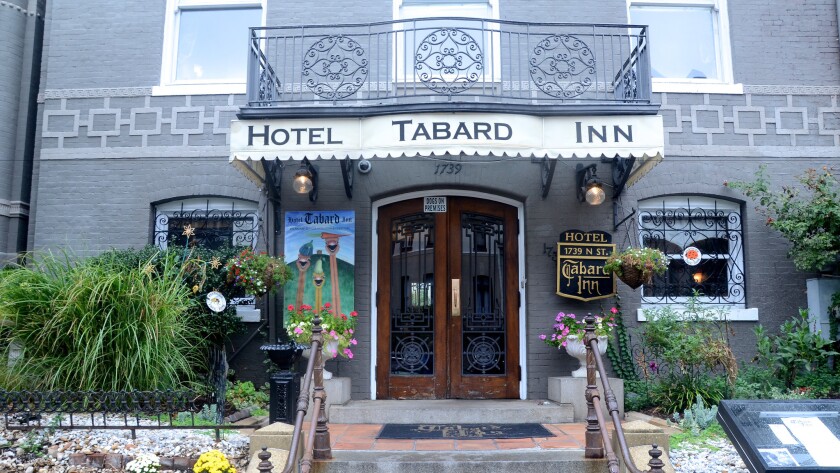 Upstairs, there are 35 guest rooms, no televisions. Most rooms for two are priced at $135-$265 a night. Six of them share bathrooms. And there are no elevators — so the place isn't for everybody.
But even the most modest rooms have wood floors, bold colors and a certain gravitas. At a time when the average D.C. hotel room fetches about $215, the Tabard is a good choice for value and style.
Alas, I didn't get to stay there this time. I was trying to save money, so I bunked in the Woodley Park area at the Kalorama Guest House, which needs freshening.
I did get to see several Tabard guest rooms, however. And notice the bulldog dozing behind the front desk. And chalk up a full-on D.C. celebrity sighting in the lobby: Elliott Abrams. (Deputy national security adviser to President George W. Bush. But you knew that.)
And then there was lunch. Though Washington Post restaurant critic Tom Sietsema in April blamed a family feud for reducing the Tabard's restaurant to "a shadow of what it once was," I liked my fried oyster tacos, and the dining room atmosphere, very much.
Next time I'm headed to D.C., my first step will be to see if the Tabard Inn has a room.
::
New or renovated hotels in Washington D.C.
The new Trump International and the renewed Watergate hotels have grabbed most of the attention so far, but the city is adding hotels at a furious clip.
Tourism officials say about two dozen hotels have opened since early 2015, with 14 or more in the construction pipeline — more than 5,000 rooms in all. It's too soon to say if this surge of supply will slow increasing room rates — which averaged a hefty $216 last year — but a consumer can hope.
The city has added a lot of appeal since the last Inauguration.
Among recently opened properties:
Hampton Inn & Suites Navy Yard opened in December 2015 with 168 rooms near the Nationals stadium. Info: 1265 1st St. S.E.
Hyatt Place National Mall, opened in May with 214 rooms. Info: 400 E St. S.W.
Hyatt Place Washington, D.C. opened in April with 168 rooms in the city's West End near Georgetown. Info: 2121 M St. N.W.
The Kimpton Glover Park Hotel opened in June with 154 rooms. Info: 2505 Wisconsin Ave. N.W.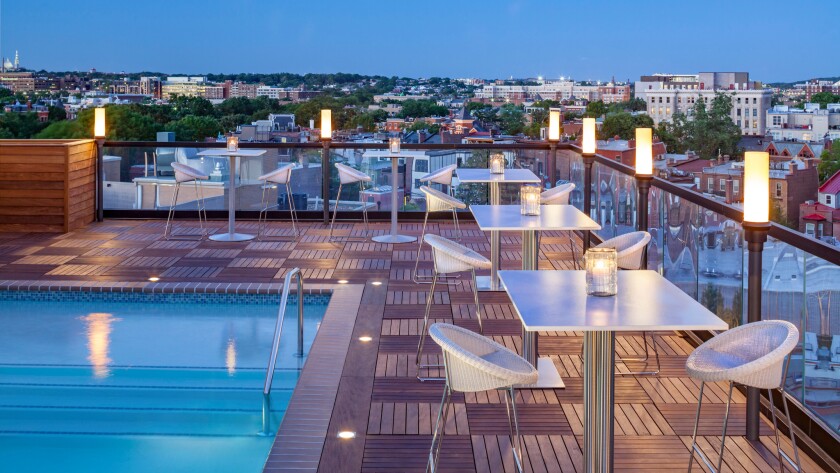 Kimpton Mason & Rook opened this spring with 178 rooms near the nightlife of 14th Street N.W. Info: 1430 Rhode Island Ave. N.W.
Pod Hotel, with 245 rooms of about 150 square feet each, is to open in December in Chinatown. Info: 627 H St. N.W.
Among those coming soon:
Homewood Suites Capitol Riverfront, within a block of Nationals Park, is due to open 196 rooms late this year or in early 2017. Info: 50 M St. S.E.
Marriott Residence Inn, Capitol Riverfront, is due to open in 2017 with 170 rooms. Info: 1277 1st St. S.E.
The Hotel Hive, formerly the Allen Lee Hotel, has been remade into an 83-room "micro hotel," expected to open late this year. Info: F Street and Virginia Avenue N.W.
The Moxy Hotel, a new brand from Marriott (smallish rooms, millennial focus), is to open late next year, combining a new tower with a historic mansion to create a 200-room lodging. Info: 11th and K streets N.W.
Three more hotels, including an Intercontinental, Hyatt House and Canopy by Hilton, are due in late 2017 as part of the Wharf, a 24-acre, $2-billion project on the city's southwestern Potomac waterfront. The project eventually will include 20 restaurants, a 5,000-seat performance venue, seafood market and water taxi service.
Construction started in June on a 360-room luxury Conrad Hotel at the upscale CityCenterDC development at 10th and I streets N.W. Completion target is early 2019.
Follow Reynolds on Twitter: @MrCSReynolds
See travel videos by Reynolds from around the world.
---
Get inspired to get away.
Explore California, the West and beyond with the weekly Escapes newsletter.
You may occasionally receive promotional content from the Los Angeles Times.