Olive harvesting in Umbria, Italy, drips with tradition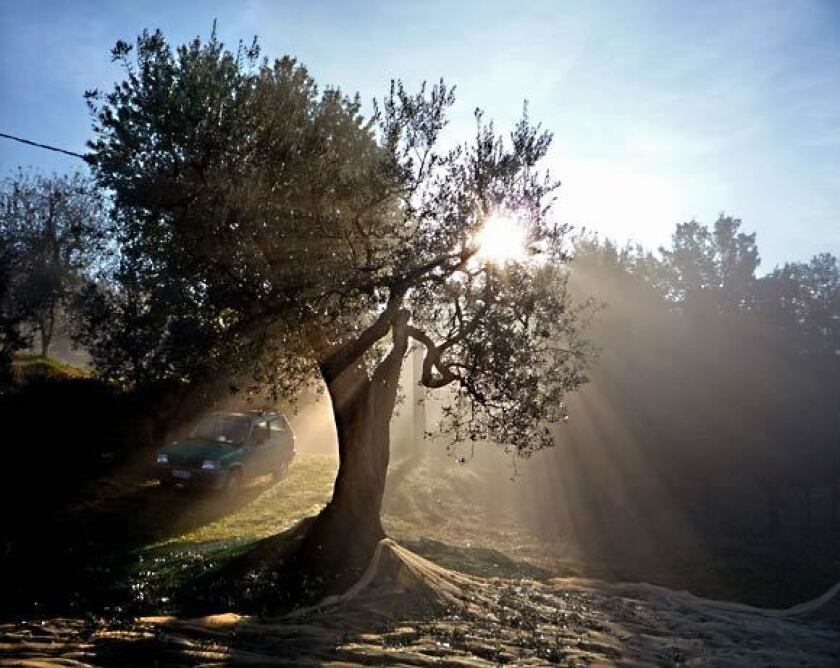 Reporting from Civitella, Italy —
The anonymous stone building on the outskirts of Civitella, my Umbrian hilltop village, was a mystery to me. Every time I drove past, it was shut up and seemingly deserted. But on one moonless night in November, lights blazed through the dirt-encrusted windows, and tractors, trailers, little Fiat 500s and the three-wheeled trucks called Apé were strewn across the road outside.
I stopped my car, pushed open the building's iron door and stepped into a room filled with the rush of warm air and the clanking of heavy machinery. I'd found the Co-operativo, an olive oil mill that comes to life one month each year like an Italian version of Brigadoon.
Three massive presses squeezed fiber mats coated with olive paste. Greenish-gold cascades of extra-virgin oil dripped in slow motion down their length. Across the room, a trio of equally outsized grinding stones revolved in a steel dish, like giant pestles in a mortar, mashing the freshly picked olives into paste.
Antonio, the courteous, soft-spoken manager, greeted me, then steered me past farmers in their bulky winter coats, each man keeping watch over his own olives, to where a wood fire burned in a blackened hearth. He cut a slice of the rock-hard local bread, toasted it, rubbed it with garlic, then drizzled it with oil he dipped out of the centrifuge.
As I bit into my bruschetta and the pungent, peppery oil caught in my throat, I felt the beat of "Italy's green heart," as Umbria is called.
"It is much easier and cheaper for us to buy oil in the supermarket," Antonio said. "But the olives are part of our life. We grow them because our parents grew them. The olives are the center of our being, deep in our soul."
Harvest time, which takes place in my corner of Umbria at the end of October or early November, is the climax of the year. The olive mills operate 16 to 20 hours a day, seven days a week, and the medieval patchwork of fields, empty through the long hot summer, suddenly fills with extended families of pickers, from kids to grandparents with their nets, ladders, rakes, lunch baskets, bottles of wine, even tables and chairs.
Most tourists have come and gone by then, and that's a pity. They're missing a way to connect with the authentic life of Italy as well as a gastronomic journey touring and tasting at the mills. As for the Peruginos and the Piero della Francescas, they're still here in November, hanging in the same museums and churches; there just aren't as many heads between you and the art.
My own olive harvest begins soon after dawn with the arrival of my Italian caretaker, Pasquale, and his tiny wife, Rita. Many of my 60 trees are more than 100 years old, primary-school age for an olive. (The oldest tree in Umbria, near Trevi, is said to be 1,700 years old and still producing.) Like most local farmers, I grow three types of olives: leccino, for quantity; frantoio, for sweetness; and maraiolo, for intense green taste.
Rita and I surround the first tree with a giant net made of flesh-colored nylon. Then we put up the ladders. I say "we," but the wooden ladders are heavy to maneuver and it's an art to position them correctly, so Pasquale does most of this work. Rita, bundled in a warm skirt and sweaters topped with a flowery housecoat, can't wait to scurry up a ladder, as agile as if she were 17 instead of in her late 70s.
We comb the olives off the branches by hand with rakes like plastic toys, stretching every muscle to reach the farthest ones. After four days of picking and pressing I ended up with two gleaming stainless-steel tanks full of oil.
With my harvest complete, I set off to learn more about this remarkable crop. My research method, if you can call it that, was to drive around looking for brown road signs marked frantoio (mill). I knew that most mills welcome walk-in visitors; as long as they have time, they'll explain what's going on and offer you the traditional free bruschetta.
The Bartolomei family in Montecchio (https://www.oleificiobartolomei.it), the next village over from my own, has an olive oil museum and a shop where you can buy its products. (A 5-liter bottle of the extra virgin is about 30 euros, or about $41.) Signora Bartolomei, the fourth generation of the family, took me around the mill, a pristine modern warehouse that can process 800 kilos, or nearly 1,800 pounds, of olives an hour.
Bartolomei is on the oil route linking local mills (https://www.stradaoliodopumbria.it); it also takes part in six open-house weekends, from Oct. 30-Dec. 8, called Frantoi Aperti (https://www.frantoiaperti.net). The two websites have information on planning your own harvest trip from guest houses and agriturismi (farm-style accommodations) to restaurants to mill locations and the festas and degustazione (festivals and tastings) villages host at this time of year. There are also one-night packages with accommodations and extras such as a mill tour. The sites are mostly in Italian, but sections are translated into English.
If you want to participate in the actual olive picking, several larger estates, such as Villa la Rogaia (www.rogaia.com) and La Volpe e L'Uva (https://www.cookinumbria.it) outside Perugia, offer holidays that typically include picking along with cooking lessons, mill visits and cultural or museum excursions. In Bettona, Michael LaPlaca, originally from New York, has converted a 17th century palazzo (https://www.aweekinumbria.com) into accommodations and can arrange olive harvest packages.
As a visitor, any picking you do will be gentle compared with the real thing but you're on vacation so you don't need to work. With my harvest in, I felt as if I were on vacation myself as I headed for my nearest town of Orvieto, a well-preserved medieval city.
Orvieto has narrow alleyways and streets made out of volcanic tufa winding up to the 13th century duomo on the crag. With its glistening gold facade and Signorelli's visionary paintings of the "Day of Judgment," Orvieto's cathedral is one of Italy's most important Gothic specimens. Because the town also boasts 50 restaurants and 500 sommeliers for 21,000 inhabitants, the traveler's material as well as spiritual needs are well catered to.
I was meeting my friend Bernardo Barberani from a local winemaking family. "Olives and vines have been in this area since the Etruscans," Barberani told me over lunch at Hostaria Posterula, where chef Paolo Catarcia cooked us vegetable soup and baccalà (salt cod) with the new oil.
"Olives are easier to grow than vines, but they grow according to their own rules. You tend to get good harvests for two years, then the third year will be bad. It's spontaneous."
My last stop on my personal oil trail came a couple of days later. This time I drove east to Deruta, a small town devoted to pottery-making. Umbria's clay soil is ideal for pots, and most of the pottery used in ancient Rome came from this region. Sadly, Deruta's modern output is almost all garish, though I did find a pretty white jug.
Five minutes up the autostrada from the town, the next exit took me to the Lungarotti estate — a big name in wine and olives with 11,000 trees producing 18,000 liters of oil each year. They have a great olive oil museum — truly, the Louvre of oil museums — where head oil maker Francesco Mezzasoma instructed me on how to buy oil.
"To avoid expensive mistakes always read the label. Look for oil bottled on a single estate and marked 'DOP' [which stands for Protected Designation of Origin]." Though he didn't say so, that's also the way to avoid the adulteration scandals that have plagued some of Italy's bulk oil producers in recent years.
Rather than drive home that day, I checked into Lungarotti's five-star Le Tre Vaselle for some serious post-harvest pampering for my tired muscles — a massage with olive oil (what else?) followed by soaking in a bath of red wine. Only in Umbria.
---
Get inspired to get away.
Explore California, the West and beyond with the weekly Escapes newsletter.
You may occasionally receive promotional content from the Los Angeles Times.