Here's the Philadelphia story: It's not just for cheesesteak lovers anymore
Casual dining area inside Mistral.
(Spencer Starnes Photography / Spencer Starnes Photography)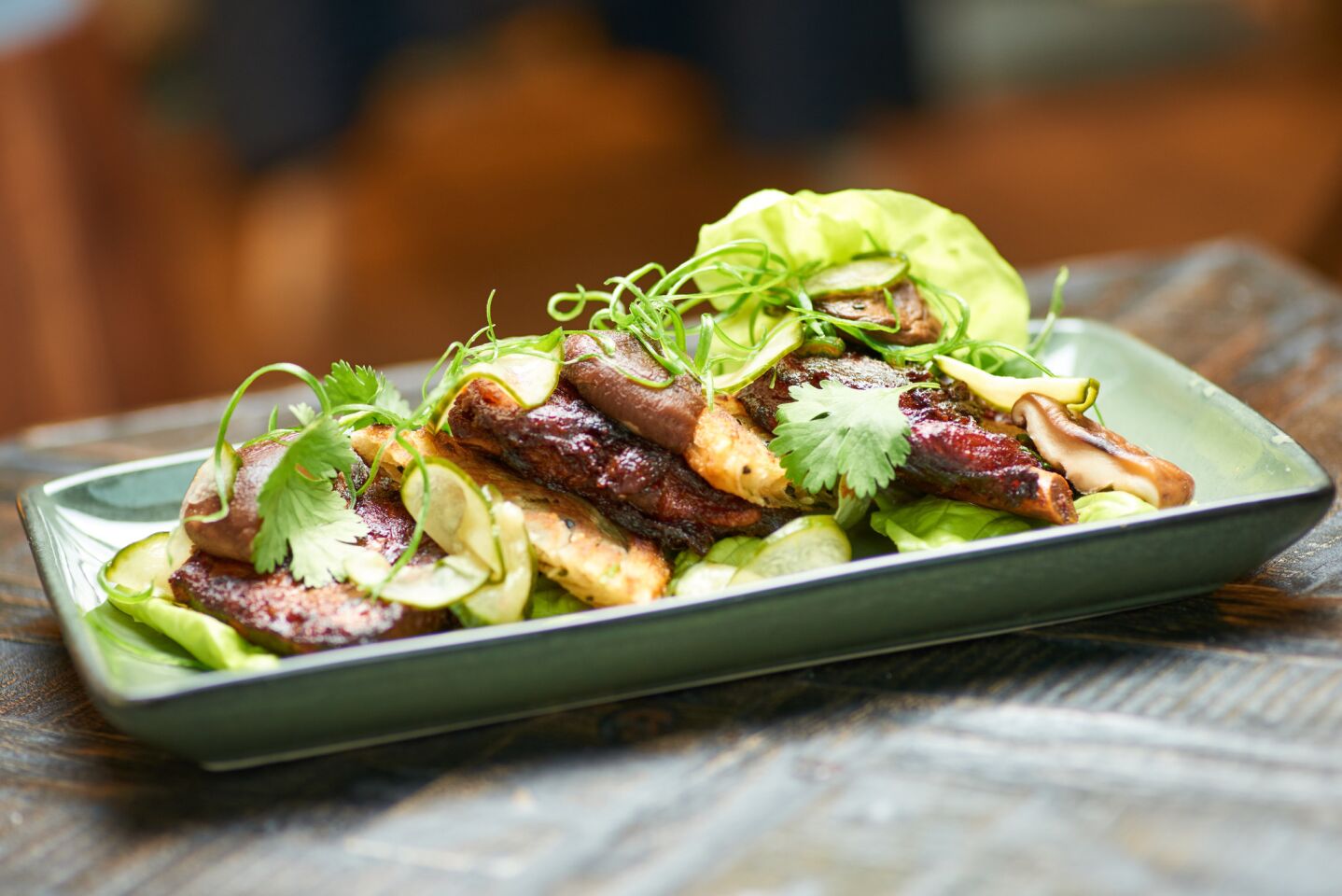 Pork riblets with scallion pancakes, shiitakes and cucumber at Mistral.
(Spencer Starnes Photography / Spencer Starnes Photography)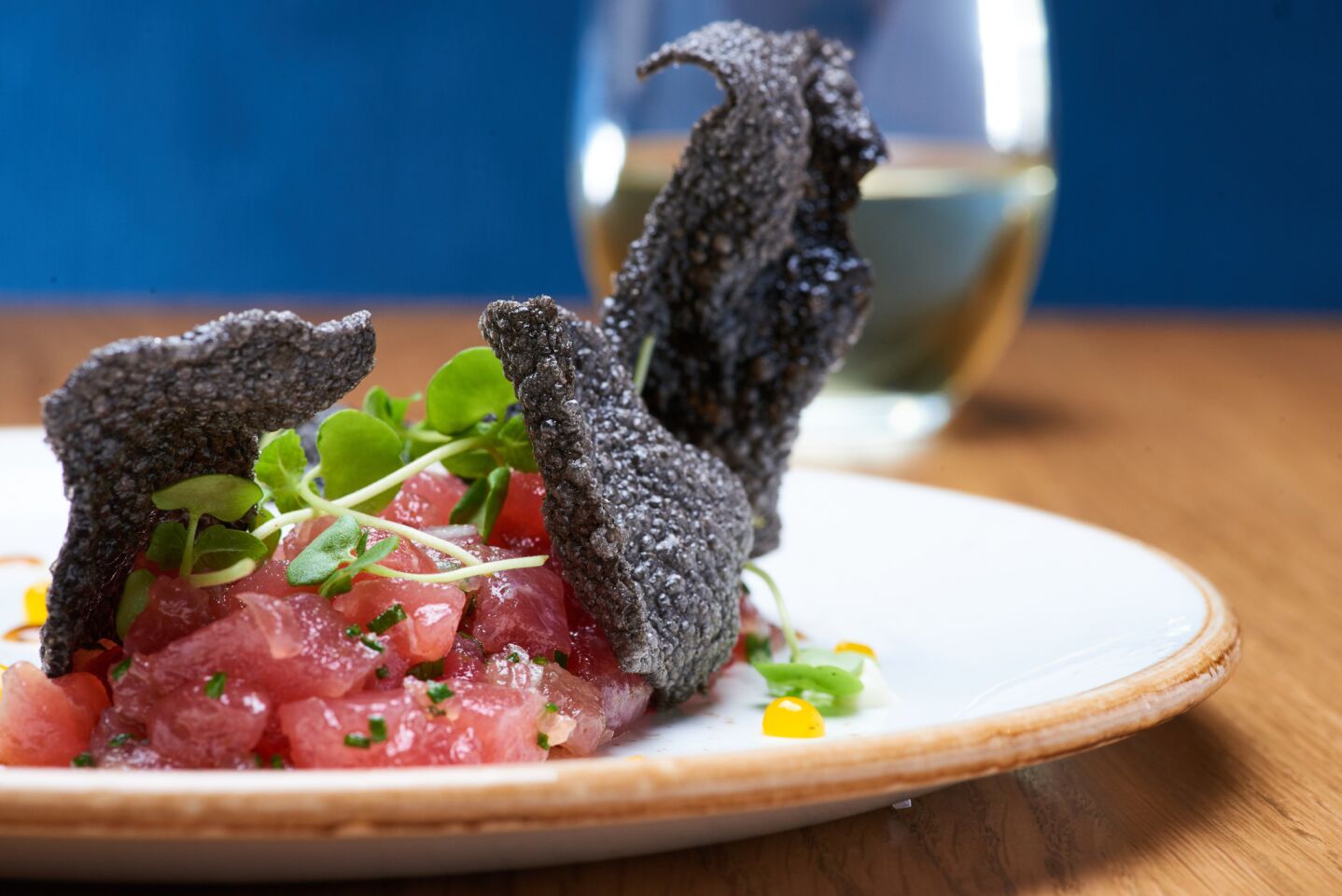 Tuna tartare with squid ink rice crackers, miso and yuzu at Mistral.
(Spencer Starnes Photography / Spencer Starnes Photography)
Day-boat halibut with dandelion greens and fennel at Mistral.
(Spencer Starnes Photography / Spencer Starnes Photography)
Mistral dining room
(Spencer Starnes Photography / Spencer Starnes Photography)
Mistral bar
(Spencer Starnes Photography / Spencer Starnes Photography)
Angelenos who devote themselves to food and food culture bring a certain worldview to dining in other American cities.
They will, if pressed, acknowledge the charms of San Francisco, New Orleans or Portland, Ore. They pretend not to be in awe of New York. Washington, D.C., and Chicago tempt us.
--------------
For the record: This article reported that Dalessandro's Steaks & Hoagies is in the Manayunk neighborhood northwest of downtown Philadelphia. It is in the Roxborough section.
--------------
But Philadelphia — a city known for its cheesesteaks, hoagies and soft pretzels?
America's first capital city is blanketed with vendors who specialize in all of the above, and in the right hands the traditional fare is irresistible. But in the last few years, Philadelphia's culinary landscape has been transformed by chefs and restaurateurs who are challenging outdated reputations and expectations.
During a visit-the-daughter trip in April, restaurant bingeing was the only scheduled activity. And after five days of nonstop eating, we agreed that the best of Philadelphia will leave you wanting more.
An initiation
Although Reading Terminal Market is not known for its cutting-edge fare, a visitor (especially a first-timer) might want to launch a multiday food expedition at the popular site in Center City.
The market, a relatively short walk from some of the city's best-known attractions — Independence Hall, the Liberty Bell and the Benjamin Franklin Museum — houses dozens of stalls that sell doughnuts, pretzel dogs, pierogies, cold-pressed juices, falafel, cannoli, cheesesteaks, cookbooks and coffee. The disparate offerings make for a happy introduction to the City of Brotherly Love.
During this visit to the market, my third, Madeline and I purchased fresh mozzarella at Valley Shepherd Creamery, lattes from Old City Coffee, cannoli from Termini Bros. Bakery and slabs of fudge from the Sweet As Fudge Candy Shoppe. We sampled a Pennsylvania Dutch-style chicken pot pie at the Dutch Eating Place.
If you're partial to sandwiches, Reading Terminal may fulfill your every fantasy. Favorites include the roast pork at DiNic's, or the pastrami Reuben or corned beef at Hershel's East Side deli.
The market is often crowded, bordering on chaotic, but customers on this outing and others were patient — and animated. Perhaps that's what comes from ingesting caffeine, chocolate, pastry and pork.
The new(ish) wave
You could spend weeks sampling the fare at new, newish or new-to-those-not-paying-attention restaurants in Philadelphia. One of the most celebrated is Laurel, a tiny space in South Philadelphia from owner/chef (and "Top Chef" champion) Nicholas Elmi. It's one of scores of restaurants and bars on East Passyunk Avenue, a narrow street where parking is scarce and patrons are plentiful.
Step inside Laurel, however, and the South Philly vibe is eclipsed by atmosphere worthy of the French-influenced tasting menu. The elegant interior — cream-colored walls, wood floors and lantern-like light fixtures — is calming, the better to prepare diners for the experience that is to come.
We walked in (reservations were made long in advance) on a warm Wednesday evening and dined on hand-torn New Jersey scallops with black truffle, sea grapes and clam dashi; confit octopus with black curry, heart of palm and crispy shallots; and Lancaster County Yorkshire pork with first spring herbs, fermented day-lily root and roasted onion jus.
Each presentation was meticulous; each bite, remarkable. The only off note occurred when we asked for a copy of the menu at the start of the evening. We were told that diners get a copy only when the meal is over so they can focus on what's in front of them. Is it possible that knowing the details ahead of time would have enhanced the experience? We'll never know.
On another night, I dined solo at Zahav, a renowned Israeli restaurant and the crown jewel in the empire of Michael Solomonov, named outstanding chef at this year's James Beard Awards.
Zahav opened in 2008, which hardly qualifies it as new, but it may come as a surprise to a visitor whose only exposure to local food is the mention of a cheesesteak or hoagie during a conversation about dining at Citizens Bank Park.
Zahav is a short walk from Independence Hall in the downtown area. The vibe is post-industrial meets faux Middle Eastern, but as soon as the food started to arrive all thoughts of décor vanished.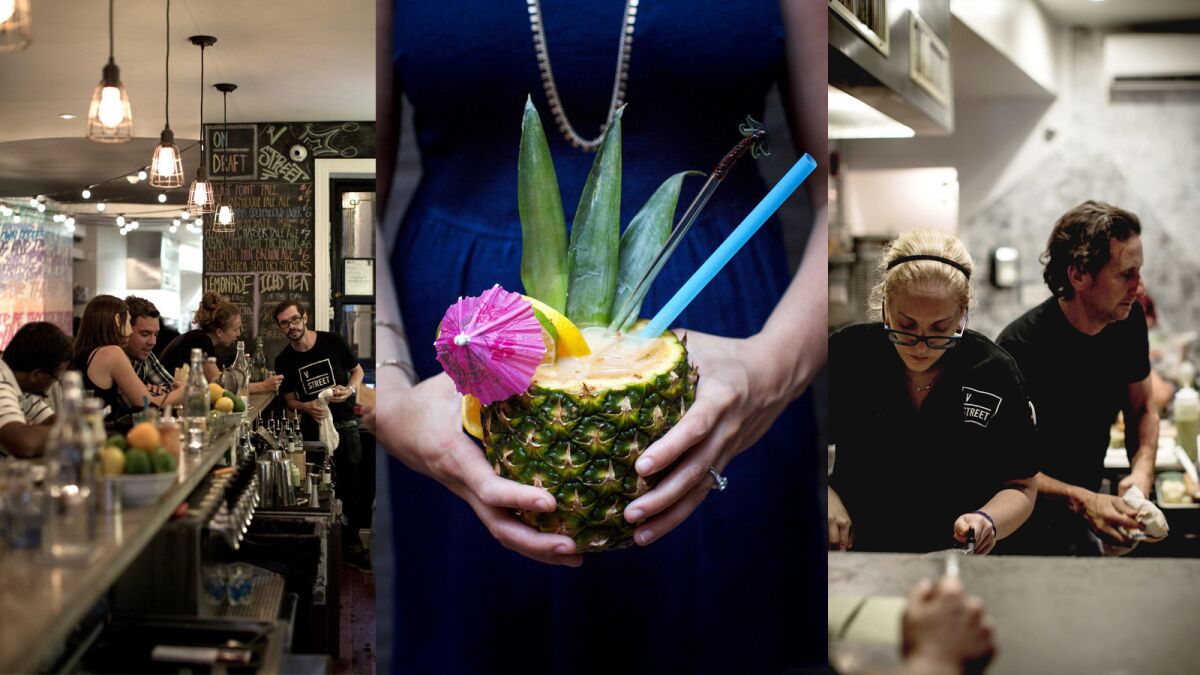 The hummus (with roasted cauliflower), served with flatbread out of the oven, was creamy and rich. I worked my way through an order of stuffed grape leaves; haloumi with strawberry amba, green strawberries and English peas; and grilled duck hearts with spring onion tabbouleh and fiddlehead ferns, a dish that was both artful and ethereal.
One day we opted for lunch at V Street in Center City, the second Philadelphia restaurant from vegan restaurateurs Rich Landau and Kate Jacoby, who earned their first wave of acclaim with Vedge.
We ordered cauliflower with whipped dal, mint chutney and curry hot sauce; noodles with char sui tempeh, crunchy shallots, peanuts, pickles and cilantro; grilled avocado with pickled red chile tofu; and Peruvian fries. The food, and the casual, friendly atmosphere (exposed brick walls, graffiti wallpaper, wood floors) inspired us to contemplate the notion of eating there every day for the rest of our lives.
On another afternoon we drove west to King of Prussia, a suburb worlds away from downtown Philadelphia and best known for its sprawling mall. For us, the main attraction was Mistral, a recently opened America-by-way-of-Japan restaurant and antidote to everything you've ever consumed in a mall.
The menu, printed on the place mats, is divided into snacks, small bites, large bites and salads and sandwiches. Among our picks: wings with tamarind glaze and sesame; beef tartare with yolk and crispy potatoes; market greens with kabocha squash, pumpkin seed vinaigrette and smoked gouda; and pork riblets with scallion pancake, shiitake mushrooms and cucumber.
The restaurant is light and airy with an open-beam ceiling and a welcoming bar. Is it reason enough to go malling? It is.
Comfort food
If you're in Philadelphia, you shouldn't leave without experiencing at least one of the city's iconic dishes — perhaps the cheesesteak sandwich? According to eater.com, the combination of thin slices of steak, onions and cheese on a long roll — is "forever." A "proper" cheesesteak "is, at its core, divine intervention — life-giving (in the worst way), and life-taking (in the best way)."
You can find the sandwich at countless restaurants, food carts and gas stations, but "best of" lists often include McNally's Tavern, John's Roast Pork, Dalessandro's Steaks & Hoagies, Gooey Louie's, Jim's Steaks, Cosmi's Deli and Tony Luke's.
We opted for Dalessandro's, a tiny storefront in the Manayunk neighborhood northwest of downtown, with 10 counter seats and a few folding chairs and tables inside and a handful of seats outdoors. At 12:30 p.m. on a Wednesday, business was robust but the wait time was short. We ordered cheesesteaks to go, which we inhaled in the car in a matter of minutes. The combination of carbs, meat, salt and cheese was life-affirming.
The Schmitter — sliced beef, grilled salami, cheese, tomato and onions on a Kaiser roll — is another local sandwich that has inspired legions of devotees. It originated at McNally's Tavern, which is reason enough to make the trip to the Chestnut Hill neighborhood. My trips to McNally's have involved ordering from an extensive (burgers, steak sandwiches, hoagies, chili, hot dogs) takeout menu, but the order is always the Schmitter.
One hectic afternoon, we disregarded a longtime (and perhaps ill-informed) family rule: Never order Mexican food in an old, historic East Coast city. We consumed sweet potato and pork tacos and all the accouterments from Honest Tom's Taco Shop, just west of the downtown area. And we'd do it again.
If you go
THE BEST WAY TO PHILADELPHIA
From LAX, American offers nonstop service to Philadelphia, Southwest offers direct service (stop, no change of planes) and United, American, Delta, Southwest and Frontier offer connecting service (change of planes). Restricted round-trip fares from $278, including fees and taxes.
WHERE TO EAT
Reading Terminal Market, 51 N. 12th St.; (215) 922-2317, readingterminalmarket.org
Laurel, 1617 E. Passyunk Ave.; (215) 271-8299, www.restaurantlaurel.com
Zahav, 237 St. James Place; (215) 625-8800, www.zahavrestaurant.com
V Street, 126 S. 19th St., (215) 278-7943, vstreetfood.com
Mistral, 160 N. Gulph Road, King of Prussia, Pa.; (610) 768-1630, www.mistralkop.com
Dalessandro's Steaks & Hoagies, 600 Wendover St.; (215) 482-5407, dalessandros.com
McNally's, 8634 Germantown Ave.; (215) 247-9736, www.mcnallystavern.com
Honest Tom's Taco Shop, 261 S. 44th St.; (215) 620-1851, www.lat.ms/honesttoms
Twitter: @latimestravel
---
Get our L.A. Goes Out newsletter, with the week's best events, to help you explore and experience our city.
You may occasionally receive promotional content from the Los Angeles Times.