A mystical weekend escape in New Mexico
The church at Quarai was built in 1628 when Franciscan missionaries came to the Salinas Valley to convert the Native Americans. The 40-foot-high red sandstone walls, once protected by adobe plaster, are all that remain.
(Paul Boorstin)
Casa Manzano is a 20-minute drive from the Quarai ruins, nestled among piñon and juniper trees. The B&B is a comfortable place to stay overnight near the ruins, but pick up take-out in Albuquerque for dinner. There are few good nearby restaurants.
(Paul Boorstin)
The design of the circular lobby at the new Hotel Chaco was inspired by the architecture at Chaco Canyon, the ruins of the ancestral Puebloan culture that thrived in northwest New Mexico from 800 to 1200 AD.
(Paul Boorstin)
A bronze sculpture by Native American artist Joe Cajero anchors the circular lobby in Hotel Chaco. The new hotel pays homage in its architecture and art to Chaco Canyon.
(Paul Boorstin)
Located in Albuquerque's historic Andaluz Hotel, Mas Tapas y Vino serves fresh takes on traditional Spanish dishes, such as crispy Brussels sprouts with romesco and sherry.
(Paul Boorstin)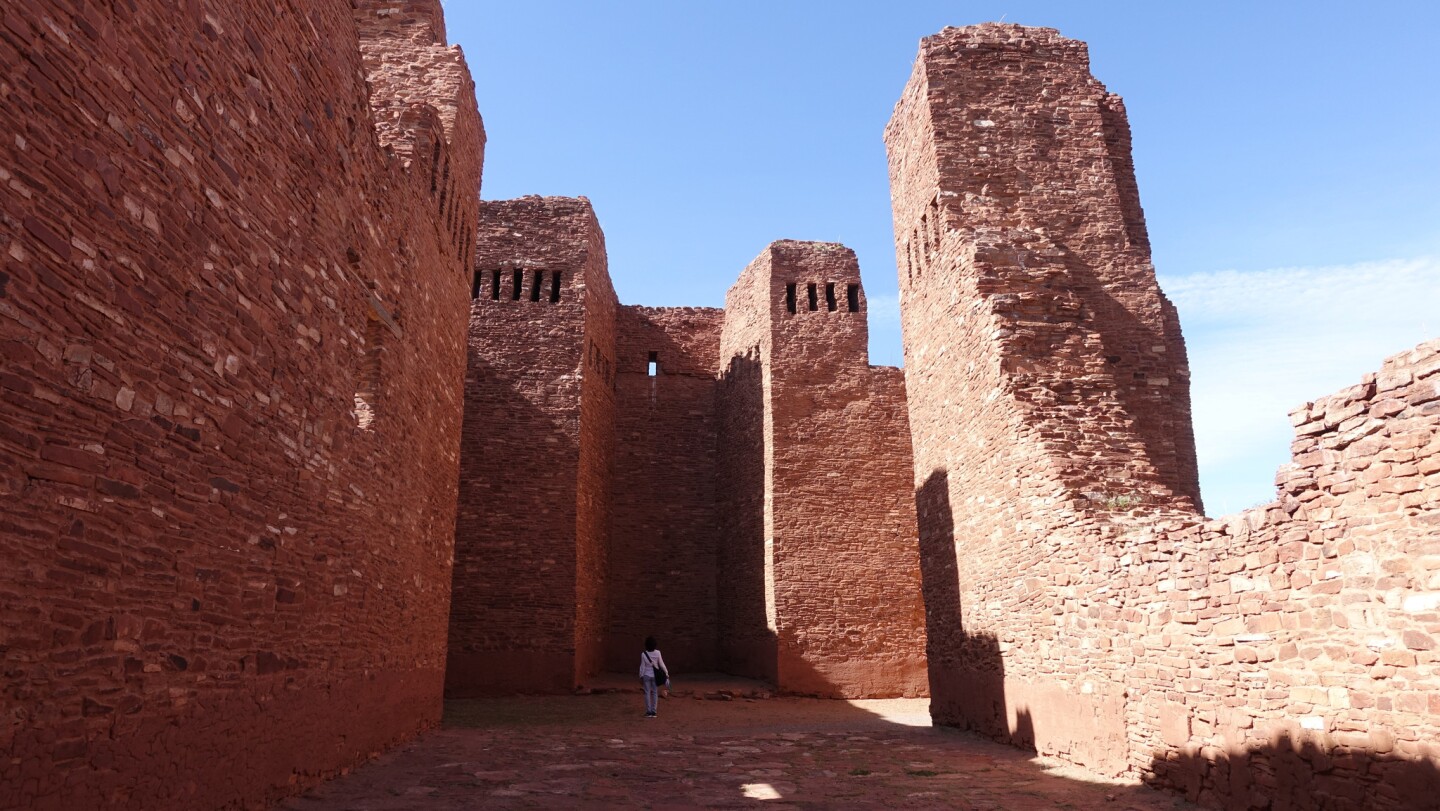 A lone visitor contemplates the ruins of the church at Quarai, which was built by Native Americans under Spanish rule.
(Paul Boorstin)
A guest contemplates "The Guardian," a clay sculpture by Native American artist Roxanne Swentzell that looks down from the soaring circular wall of the lobby in the new Hotel Chaco.
(Paul Boorstin)
Located in Albuquerque's historic Andaluz Hotel, Mas Tapas y Vino serves fresh takes on traditional Spanish dishes, such as rum-cured yellowfin tuna with fingerlime "caviar" and tomato jam.
(Paul Boorstin)
"You must see Quarai," said the friend we were visiting in Albuquerque. "It's a mystical place." Eager for a spiritual fix, my husband, Paul, and I drove southeast from the city to this Spanish mission ruin [122 Manzano Quarai Road, Mountainair, N.M.; (505) 847-2585, www.nps.gov/sapu], one of three sites of the Salinas Pueblo Missions National Monument. We spotted Quarai's jagged red sandstone walls rising above a grove of cottonwood trees, their leaves shimmering in the sun like polished jade. The footpath to the ruin led us among grassy mounds that shelter the remains of the native civilization that flourished here before the Spanish arrived in 1598. "Enter the church alone," our friend had recommended, so I went first, my footsteps echoing off the shadowy stone walls. My eyes were drawn to the cobalt blue sky. I heard the whisper of leaves in the wind and felt a sublime connection to nature and the past.
The two-night tab: $299 for lodging; $125 for car rental and gas; $189 for meals; plus airfare and taxes.
The bed
The striking design, architecture and art of Hotel Chaco (2000 Bellamah Ave. N.W., Albuquerque; [505] 247-0708], which opened May 1, pay homage to Chaco Canyon, home to some of the most extensive pueblo ruins in New Mexico. It was an unexpectedly appropriate — and gorgeous — place for us to stay after visiting Quarai. Because we were among the hotel's first guests, we enjoyed a discounted introductory room rate of $199 a night, which is good through the end of July.
The meal
Hotel Chaco's rooftop restaurant, Level 5, was still under construction, so we dined at Más Tapas y Vino (125 2nd St. N.W., Albuquerque; [505] 388-0088). We nibbled on a tasty array of Spanish tapas as we sipped a lovely New Mexican sparkling wine that was extra-bubbly, thanks to Albuquerque's nearly mile-high elevation. I was surprised to learn that grapes have been grown in New Mexico since 1629, when the church at Quarai was under construction, and that today the state has 60 wineries.
The find
Though Quarai was less than two hours from Albuquerque, we spent our first night near the ruins at Casa Manzano (103 Forest Road 321, Tajique, N.M.; [505] 384-0689]. A mile and a half up a rutted dirt road, the charming B&B nestles among piñon and juniper trees. Because there are no restaurants nearby, we supped on take-out we had picked up in Albuquerque. In the morning, owner Guy Seiler served a delicious eggs-and-potatoes breakfast spiked with his dynamite green-chile salsa, along with homemade pastries.
The lesson learned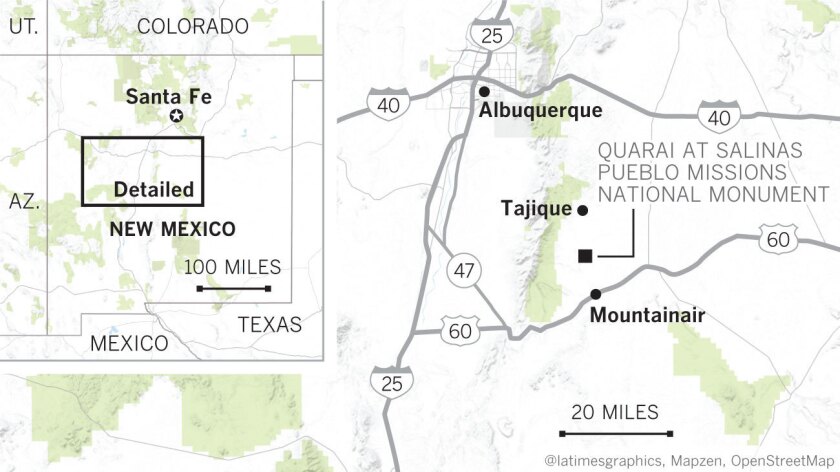 It was satisfying to discover that prices for car rental, lodging and food are lower in New Mexico than in Los Angeles. We high-fived when we stopped to refill the tank on the way to the airport and paid only $2.09 a gallon for gasoline.
---
Get inspired to get away.
Explore California, the West and beyond with the weekly Escapes newsletter.
You may occasionally receive promotional content from the Los Angeles Times.