Peek into the Trans-Allegheny Lunatic Asylum if you dare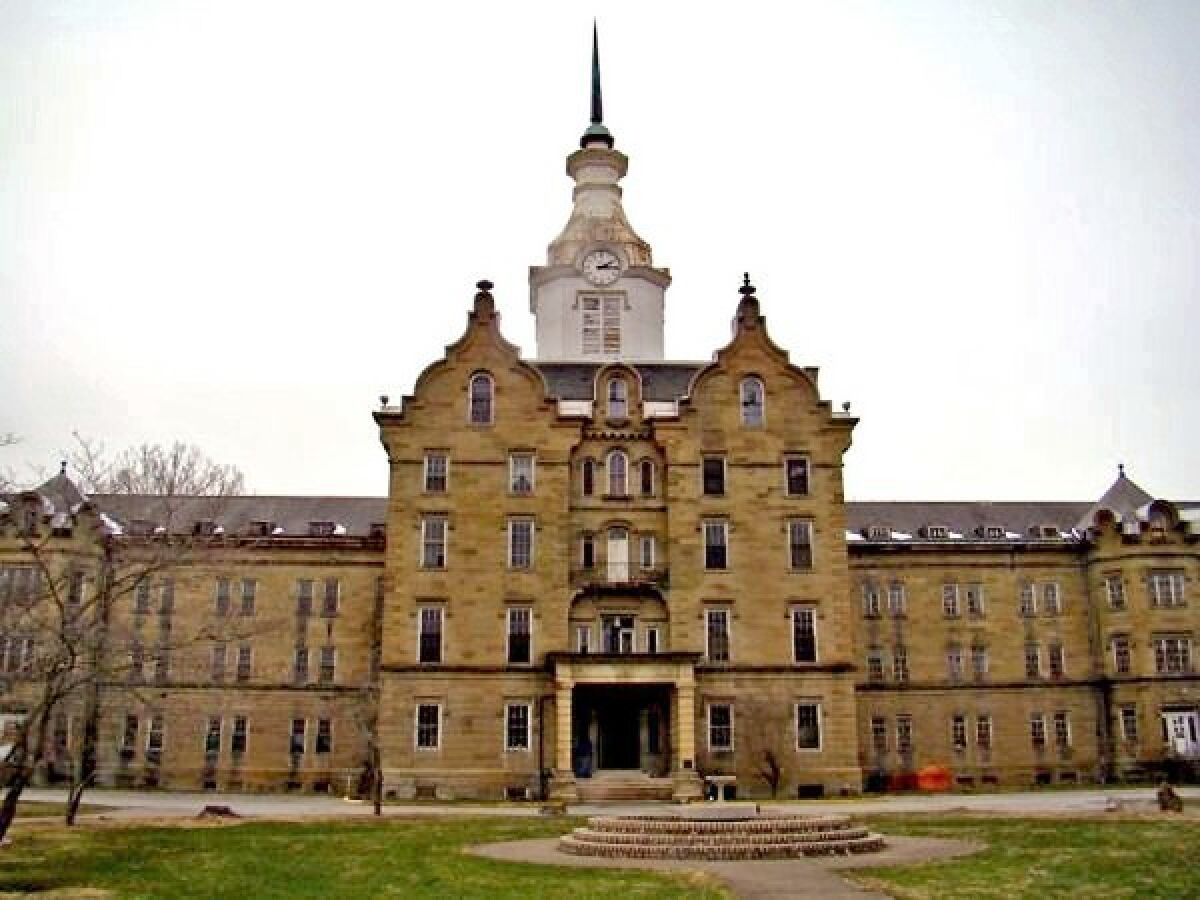 Reporting from Weston, W.Va. —
On a January afternoon, the temperature hovers in the upper teens, the sky threatening to blanket the coal-rich hills of West Virginia with snow.
Inside the Trans-Allegheny Lunatic Asylum, in the small town of Weston, it's five or 10 degrees colder.
The heating hasn't worked since the Weston State Hospital -- as the mental institution was also known -- closed in 1994. The 2 1/2 -foot thick limestone walls provide better insulation than a modern refrigerator.
---
Planning your trip
Themed tours of the Trans-Allegheny Lunatic Asylum, 71 Asylum Drive, Weston, W.Va.; (304) 269-5070, www.trans-alleghenylunaticasylum.com, are offered throughout the year. Prices range from $10 for a first-floor-only history tour to $100 for the "Overnight at the Asylum" ghost hunt.
Information about lodging, dining and other area attractions, including the boyhood home of Confederate Gen. Thomas "Stonewall" Jackson, is available from the Lewis County Convention & Visitors Bureau; (800) 296-7329, www.stonewallcountry.com
---
I've been forewarned to dress warmly for a tour, so I'm bundled in a heavy coat, gloves and a stocking cap. But their Thinsulate linings, I discover, will offer no protection from the chill that's about to run up my spine.
Dressed in 19th century nurse's garb, with a shawl added for warmth, Andrea Lamb leads visitors on a tour through the four-story building crowned with a majestic clock tower. By day, historical tours are offered. By evening, visitors can wander through the darkened corridors in search of the ghosts of former patients and even spend the night -- if they dare.
"There are 16 wards in the building," Lamb says as she pulls open the heavy wooden door leading to Ward 1. The unit, with pastel-colored paint peeling from the walls, seems to go on forever; the hospital is just 25 feet shy of a quarter-mile long.
"This place was built for 250 patients," she notes. "In the 1950s and '60s, there were more than 2,400 patients in this building." Lamb, 56, adds that as a child, she used to peer through its heavy, wrought-iron gates along Weston's River Avenue.
"You would see patients out on the lawn," she recalls. "They were allowed out on the grounds."
It wasn't until she had grown up, however, that Lamb learned of the abuses and excesses that took place inside: children locked in cages, involuntary commitments and -- maybe worst of all -- lobotomies.
It's the sort of creepy stuff that films such as "One Flew Over the Cuckoo's Nest" and the just-released "Shutter Island," starring Leonardo DiCaprio, showcase in frightening scenes. But several hours south of Pittsburgh, in north-central West Virginia, the true stories are every bit as terrifying as the movies.
"This is what your room would have looked like," our guide says as she opens the door to a surprisingly large, bright and airy room. The architect thought sunlight and fresh air could cure mental illness.
"In 1872 . . . if [a married woman's] husband had a mistress or if she had inherited money . . . he could bring her here," Lamb tells her guests. "He could sign her in and leave her until he decided to come back and get her -- or until she died, whichever came first."
As we move farther down the corridor, past rooms with narrow slits in the doors so staff could observe their charges, we arrive at the oldest part of the facility, a wing built in 1861. During the Civil War, Union soldiers seized it, and the name was changed from the Trans-Allegheny Lunatic Asylum to Camp Tyler. During the war, the camp changed hands several times during clashes between the Confederate and Union armies.
Next we visit an area that squeamish guests may want to skip: the medical center.
"[This] was where they did the shock therapy [and] the lobotomies," Lamb says as she launches into a story told to her by a woman who began her nursing career here in 1939.
"She said, 'I was 18 years old. It was my second day of work. They asked me to take one of the male patients from the regular part of the hospital to the medical center.' "
Dr. Walter Freeman told her to wait; he just needed a few minutes with the patient. The young nurse had no idea that the doctor was the famous -- some would say infamous -- lobotomist who traveled around the country using an ice pick or similar tool to damage the brains of thousands of patients.
"She said she did not know she was going to take that man for a lobotomy," Lamb says. "That bothered her for the rest of her life.
"She brought back the perfect patient. He would feed himself, dress himself [and] go to the bathroom by himself, but he would never have any emotions again."
Lamb concludes the chilling tale noting that as late as 1980 there were still lobotomized patients on the wards at Weston.
No wonder participants in the nighttime ghost tours repeatedly tell of hearing groans and screams from long-dead patients, including a still-disturbed one named Ruth.
"She's generally on Ward 4," says Michelle Graham, one of the locals who conducts the paranormal walks. "She's the one who will push people around if they call out her name. . . . . They've been pushed from behind and fallen to the floor. . . . Doors will open up and hit them in the face."
And then there's Lily, who apparently was a patient here as a little girl.
"People say she'll hold their hands," Graham tells me. "She'll turn flashlights off and on in response to questions. She'll play with a ball and roll it back and forth between people."
Whether they come for the history or the haunting, visitors often leave shivering -- not only in January, as I did -- but on muggy afternoons in August too.
Get our L.A. Goes Out newsletter, with the week's best events, to help you explore and experience our city.
You may occasionally receive promotional content from the Los Angeles Times.