Avoiding pain and finding only pleasure in Sicily
Reporting from Syracuse, Italy —
You could spend weeks exploring the island of Sicily and never run out of things to do. The list of "must sees" — magnificent cathedrals, fountains, mosaics, ancient villas, archaeological parks, Greek temples, beaches and museums — will require painful decision-making for visitors who have only a handful of days to explore.
I'm not a fan of pain. Which is why, when I started to plan a trip to Sicily that was focused on eating and drinking, I abandoned the jam packed itinerary and chose a "see what you can" plan.
My husband, Steve, and I spent eight days on the island in October. Amid our consumption of gnocchi and pasta alla Norma, stuffed rice balls and smoked cheeses, octopus and sardines, and many bottles of Nero d'Avola, we managed to explore remnants of the remarkable ancient, medieval and Renaissance eras in a leisurely fashion.
The food, which we ordered in restaurants and cafes and purchased from market stalls, ranged from good to exquisite. The locals were welcoming, and our unplanned time turned out to be a sweet surrender to the joys of wandering.
Fantasy-fulfilling
We started our journey in the Palermo area, and after a late-afternoon arrival we drove east for 60-plus minutes, much of it on dark, winding roads, to the Relais Santa Anastasia.
The hotel, in the hills overlooking the town of Castelbuono, once was a Benedictine abbey and, as we discovered the next morning, offers breathtaking views of olive trees and grape vines cascading down the hills toward the ocean.
But when we arrived, we had only one thing on our mind: food. We arrived in Sicily expecting we would encounter fresh vegetables and seafood. The hotel's elegant dining room, the Abbot's Court, offered that — and a whole lot more.
In two nights, we indulged in spit-roasted pork with goat cheese mousse, gnocchi with cherry tomatoes and tuna eggs, squid stuffed with vegetables, and amberjack on a bed of creamy potatoes.
The presentations were carefully composed, and some of the combinations were spectacular. The briny tuna eggs and sweet cherry tomatoes transformed the gnocchi from comfort food to fantasy-fulfilling.
The tender squid acted like an exotic sausage casing for vegetables brightened with red onions and balsamic vinegar.
We spent our first full day in Sicily walking around Palermo's historic center, where the buildings and monuments testify to waves of conquerors. The sprawling Cattedrale di Palermo, we learned, was built in the 12th century and is a mix of architectural styles — Arab, Norman, Byzantine, Gothic and Baroque among them.
The 17th century Quattro Canti (also known as the Piazza Vigliena) includes four fountains featuring statues of Spanish kings of Sicily. Cappella Palatina, a 12th century chapel and the home of dazzling mosaics, was built for Norman kings who once ruled the island.
During our informal walking tour, we stopped at the open-air Ballarò Market and sampled olives, cheeses, chickpea fritters and arancini, fried rice balls that were introduced to the island during Arab rule.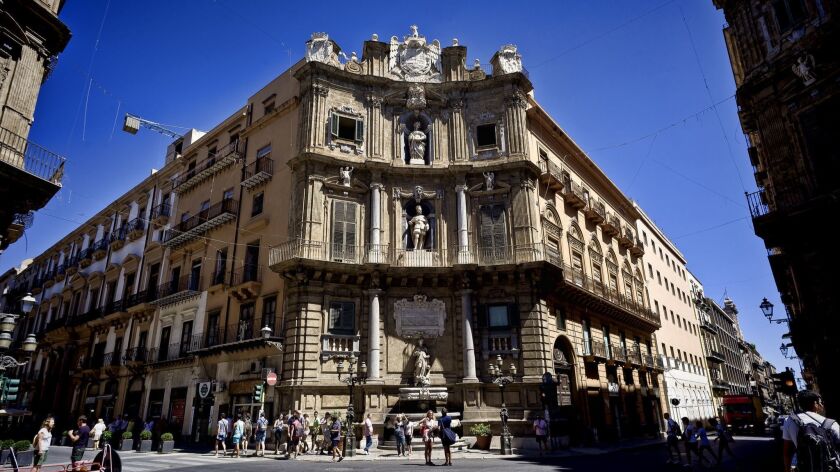 By midafternoon, however, we were eager for a meal and plopped down at Ristorante Pizzeria Carlo V, one of several cafes on the Piazza Bologni, which was jammed with locals and tourists.
Lunch — risotto with pears and Gorgonzola — was a delicious combination of sweet, sharp and salty.
Exploring Agrigento
The next morning we started our journey to Agrigento, a city on the southern coast known for Greek temples that date to the 6th and 5th centuries BC.
The archaeological sites, in the Valley of the Temples just south of the city, are on the UNESCO World Heritage list and rival some of the most important in Greece.
The Temple of Concordia was visible from the patio and many of the rooms of the Villa Athena, where we stayed for two nights.
Steve and I spent a couple of hours that first evening just gazing at the temple, which was framed by olive trees and glowed with theatrical lighting. The scene was so beautiful it did not seem real.
In the morning, we fueled our exploration of Agrigento's historic center with pastries and ricotta-filled tarts at the hotel's lavish breakfast buffet. It was a quiet Sunday, a good time to visit Santa Maria dei Greci, a 13th century Greek-Byzantine church; the more elaborate Norman-Gothic Cathedral of San Gerlando, founded at the end of the 11th century; and anything else that caught our eye on the city streets.
In the afternoon, we walked to Le Cuspidi, a well-known gelateria and confectionery where we wolfed down scoops of brightly flavored gelatos — pistachio, Sicily cheesecake and caffe — all artfully plated on ceramic "palettes" with indentations for different sauces.
When it was time for dinner, we went to a neighborhood just outside the historic part of the city to eat at Kalòs. We sat on a tiny second-floor balcony, where we dined on Sicilian caponata, lamb cutlets with a pistachio crust and grilled octopus, which, with its briny, charred flavor, was a highlight of the trip.
Ancient cultures
Our final Sicilian destination was Syracuse (Siracusa in Italian), a coastal city that's about 140-mile drive east of Agrigento. In keeping with our leisurely paced theme, we made a few stops along the way, including the Villa Romana del Casale, a 4th century Roman palace.
But our first stop was for lunch at the rustic Agriturismo Trinacria, a short drive from the villa.
The stone building, a farmhouse, sits on the side of a road overlooking a lush green valley. It was an appropriate setting for a glass of the house red and an enormous plate of meats and cheese, followed by pasta with sardines, wild fennel and bread crumbs.
The combination of salty fish, chewy pasta and nutty bread crumbs was so compelling that I had to abandon a decades-long boycott of sardines and clean my plate.
Villa Romana del Casale was — and is — a sprawling Roman estate with state rooms and reception areas, guest rooms, dining rooms and private apartments.
But the primary reason to visit this UNESCO World Heritage site is its 37,000 plus square feet of extraordinary mosaic flooring. There are half-naked lovers, fishing cupids, chariots pulled by horse-size birds, elephants and ostriches and stags, mythological animals —and women in bikinis batting a ball.
Syracuse also offers an abundant mix of ancient cultures and architecture, much of it on display in the Ortigia district, an island south and east of the metropolitan area. Our hotel, the Musciara Resort, was about a 20-minute walk from the island — just enough time to work up an appetite or recover from overindulging.
One morning we walked across a bridge that connects Ortigia with the rest of the city in search of the Temple of Apollo, a crumbling Greek structure dating to the 6th century BC, and the site of our rendezvous with Maurizio Moceo, an exuberant local chef. The day's agenda included a tour of the nearby Mercato di Ortigia and a cooking lesson.
Walking through the market with Moceo was a revelation, not only because we were able to sample an astonishing array of spices, produce, olives, breads, cheeses and seafood but also because our gregarious guide was the star of his own street theater production.
He knew, or seemed to know, everyone he encountered, inquiring after wives, mothers and babies — and possible weight gain or loss.
Forty minutes later, we entered the tiny kitchen at Macallè, Moceo's nearby restaurant, to learn the basics of a simple, multicourse meal that included pasta alla Norma, a traditional Sicilian dish with cubes of eggplant (the trick is to deep fry them in sunflower oil), and two types of pan-seared fish.
The preparations weren't complicated. It was the local (and inexpensive) ingredients that made all the difference. Moceo had grabbed pumpkin greens from a vendor who was about to discard them. Sautéed with red onion and a local olive oil, the sweetness of the greens contrasted nicely with the crunch of the onion.
On another day, we could see the city from a different angle while we cruised around the city's harbor, then up and down the coast on a wooden boat with a two-man crew.
The Ortigia's pale yellow buildings glowed in the afternoon sun as our guide, Vittorio Angelino, pointed out various sights, including Castello Maniace, a citadel and castle built in the 13th century that looks like a made-to-order movie set.
The highlight of our time on the water was lunch, prepared, our guide said, by a nonagenarian neighbor, that included caciocavallo cheese with olives and sundried tomatoes; ricotta with baked garlic; prawns with balsamic vinegar on a slice of lime, and an eggplant dish, earthy and creamy, that was a new high in comfort food.
On our last day in Syracuse, we toured the Duomo di Siracusa (the Cathedral of Syracuse), constructed in the 7th century atop Greek prehistoric ruins, and the nearby Chiesa di Santa Lucia alla Badia, which houses Caravaggio's "Burial of St. Lucy,"
Our dinner at Macallè was another feast of freshness: bruschetta with raw swordfish and shrimp; tagliolini with tiny bits of salty prawns; grilled squid; and a small, but outstanding chunk of sea bass, cooked just short of opaque and sprinkled with hazelnuts.
Did we manage to eat all our cannoli for dessert?
We did.
A working Italian dairy farm is a slice of heaven
If you drive from Palermo, the capital of Sicily, to Agrigento on the southern coast, you will probably choose one of the twisting roads that runs through the center of the island. The mountain and ocean views are astonishing, but anyone unaccustomed to switchbacks and the fierceness of Italian drivers might welcome a stop for a little fresh air and sightseeing.
During a weeklong stay in Sicily in October, my husband, Steve, and I pulled off the road at Fattoria Giambrone, a family-owned farm known for its cheeses and produce, near Cammarata, a town about 30 miles north of Agrigento.
You can tour the grounds to check out the animals (dairy cows, goats, a few horses, chickens, a couple of peacocks, at least one enormous pig, a handful of dogs and many, many cats), visit the stables and milking rooms, sample fresh produce and observe the cheesemaking process.
Then you can reward your hard work with a rustic lunch in a small dining room on the grounds. Heaven.
We were greeted by a posse of dogs and cats and 41-year-old Marco Giambrone, the full-time guide and "teaching farm operator" who explained that his family has been making cheeses — mozzarella, Caciocavallo (stretched curd) and Caciotta, among them for decades.
Giambrone patiently walked us through producing the beautiful rounds of cheese that can be purchased on-site.
We were particularly enchanted when he picked up a ball of warm Ainuzzi cheese and shaped it into a tiny horse, as though he were sculpting clay. Giambrone said he learned how to make horses and other animals from his mother, adding that they produce about 2,000 of them in the spring, a peak time for school tours.
After about 45 minutes, it was time for lunch in a small dining room. Giambrone brought us a carafe of red wine, bread and a large plate of cheeses, cured meats, tuna-stuffed peppers, eggplant, artichokes and olives, followed by a plate of caprese (tomatoes and mozzarella). And that was just the start.
After about 20 minutes, he returned with a large platter of veal, sausage and cured pork.
When it came time for dessert, Giambrone realized we were sated and politely asked whether we'd like to take the cannolis, made with fresh ricotta, with us. We took him up on the offer, happily dining on the sweets the next morning, grateful for one more taste from the Giambrone farm.
If you go
THE BEST WAY TO PALERMO, ITALY
From LAX, Alitalia, British, Delta, KLM, Lufthansa and Swiss offer connecting service (change of planes) to Palermo. Restricted round-trip fares from $1,087, including taxes and fees.
TELEPHONES
To call the numbers below from the U.S. dial 011 (the international calling code) 39 (the country code for Italy) and the local number.
WHERE TO STAY
Relais Santa Anastasia, Contrada Santa Anastasia, Castelbuono, Palermo; 0921-672233. Doubles from about $183 a night.
Villa Athena, 33 Via Passeggiata Archeologica, Agrigento; 0922-596288. Doubles from about $413 a night.
Musciara Resort, Riviera Dionisio il Grande, Syracuse; 0931-463613. Doubles from about $285 a night.
WHERE TO EAT
Ristorante Pizzeria Carlo V, Piazza Bologni, Palermo, 091-328856. Entrees from about $16
Fattoria Giambrone, Contrada Passo Barbiere, Cammarata; 348-073-2921. Lunch and a tour from about $40 per person.
Le Cuspidi, 19 Piazza Cavour, Agrigento; 0922-595914. Prices from about $3.
Kalòs, 1 Salita Filino, Agrigento; 0922-26389. Entrees from $20.
Agriturismo Trinacria, 457 Via Roma, Contrada Casale, Piazza Armerina EN, 338 923 8220. Entrees from about $16.
Macallè, 42 Via dei Santi Coronati, Syracuse; 392 297 4875. Entrees from about $20.
Cooking class and tour of Mercato di Ortigia: Agave Travel Creative, (323) 744-4196. About $195 per person.
Syracuse harbor cruise: Tourist and Boat Services, or Agave Travel Creative: (323) 744-4196. Rates start at about $200 person, depending on the trip and size of the party.
TO LEARN MORE
Agave Travel Creative, (323) 744-4196
---
Get inspired to get away.
Explore California, the West and beyond with the weekly Escapes newsletter.
You may occasionally receive promotional content from the Los Angeles Times.