My mistake dragged my family into a passport crisis, but the end of the story will surprise you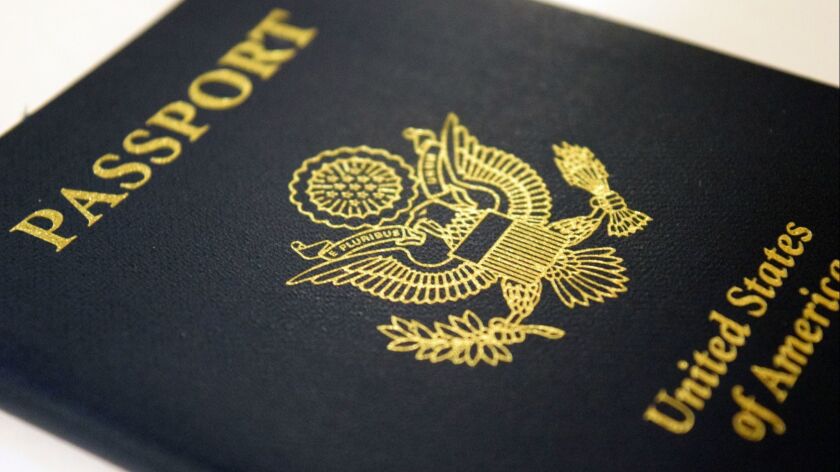 Your next foreign trip looms, and you have everything under control, including the passports.
Yeah, that's what I thought. And then I came within 30 hours of ruining a long-planned family trip to Scotland. Several family trips, actually.
We were due to fly Thursday, March 22. I knew we had renewed passports within the last six or seven years, and I remembered that passports are good for 10 years.
It wasn't until the day before departure that I reached into our file cabinet for the documents for my wife, Mary Frances; our 13-year-old daughter, Grace; and me. I had no worries, but as long as I had the passports in hand, why not open them?
First one, fine. Second one, fine. Then I saw that Grace's had expired the week before.
How could this be? Because, as the State Department's passport page reminded me in the ensuing moments, only adult passports are good for 10 years.
For anyone younger than age 16, they're good for only five.
Did I mention the reason for the Scotland trip? My daughter would be joining seven teammates to compete in an international dance contest. If she failed to show, this would not just be our problem. Seven other families would have a big hole in the middle of their itineraries, and seven other girls would see months of practice come to nothing.
Did I also mention that I write about travel for a living? Basically, in this story, I am the cobbler with the shoeless child. Or nearly shoeless.
After a few minutes of stunned silence, I called the U.S. Passport Agency, which has its Western regional office in the Federal Building at 11000 Wilshire Blvd. in West Los Angeles — 11 miles from our home.
That office (open 7 a.m. to 3 p.m. Mondays to Fridays) processes expedited requests when people need passports in a hurry. An expedited request costs $60 extra on top of the usual $110 passport book renewal fee for an adult. For children younger than age 16, the application fee is $80, plus a $35 execution or "acceptance" fee, plus (if you're in a hurry) the expedited request charge of $60. (The execution fee increased from $25 on April 2.)
In moderately urgent cases (departure in three weeks, for instance), you can make an appointment by phone ([877] 487-2778). In extreme cases, if you can pull together the proper identification (what you'll need varies depending on the type of passporr and proper photo), you can show up at the office, stand in line and throw yourselves at their mercy.
If your problem is like mine — involving a child younger than age 16 — the child needs to be present. So do both parents to avoid custody questions.
It wasn't clear whether the office could save my bacon. It was already after 10 a.m. on this Wednesday. It would be closing at 3 p.m. Our departure time was 7 p.m. Thursday. We needed a federal agency to create in a day a document that usually takes four to six weeks.
For the next part of the story, imagine a series of sped-up video scenes, followed by a slow-motion sequence. The fast part would be my calling Grace's school, pulling her out early and racing across the street to Rite Aid to get a passport photo.
Meanwhile, my wife was slipping away from her job early to meet us. By a few minutes after noon, the three of us were in a car, racing west toward the passport office.
Well, not really racing. The slow-motion part of this montage is our inching our way through molasses traffic (did I mention this was a rainy day?), rushing up to that tall, forbidding building, standing in line with a few dozen people, standing in another line, answering a few questions from a courteous agent, then settling into a drab waiting room while workers circulated behind security-glass partitions.
But I'm not complaining. Plenty of high-speed work was getting done behind those glass partitions.
Since U.S. officials started requiring passports for air and sea travel to Mexico and Canada about 10 years ago, many more Americans have been applying for them.
The government issued a record 21.38 million passports in the year that ended Sept. 30, and the State Department says 42% of Americans now have passports — a vast increase from previous years.
Despite that workload, the passport people called my number about 3:30 p.m. (half an hour after they had stopped processing new requests for the day), then handed over a little rectangular miracle with a dark blue cover: a renewed passport, made from scratch in three hours. (By the way, I never played the Los Angeles Times card. We got the same treatment as everybody else.)
We made our flight the next day. The dance team placed sixth in the world. Our trip was saved, and the efficiency of our federal government — well, one office in one agency — saved it.
Check the expiration dates on your and your kids' passports one more time. If you find a nasty surprise, there's hope.
Catharine Hamm has the week off.
Have a travel dilemma or question? Write to travel@latimes.com. We regret we cannot answer every inquiry.
christopher.reynolds@latimes.com
Follow Reynolds on Twitter: @MrCSReynolds
---
Get inspired to get away.
Explore California, the West and beyond with the weekly Escapes newsletter.
You may occasionally receive promotional content from the Los Angeles Times.