An artistic renaissance in Taos, N.M.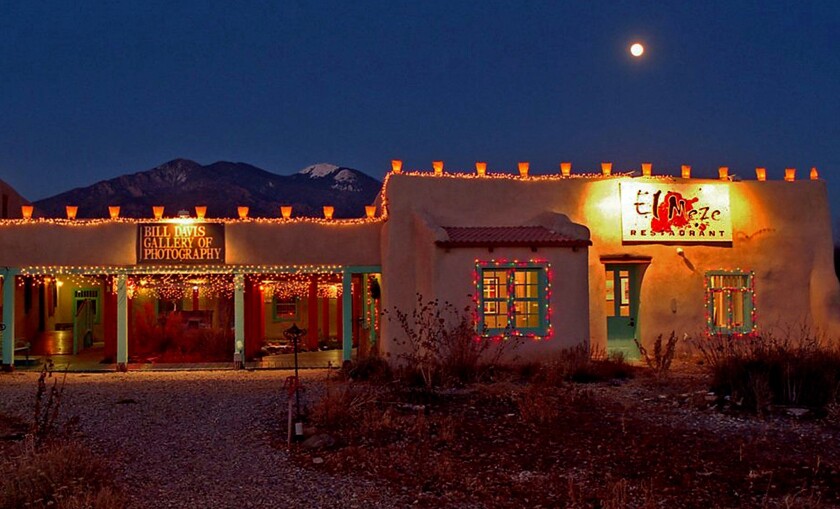 El Meze is a farm-to-table restaurant that features
la comida de las sierras,
or food of the mountains, in Taos, N.M.
(El Meze)
Chef Frederick Muller carefully adds some finishing touches at his restaurant, El Meze, in Taos, N.M.
(El Meze)
Native American culture is a popular subject for artists in Taos, which is enjoying an artistic renaissance.
(Katrina Woznicki)
Artist Angie Coleman has lived in the New Mexico community of Taos for 40 years and maintains a gallery there.
(Katrina Woznicki)
Relax into the pillows of a dining nook in a renovated casita at the Casa Gallina in Taos, N.M.
(Katrina Woznicki)
Taos, N.M., has had many lives: a pre-colonial Native American community, a Spanish settlement and, more recently, an artists' colony for those seeking a quieter pace. Today, many come to Taos to ski, but this resilient small town is enjoying an artistic renaissance after the 2008 economic downturn. The town of just 5,700 has about 80 galleries featuring imaginative, provocative art that captures Native American culture and the beauty of the Southwest. The tab: Our family of three spent about $300 a night for lodging and less than $150 a day on food and sightseeing.
The bed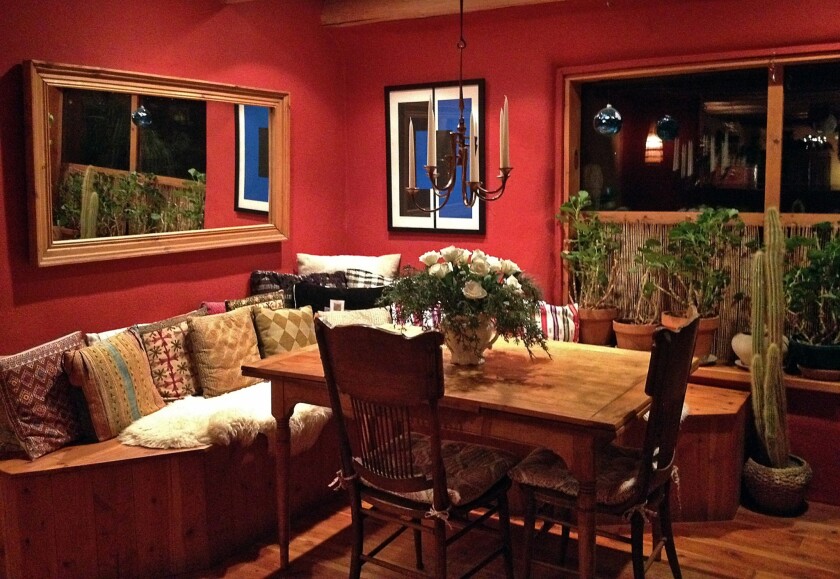 Cocoon at Casa Gallina [609-613 Callejon; (575) 758-2306, https://www.casagallina.net], a cluster of renovated casitas at the base of the foothills of the Sangre de Cristo Mountains. There are five rentals to choose from, ranging from a studio ($205 per night) to a three-bedroom, two-bath traditional adobe home for $250 to $350 per night, depending on the number of guests. Each casita is fully furnished with a complete kitchen (which saves money if you don't want to eat out) and is filled with local artwork for sale. The casitas are the brainchild of Richard Spera, a former New York City restaurant manager now living the artisan life in rural New Mexico. His chickens roam the backyard, and they appreciate leftovers, even the spaghetti and salad we fed them. Spera shares fresh eggs from his hens, and he likes to cook; throughout our stay, he stopped by with tapas, cookies, coffee cake and a torte.
The food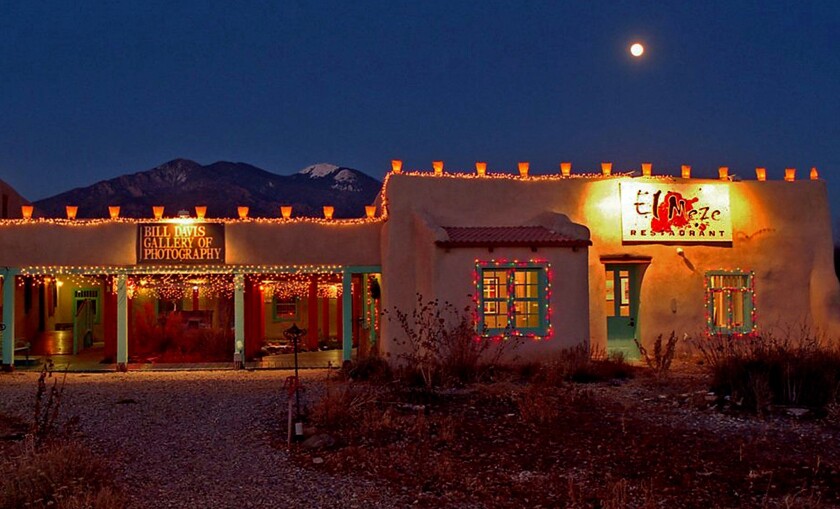 Food is delicious, fresh and not expensive. Adventurous carnivores may consider the rabbit and rattlesnake sausage for $17 at Doc Martin's in the Taos Inn [125 Paseo del Pueblo Norte; (575) 758-2233, https://www.taosinn.com]. We chose El Meze [1017 Paseo del Pueblo Norte; (575) 751-3337, https://www.elmeze.com], a farm-to-table restaurant where chef Frederick Muller cooks what he calls la comida de las sierras, or food of the mountains. Dishes showcase the region's trout, corn, chiles (of course), New Mexico heirloom bolita beans and wild mushrooms. Mini cardamom doughnuts or pumpkin pie ice cream are huge hits after dinner.
The find
Call this more of a rediscovery than a find: Taos has been a haven for artists since the 19th century, but the recent economic downturn led to gallery closures. Artists have begun to reappear in the last year along Kit Carson Road. The Taos Gallery Guide lists a variety of traditional Native American and contemporary artists, as well as information on where to find turquoise jewelry, Zuni and Hopi pottery, metal sculpture, tin work and, yes, landscape paintings. For just $25, you can purchase the Museum Assn. of Taos (www.taosmuseums.org) pass and tour the town's five art museums. Artistic quality and craftsmanship are superb here, and the prices are lower than in Santa Fe.
The lesson learned
Carry cash, preferably small bills. Downtown Taos is filled with independent shops and cafes, and many, though not all, don't accept plastic. Taos artists who sell paintings in the plaza don't take credit cards. If you venture to Taos Pueblo, bring cash if you want to buy jewelry or art made by Pueblo residents. Taos Pueblo is a thousand-year-old Native American community and a UNESCO World Heritage Site. Doors are open during regular visitor hours, and you're free to wander about and see what's for sale.
MORE WEEKEND ESCAPES
Giving Flagstaff the old college try
River's End a restfully rustic retreat on Sonoma coast
Paddle boarding off Mendocino's coast rewards with tranquillity
---
Get inspired to get away.
Explore California, the West and beyond with the weekly Escapes newsletter.
You may occasionally receive promotional content from the Los Angeles Times.