Grab and go or dine in: where to find good food at LAX
In the rush to make your Thanksgiving flight at LAX, you skipped breakfast so you could arrive early. Your strategy paid off, but now you're hungry.
Lucky for you, the world's fifth-busiest airport has upped its culinary game in the last decade with far better options than the so-so in-flight snack box.
The airport, which turned 90 in October and is in the middle of a $14-billion makeover, often feels like one big traffic nightmare. The variety of the 99 restaurants, bars and coffeehouses spread over nine terminals is the one bright spot, with L.A. faves such as Lemonade, Chaya, Campanile and Border Grill.
Almost all of LAX's best dining options are beyond airport security screening. Many are clustered in the posh Tom Bradley International Terminal, affectionately known as TBIT.
Here's an insider tip: Once you pass through screening, you can terminal-hop to find a restaurant you like, provided you're willing to go the distance. Signs will point you from, say, Terminal 4 or 5 to TBIT. (You can't connect from terminals 1 to 3 because of construction projects.)
If you want to skip lines, download the Grab app on your smartphone or tablet, order a meal and pay before you arrive. Then head to the restaurant once you clear security and pick up your meal. Not all restaurants are available on Grab, but Ford's Filling Station, Homeboy Cafe and Loteria Grill are.
The options have elevated what we think about "airport food." Here are suggestions for some basic as well as hard-to-find items:
Champagne wishes
Starting your vacation with caviar and Champagne is an extravagant — but doable — idea. Petrossian, the company that brought caviar to Paris in the 1920s, has operated an airy Caviar & Champagne Bar in the international terminal since 2013. If you don't know caviar, the waitstaff will be happy to school you.
For an introduction, order a Petit Petrossian — 12 grams of transmontanus, or white sturgeon, caviar served with blini and crème fraîche ($48) — and add a glass of bubbly ($15 to $30). They also sell a Picnic in the Sky that comes with a tote, salmon and 30 grams of the caviar of your choice, starting at $205.
Wine-tasting
Vino Volo, in the TBIT, is an unpretentious wine bar where you can sample a flight before your flight. A trio of California Kings brings together a Merlot, Cabernet Sauvignon and Zinfandel for $16; the Fireplace Reds flight takes you around the world with a Malbec from Argentina and blends from South Africa and California ($15). Wine by the glass ($9 to $20, for most varieties) goes well with small plates of burrata and red pepper salad or smoked salmon rolls ($11 to $17).
Healthful fare
L.A.-based Real Food Daily brings the best of its plant-based menu to the airport. It's also a safe bet for travelers seeking gluten-free, nut-free and soy-free dishes.
You can build a healthful bowl by choosing a grain (brown rice, quinoa or soba noodles), greens (kale or other vegetables), and a protein, (marinated tofu or a veggie burger patty). It costs $11.75 to $16.45, depending on how many items you add to your bowl.
The menu includes comfort foods such as vegan Not-Chos, a spicy mess of chips, beans and cashew cheese ($16.45), and a steaming bowl of miso soup ($6.95).
Nearby food truck Food & Bounty serves up healthful fare for meat eaters such as chicken or pork rice bowls ($14) and kale Caesar salad with chicken ($17).
Both are in Terminal 4.
Earthbar, in terminals 3 and 6, serves protein smoothies such as the Muscle Up, with banana, almond butter, almond milk, protein powder and L-glutamine ($9.95). Beaming in Terminal 1 traffics in organic superfoods and cold-pressed juices, and "power shots" such as Vitality, with turmeric, lemon and ginger ($5.29).
Cocktails and kombucha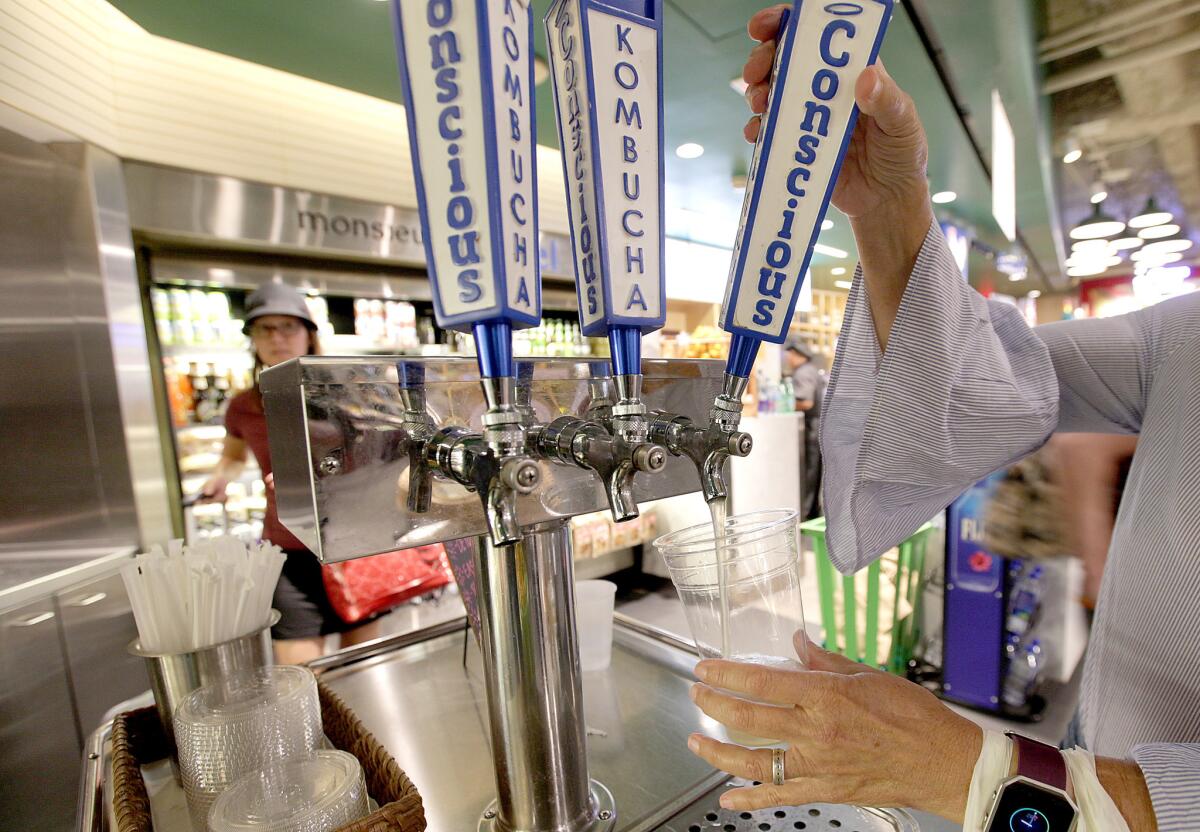 James' Beach, a neighborhood bar in Venice, has landed in a quiet corner of TBIT. Bartenders serve a fair number of margaritas and mojitos, but the signature drink is the Venice Beach Adult Lemonade made with lemon vodka, lemon juice, sugar and soda ($13).
Other vacation-mode options include a Champagne Julep ($13) made with brandy, mint leaves, sugar and cava, or a Bellini ($12) made with white peach purée and cava.
If you're looking for a different kind of bubbly, in Terminal 5 Farmers Market to-Go, an offshoot of the 80-year-old landmark at 3rd and Fairfax in Los Angeles, serves kombucha on tap in pineapple, peach and watermelon flavors. A 16-ounce cup costs $5.99.
Burger mania
Two noteworthy L.A. burger joints have successfully made the journey to LAX. Umami Burger leads the pack with a small and endlessly packed counter at the international terminal. Choices are limited, but you can score a truffle cheeseburger ($15.50) and sweet potato fries ($6.25).
Cassell's Hamburgers, which opened in L.A. in 1948, has a spot in Terminal 1. You can also find Burger Bar in Terminal 4, Built Custom Burgers in Terminal 2 and the New York City phenom Shake Shack in Terminal 3.
Pizza, pizza, pizza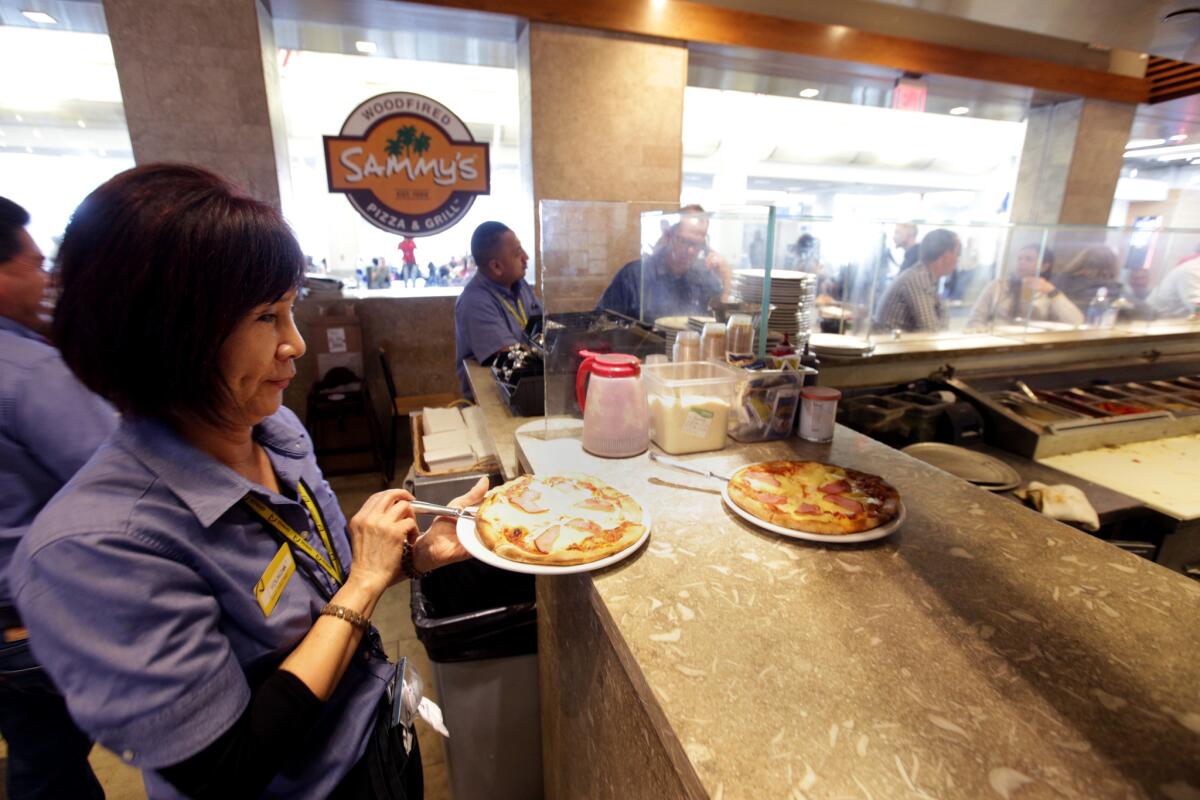 Sammy's Wood-Fired Pizza & Grill, which opened its first site in 1989 in La Jolla, brings six-slice pies to Terminal 4. A basic Margherita goes for $15.49, and a New York-style pizza with mushrooms, pepperoni, Italian sausage and tomato sauce costs $16.95.
You'll find build-your-own options at TBIT's 800 Degrees Pizza, which lets you choose toppings such as pine nuts, arugula, roasted garlic, truffle cheese or rosemary ham for your pizza baked in a wood-burning stove. Pizzas, one with a gluten-free crust, start at $10.60.
Wpizza by Wolfgang Puck in Terminal 6 serves a breakfast pizza ($16.50), calamari ($13.95) and traditional pizza pies as well.
Mexican
Loteria Grill in terminals 5 and 7 offers a wide-ranging menu with items such as guava and cream cheese empanadas ($4.59); breakfast tacos with scrambled eggs, chorizo, guacamole, salsa and extra add-ons ($8.59); and burritos with fish, citrus chicken or vegetarian fillings ($14.29 to $6.79). For a sweet finish, top off your meal with dulce de leche churro bits ($8.25).
Coffee & tea
There are plenty of places to get caffeinated at LAX; Starbucks and Coffee Bean & Tea Leaf serve their trademark concoctions at several terminal locations. Lamill Coffee, a Silver Lake hangout, serves coffee options and an impressive list of teas, such as bergamot and chai milk teas (iced or hot, $5.90-$7.50) as well as its most popular seller, Hong Kong black tea, and more ($3.60 to $6.80). It's in the north concourse of the international terminal.
Sandwiches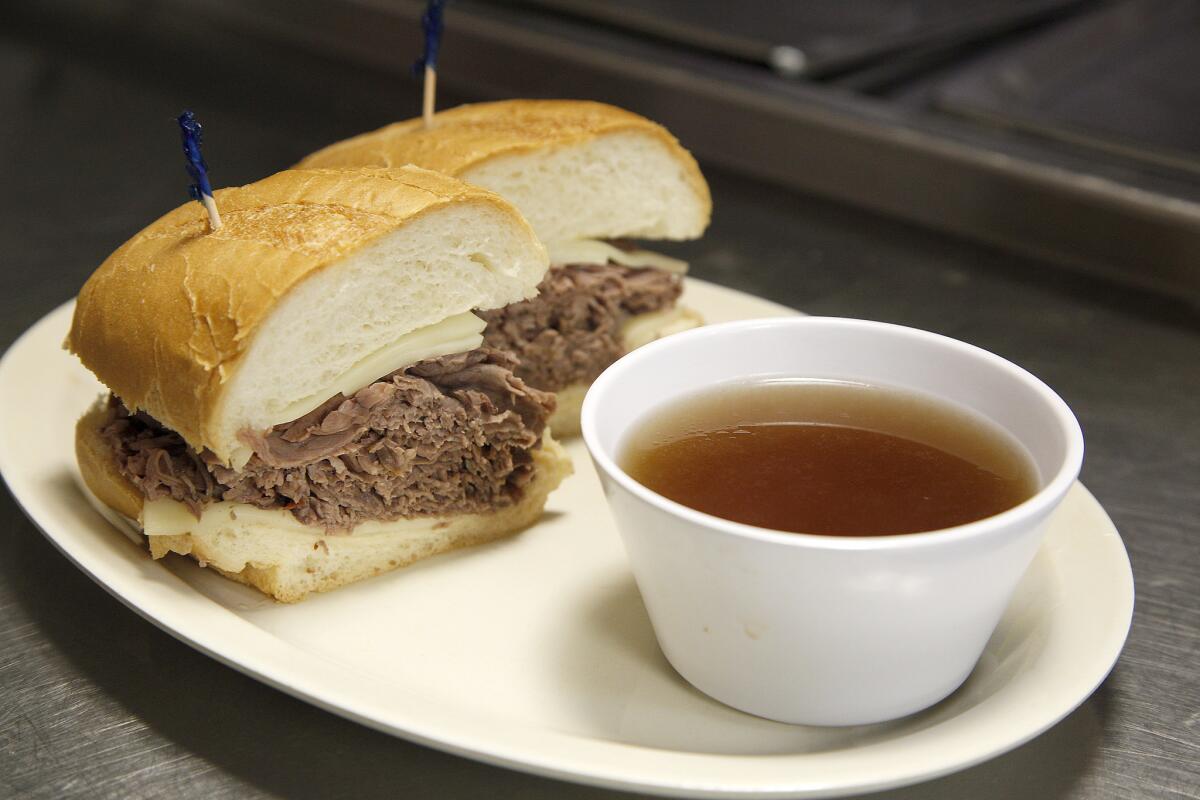 You can grab a sandwich at just about any terminal, but Cole's brings its French-dip creations to Terminal 4. Beef, pastrami, pork and turkey dips are on the menu ($11.65 and up) as well as garlic fries and Cole's slaw, both $5.65.
For a quick grab and go, you'll find Deli & Co. stops in terminals 1 and 3 with offerings such as a chicken, bacon and avocado wrap for $11.43
Sweets
If you want dessert to share on the plane, Vanilla Bake Shop in the international terminal sells a six-pack of cupcakes ($27) and a gift box of colorful macarons ($25). Individual macarons ($2.35 each) come in all sorts of flavors, such as passion fruit, hazelnut, vanilla bean and red velvet.
In Terminal 4, Homeboy Cafe, part of the L.A. food empire created by Father Gregory Boyle to train and provide jobs for former gang members and formerly imprisoned men and women, makes scones ($4.48), Danish pastries ($3.97), croissants ($3.99) and other bakery items from scratch.
Check out LAX's Dining Guide, which shows airport locations of each restaurant.
Get our L.A. Goes Out newsletter, with the week's best events, to help you explore and experience our city.
You may occasionally receive promotional content from the Los Angeles Times.