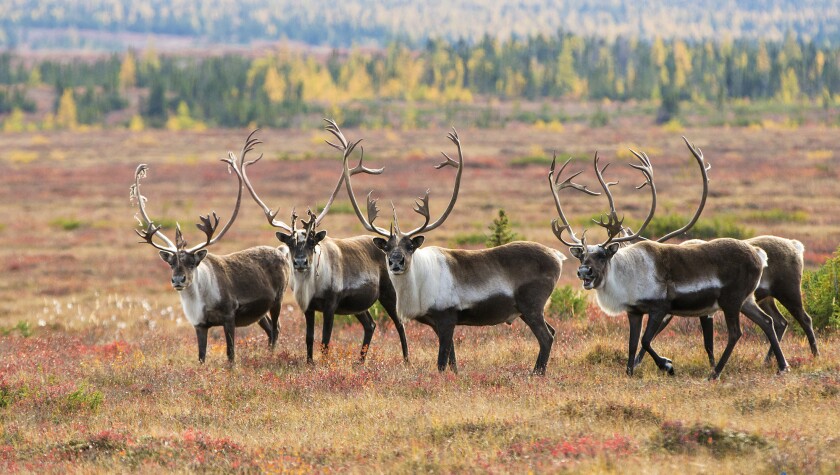 Forget Dasher, Dancer, Prancer and the rest. Let this be the year to make plans to seek out real reindeer. Wild reindeer and caribou are the same species (Rangifer tarandus), and some have knees that "make a clicking noise" when they walk so they can find each other in a blizzard, according to the National Wildlife Federation.
Reindeer are found in some of the most remote and harshest places on the planet, such as arctic areas in Alaska and Canada as well as northern Europe (think Lapland) and Russia. Here are places to go to see reindeer in — or completely outside of — their native habitat.
Alaska
The best time to see wild reindeer in Alaska is summer or during the fall migration. There are 31 distinct herds that call the state home, thriving on lichens and reindeer moss as well as grasses. Hike into Denali National Park & Preserve, 120 miles from Fairbanks, and you're bound to see small groups of 40 or 50 caribou. Or fly to remote Kotabue and then hire a charter plane flyover to see 100,000 to 150,000 from the western Arctic herd. A boots-on-the-ground option: Go backpacking with travel outfitter Arctic Wild to the caribou-filled Arctic National Wildlife Refuge and see animals at eye level ($4,600 per person).
Info: Arctic Wild, (907) 479-8203 or email info@arcticwild.com
Canada
Late August and early September are the best times to get close-ups of Canada's migrating Qamanirijuaq herd, about 250,000 strong. The Arctic Haven Wilderness Lodge on Ennadai Lake is the perfect stepping-off point to find and photograph the animals, including some with offspring from the calving season in June. The green-minded lodge that blends into the landscape serves up gourmet meals too, such as lake trout sashimi, tundra blueberry compote and Baffin Bay turbot. Travel outfitter Weber Arctic offers tours with lodge stays to see caribou and wolves as well as the Northern Lights ($6,623 per person).
Info: Arctic Haven Tour, Weber Arctic, (819) 923 0932
Norway and Finland
The native Sami people in Europe's arctic north have been hunting and herding reindeer for thousands of years. You can learn their history of domesticating reindeer with outfitter Tromso Arctic Reindeer, which offers reindeer sledding ($185) and/or overnight camping in the snowy cold of Norway where you can check out a 300-strong herd, dine with the Sami and hear their stories. ($168).
Info: Tromso Arctic Reindeer
Finland
Finland's Lapland hosts 30-minute reindeer safaris to Santa Claus Village where you also receive a document for crossing the Arctic Circle. The tour starts in Rovaniemi and costs $182 for adults, $132 for children 4 to 14 years old.
Info: Lapland Safaris
Norway
And what about those reindeer games? The World Reindeer Racing Championship, where reindeer pull competitors on skis, will take place Feb. 4-10 not far from Tromso, Norway, in the Sami town of Kautokeino.
Info: World Reindeer Racing Championship,
Southern California
Some reindeer thrive far from their comfort zones, living the easy life at California farms. The L.A. Zoo and Botanical Gardens is hosting four reindeer. They'll stick around until Jan. 6; general admission costs $16 to $21. The Winter Wonderland & Holiday Marketplace at Ventura Harbor Village from 1 to 5 p.m. Dec. 15 will feature live reindeer hanging with Santa and Mrs. Claus (free), and the Ojai Valley Inn will host Breakfast With Santa from 9 a.m. to noon on Dec. 15 where kids can mingle with reindeer and meet St. Nick. Tickets cost $49 for adults, $25 for children 12 and younger.
---