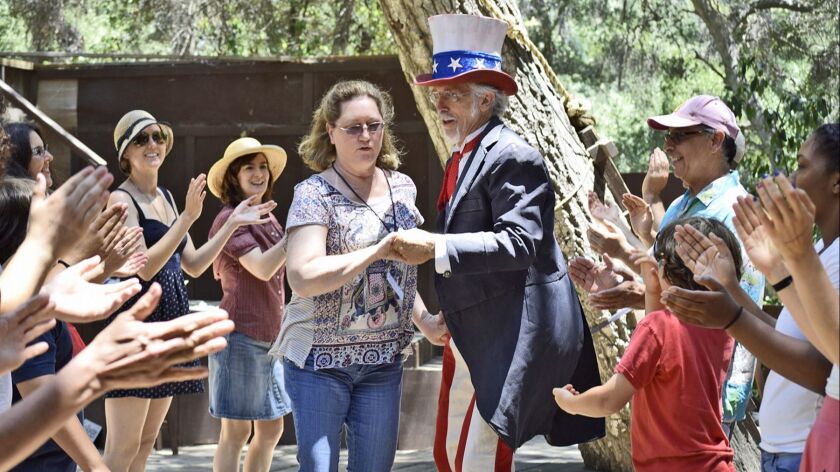 Independence Day in Southern California means a long weekend preceded by square dancing, motocross and fireworks.
Temecula
Temecula Valley's Fourth of July celebrations start with a parade on Old Town Front Street and end with a family festival and fireworks at Ronald Reagan Sports Park. Bring your own picnic, or buy tacos, funnel cakes and other fare on site. Kids can keep busy with rock climbing, obstacle courses and inflatable slides.
When: 10 a.m. July 4
Cost, info: Free admission; wrist band for the kids' zone is $5. Family friendly. Dogs OK, but fireworks can be an issue. bit.ly/temeculavalleyfourth
Solvang
Spend a day in Solvang sipping beer, tasting barbecue and watching a parade along streets that are right out of Denmark. You'll find horses, Viking ships, live classic rock and grilled meats galore at the July 4th Parade and Barbecue at Solvang Park. Later, head to an outdoor party at Old Mission Santa Inés for a beer garden, bounce houses and fireworks.
When: 11 a.m. July 4
Cost, info: Free for parade and barbecue; $10 for festival. Family-friendly. Dogs OK, but fireworks are part of the festivities. (805) 688-6144, bit.ly/solvangfourth
Topanga
Bring your competitive spirit to the Fourth of July Barn Dance at Will Geer's Theatricum Botanicum, an outdoor theater in Topanga Canyon. Besides live folk music and square dancing, the party promises a pie-eating contest, cake walk, relay races and other old-fashioned fun. Fuel up for the competition with barbecue, wine and beer for purchase.
When: 11 a.m. July 4
Cost, info: $10 to $24. Family-friendly. No dogs. (310) 455-3723, bit.ly/topangafourth
Pasadena
More than one ton of fireworks will glimmer above the Rose Bowl Stadium at the 93rd AmericaFest, one of the largest pyrotechnics displays in the West. Before the glow, watch motocross and musical performances or head to the Fun Zone for food and children's activities.
When: 2 p.m. July 4
Cost, info: From $15. Family-friendly. No dogs. (626) 577-3100, bit.ly/pasadenafourth
Los Angeles
The fun is free at Grand Park and the Music Center's Fourth of July Block Party. Bands and DJs, a Ferris wheel, a splash zone and other entertainment will span six city blocks. The fireworks show starts at 9 p.m. Food trucks will offer meals for purchase, but you may also bring food and blankets for a picnic.
When: 3 p.m. July 4
Cost, info: Free. Family-friendly. Dogs OK, but fireworks scare them. july4.grandparkla.org
Pomona
It's all about thrills at the 34th Kaboom!, a night of motocross performances, monster truck competitions and ATV races, capped off with a fireworks show at the Pomona Fairplex. Arrive early to meet riders, donate books for a book drive and enjoy a buffet dinner.
When: 5 p.m. July 4
Cost, info: $18.50 to $60. Family-friendly. Service dogs only. (909) 623-3111, bit.ly/pomonafourth
Temecula
Fireworks are different at South Coast Winery Resort and Spa's Fourth of July celebration, which ends with a patriotic drone light show set to music. Before the sun sets, country-pop duo Brown & Gray and local band Kanan Road will play an outdoor concert. Eat food-truck bites on the grass, or buy a ticket that includes a buffet dinner.
When: 6 p.m. July 4
Cost, info: $15 to $80. Family-friendly. No dogs. (833) 366-3112, bit.ly/temeculafourth
---