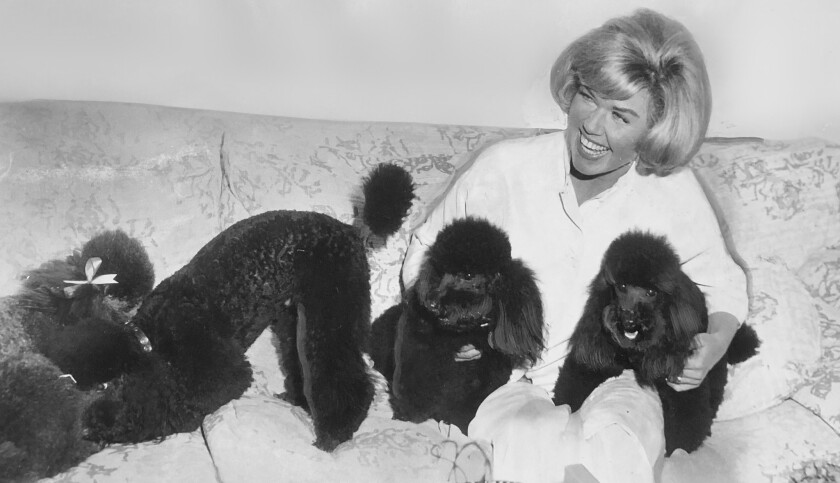 Actress and animal lover Doris Day, who died early Monday at age 97, will also be remembered as co-owner of the Cypress Inn in Carmel, Calif., a place Sunset Magazine once described as "probably the most famous dog-friendly hotel in the country."
On Monday, a remembrance poster was put up at the hotel, and locals dropped off flowers in her honor. Many on social media posted their memories of staying at the inn at Lincoln and 7th streets in Carmel
Small memorial for Doris Day outside the Cypress Inn in Carmel-by-the-Sea. Day was a part owner of the "Pet Friendliest Hotel" in the "Pet Friendliest Town" pic.twitter.com/G14eI2e9xQ

— Caitlin Conrad (@CaitlinKSBW) May 13, 2019
The lobby of the boutique hotel features posters from her movies, such as "Pillow Talk," "That Touch of Mink" and "Young at Heart."
But mostly the inn, which she co-owned with businessman Dennis LeVett, was known for being a place that welcomed and pampered pets.
"Since leaving the Hollywood spotlight more than 30 years ago, Doris has turned her attention to a second career with the same enthusiasm and energy that put her at the top of the entertainment world: the welfare of animals," the inn's website says.
"She has worked tirelessly rescuing, healing and placing thousands of abused or neglected animals. Eventually, she started her own organization: Doris Day Pet Foundation which later became the Doris Day Animal Foundation. She later initiated the Doris Day Animal League."
Terry's Lounge, the popular restaurant inside the hotel, "speaks equal parts Shar-Pei and Sazerac with an animated Yappy Hour and muttinis served daily …," according to the website.
Each year on Day's birthday, which was April 3, the hotel would throw a big birthday party (which she didn't attend) and screen one of her films. This year it was "Pillow Talk," which served a custom-made cocktail made with Tito's vodka, Chambord, Stirrings peach liqueur, pineapple juice and a splash of soda. All proceeds went to her animal foundation.
My father adored Doris Day. In March, my husband has lunch at the Cypress Inn in Carmel and stumbled upon an annual birthday event. They had a special cocktail and were showing 'Pillow Talk' in her honor. She was one of a kind. 🙏🏻 pic.twitter.com/AoVxUFgimS

— Kathleen (@kclang73) May 13, 2019
Many Twitter posts on Monday were from pet owners who had stayed at the inn in hopes of meeting Day. And many honored her animal activism along with her music and film roles.
Spent many an afternoon on the Cypress Inn patio with our dogs, thinking maybe just once we'd be lucky enough to meet this American icon. RIP pic.twitter.com/Ir1LD3s3SM

— JEFF NEWTON (@yonewt) May 13, 2019
The hotel charges a nightly pet fee of $30 for one pet, $50 for two and $70 for three. Room prices in late May start at $299 a night.
Info: Cypress Inn
---