Here's the fix from the DMV for your Real ID driver's license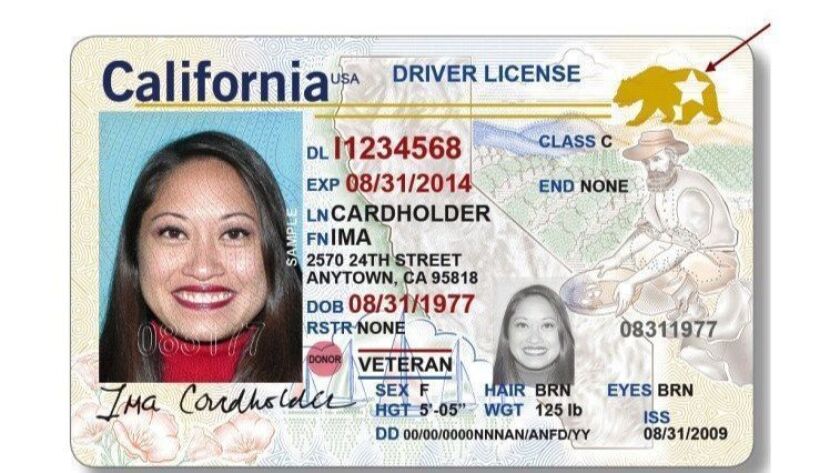 The fix for those early adopters of the Real ID driver's license is coming soon to a mailbox near you, the California Department of Motor Vehicles has announced.
California began issuing Real ID licenses in January 2018. The upgraded license conforms to federal requirements for a change that goes into effect on Oct. 1, 2020. On that date going forward, passengers boarding a domestic flight will need identification that meets federal standards.
Hundreds of thousands of the California Real ID licenses were issued before the Department of Homeland Security last fall told the state that the early California version did not fully meet its standards. Previously, the DHS had OK'd California's process.
California's Real ID driver's license? Still confusing. What you need to know now »
Begin looking for a letter from the DMV sent to those who already have the license and who were required to provide only one proof of residence to obtain it. The letter will ask the license holder to certify that the address where the letter was received is correct. The recipient simply signs it and returns it in a postage-paid envelope, the DMV said.
If the mailing address on your letter is not correct — perhaps you have moved since your Real ID was issued — you will check the No box. In that case, you will need to sign the letter, place two proofs of residence in the envelope that show your new address and return in the envelope. You can see what proofs of residence are required on the website.
The DMV also will ask, if your address is incorrect, that you go online and update your address.
The letters started going out Monday.
How to avoid 3 mistakes that could lead to the loss of PreCheck and Global Entry »
DHS' backtracking last fall threw California's Real ID process into chaos. Those who already had the driver's license wondered whether they would be allowed to use it to board a domestic flight. (They can now and beginning Oct. 1, 2020.) Going forward, new applicants suddenly had to produce a second proof of residence.
The need for this higher-grade identification becomes necessary for air travel beginning Oct. 1, 2020, when California driver's licenses that do not have the distinguishing bear and star in the upper right corner will no longer be enough to board a plane. A passport will work; here are other forms of identification that the Transportation Security Administration will accept.
Other important notes:
►You do not need a Real ID license to drive. The plain-vanilla driver's license will work. But many people prefer to carry a federally compliant license because they almost always have the license with them.
►You will still need a passport for an international flight.
►This change in licenses affects all states and territories, not just California.
►If your license expires this year, you might want to start trying to get an appointment if you're planning to get Real ID. You must go to a DMV office to apply for Real ID, and the demand has been heavy.
►This DMV website will lead you through the process of what documentation you will need.
►You can watch a five-minute YouTube video that explains the process.
---
Get inspired to get away.
Explore California, the West and beyond with the weekly Escapes newsletter.
You may occasionally receive promotional content from the Los Angeles Times.