Visitors to the Las Vegas Strip this week will find several marquee resorts dressing up their art and icons in support of the Vegas Golden Knights. The local National Hockey League team is battling to advance in the Stanley Cup playoffs. Perhaps disappointed L.A. Kings fans can turn their attention to a team that's practically in a suburb.
They would be in good company. Lady Liberty and Augustus Caesar appear to be Knights hockey fans. The towering monuments are kitted out with team logos, echoing a couture trend that began last year as the Knights fought their way to the championship series in their inaugural season. They lost to the Washington Capitals four games to one to give the Caps their first cup.
Now they are tied 3-3 with the San Jose Sharks in a best-of-seven playoff series that will be decided Tuesday in San Jose.
Cheering the Knights on: an iron-clad Caesar, permanently stationed outside his Caesars Palace but now sporting a Golden Knights hockey helmet and clutching a hockey stick. It's a more spirited look for the emperor than other occasions last year, when he brandished a devil's pitchfork to mark the opening of chef Gordon Ramsay's Hell's Kitchen restaurant at Caesars.
And Lady Liberty? The green goddess, her flame of hope beckoning the tired, the weary, and the gamblers to New York New York Resort, is draped in a Knights jersey that's been battered by the sun, wind and rain. Standing proud atop her pedestal adjacent to T-Mobile Arena, home ice for the Knights, she seems unfazed that her jersey is tattered and a bit faded.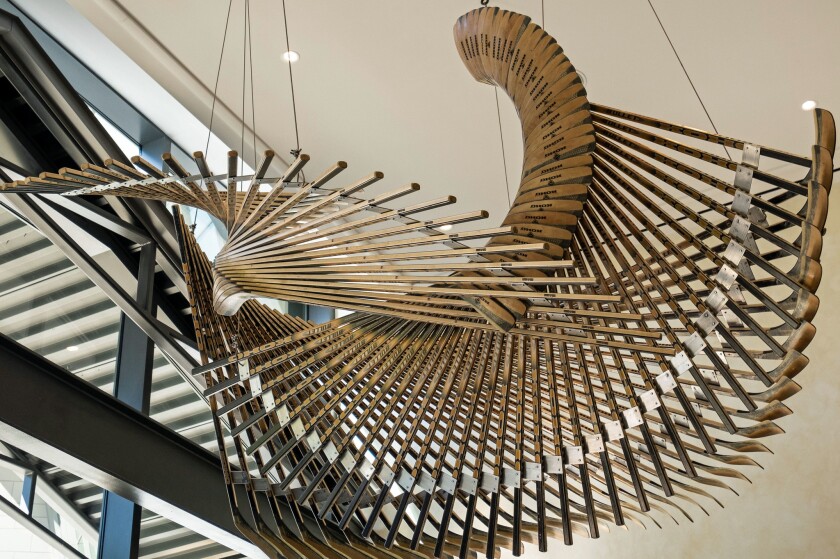 A block closer to the arena, Park MGM last week unveiled "Momentum," a new permanent sculpture made from more than 100 hockey sticks. Pittsburgh-based artist Scott Bye arranged the intersecting sticks in a 10-foot-wide swirl of broad curves and tight angles that could be interpreted as a freeze-frame mosaic of hockey shots, an equipment room in disarray or simply contemplative modern art. Who's to say for certain? Plenty of people will have their say; the piece hangs above a heavily trafficked corridor linking T-Mobile Arena to the crowded Las Strip.
There's hockey-accented art at the Venetian too, where the two-story waterfall behind the LOVE art installation now incorporates a VGK logo.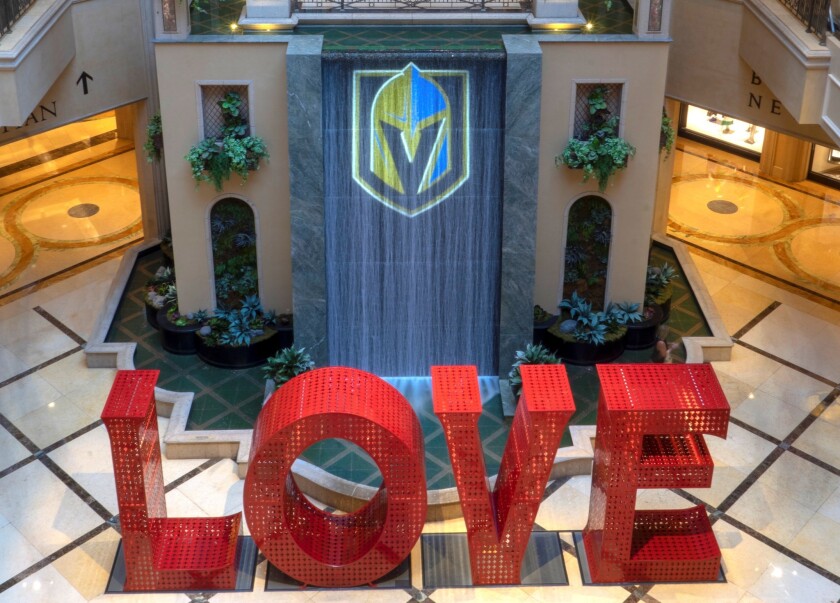 Last year's win by the Capitals ended years of playoff failures. The Capitals, a 1974-75 expansion team, had never won the cup in its 44 seasons.
In the wrapup of the Caps win, L.A. Times reporter Helene Elliott wrote, "The improbable success of the first-year Vegas Golden Knights was emotional. Inspirational. An example of the power of unity. But the Capitals, who lost the first two games of their first-round series against Columbus and needed double overtime to win the third, on Thursday completed a journey that was almost as incredible, rallying in the third period for a 4-3 victory that ended the Cup Final in five games."
---