Column: Washington Capitals defeat Vegas Golden Knights to win the Stanley Cup Final
LAS VEGAS —
For a moment, they were all kids again — big, sweaty, jubilant kids, living the moment they had played out in their minds in backyards and on rinks from Minnesota to Moscow and all points between. The Washington Capitals raced off their bench Thursday night to hug one another and simply yell when they couldn't find the right words, celebrating the burial of the franchise's sorry playoff past and the end of a playoff run that had nearly ended almost before it began.
The Capitals, infamous for their inability to close out series and for developing skill but not heart, trailed in all four rounds of the Stanley Cup playoffs but found the grit and resilience to prevail for the first time since the team entered the NHL in 1974.
The improbable success of the first-year Vegas Golden Knights was emotional, inspirational, an example of the power of unity. But the Capitals, who lost the first two games of their first-round series against Columbus and needed double overtime to win the third, on Thursday completed a journey that was almost as incredible, rallying in the third period for a 4-3 victory that ended the Cup Final in five games.
"I love these guys. These guys are my brothers," forward T.J. Oshie said. "There's not a better group of guys that I'd want to be out there with.
"Everyone just seemed like they wanted to work for it. We just realized we're going to win this year. This year, there was more, 'We're going to work this year. We're going to outwork teams and we're going to play longer than they are,' and we did that throughout the whole playoffs."
They had to revamp the roster last season because of salary cap concerns, and general manager Brian MacLellan — a former Kings player — wasn't sure what he had after he added some grit here and there and had to trust young players. "I thought we would be decent, we'd make the playoffs and do fine, but not to this level," he said on the ice Thursday. "This is outstanding."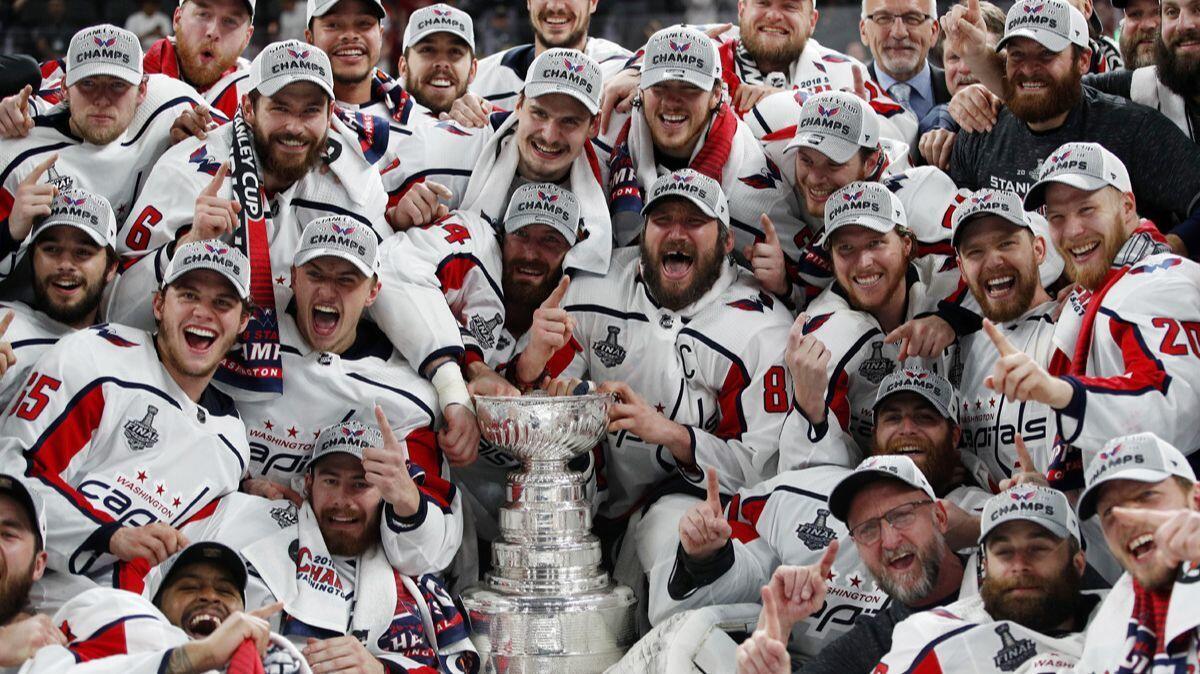 They almost didn't get past the first round. Coach Barry Trotz recalled meeting with captain Alex Ovechkin in Columbus, and despite the evidence, both insisted they had no doubts they'd triumph. "I said, 'Well we've got to win our first game of the playoffs, and once we do that, we're going to win the Cup,' " Trotz said.
And so they did, with a beaming Ovechkin winning the Conn Smythe Trophy as the most valuable player in the playoffs. Ovechkin, the postseason goal-scoring leader with 15 and the first Russian captain of a Cup-winning team, hoisted the silver trophy high above his head, a winner at last. "It meant everything," Ovechkin said. "I think this moment, we were waiting a long, long time."
The Golden Knights, understandably, were disconsolate. They had achieved so much when so little was expected of them, but making it to the Final wasn't a consolation. They wanted to take their remarkable season one step further, but the Capitals were too good defensively, too strong mentally, too easily able to exploit holes in Vegas' defense.
"It's good," goaltender Marc-Andre Fleury said of the team's feats, "but I'll need a few days to digest this first, think about the season. When you get so close to the Cup, to miss your chance, it's disappointing."
The Capitals know the feeling of playoff disappointment. And there was reason to believe they might experience it again Thursday, when Vegas carried a 3-2 lead into the third period. The teams had twice traded goals in the second period, with Washington's Jakub Vrana (breakaway), Vegas defenseman Nate Schmidt (on a deflection) and Ovechin scoring from his "office" in the left circle during a power play and Vegas' David Perron joining the puck in the net in a span of just over 6 1/2 minutes. Vegas surged ahead 3-2 with 28.2 seconds left in the second period, when Reilly Smith scored from deep on the right side, and the Capitals' sad playoff history was cued up for a repeat.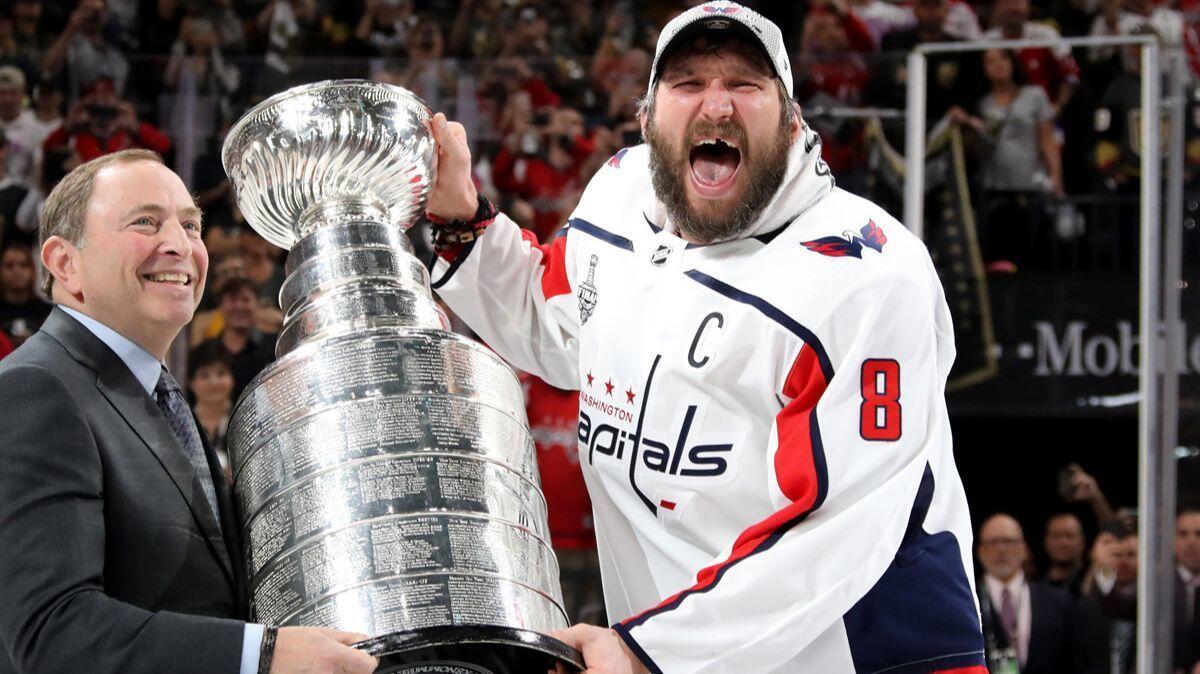 Not this time. Devante Smith-Pelly, the former Duck who came to Washington's training camp last fall without a contract, tied it at 9:52 of the third as he tumbled to the ice. Lars Eller scored the decisive goal when he got behind Fleury to convert a rebound at 12:23. "I couldn't write it up any better," Eller said.
It was truth, not fiction. The Capitals, who had squandered 3-1 series leads five times in the previous 12 occasions they had led by that margin, weren't about to let go of this one.
"It's surreal, especially with the teams we had the last couple years and not getting it done with those groups," said veteran defenseman Brooks Orpik, who played despite a finger he said was "falling off" after taking a slash early in the Final. "I won it in Pittsburgh nine years ago and it was a great group of guys, but I don't say this lightly, but this is the best group of guys I've played with in my career."
They are champions, at last. "This is amazing," Smith-Pelly said. "I would never have thought this is how the season would end."
Neither would anyone else. This was one for the history books for both the Golden Knights and the Capitals, but Washington got to write the happy ending.
Follow Helene Elliott on Twitter @helenenothelen
Get the latest on L.A.'s teams in the daily Sports Report newsletter.
You may occasionally receive promotional content from the Los Angeles Times.