Chef José Andrés is throwing a paella party in Las Vegas at the Cosmopolitan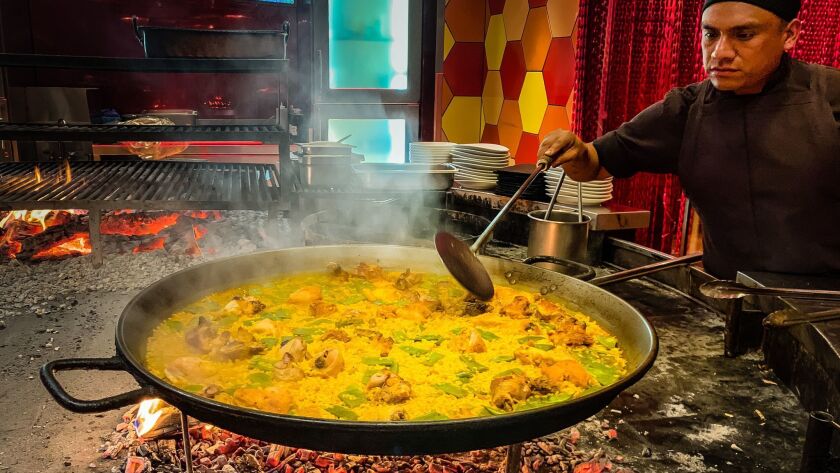 Spanish super chef José Andrés and his kitchen crew will tackle five types of paella, each a nod to a different region of Spain, from April 27-May 4 at Andrés' Jaleo restaurant in the Cosmopolitan of Las Vegas.
Andrés will be on hand to kick off the weeklong paella festival from 1-3 p.m. on April 27
Guests attending the opening party can meet the chef and sample a variety of authentic paellas and eat unlimited tapas, including Jaleo's signature cones, Ibérico pork sliders, croquetas and flan. The tickets ($125) also include Spanish wines and "José's Ultimate Gin and Tonic" cocktails.
Jaleo will add a rotating mix of regional paellas to its regular dinner menu during the week, including the familiar saffron-laced paella Valenciana plus variations from Catalonia (arroz de mar y montana), La Mancha (arroz de costillas y cordero — ribs and lamb), Andalucia (arroz de rabo de toro — oxtail), and Balearic Islands (arroz caldoso de pescados, fish).
The one-pan dish is served throughout Spain and traditionally stars Spanish short-grain bomba rice cooked over a live fire. Regional paella variations include ingredients such as rabbit, chicken, seafood, vegetables, chorizo and Spanish saffron.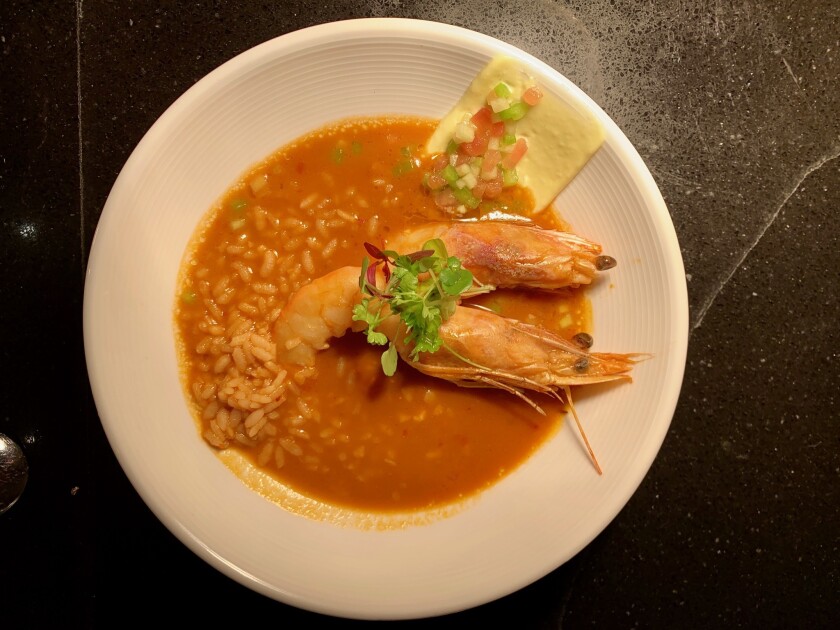 At Jaleo, restaurant executive sous chef Wes Pumphrey and lead paella chef Isaias Gonzalez seem to always have a pan of paella Valencia cooking over a fire fueled with peach and olive woods. Pumphrey said properly managing the fire and resisting the urge to stir the rice as it cooks are essential to the correct preparation of paella.
"You have to begin with a roaring fire" to sear the meats, toast the rice and bring the stock to a rapid boil once it's added, said Pumphrey. "Then, let the fire die down, set a timer, and cook the rice for exactly 17 minutes."
Once the stock is added, "never stir the rice as it cooks or shake the pan," Gonzalez said, who has been cooking paellas at Jaleo Las Vegas for more than five years. "A paella pan is not a wok. If you shake the pan or move the rice, it will come out mushy."
Pumphrey said authentic paellas are always made in a broad, flat-bottom, metal paella pan set over a wood fire. As the ingredients simmer, the wood smoke perfumes the dish while the fire's intense heat caramelizes the bits of rice that stick to the bottom of the pan. Paella aficionados say that crust, called the socarrat, is the most prized part of a well-made paella.
"Once you've tasted a great paella, you'll be hooked," Pumphrey said.
Jaleo isn't the only Vegas restaurant where visitors will find paella on the menu. The restaurant Julian Serrano Tapas at Aria Resort features five varieties of cooked-to-order paella on its dinner menu (including paella Valenciana). Earlier this month, a pair of Vegas chefs revealed plans to open Valencian Gold, an off-Strip restaurant specializing in paella. It is expected this summer.
Info: Jaleo Las Vegas
---
Get inspired to get away.
Explore California, the West and beyond with the weekly Escapes newsletter.
You may occasionally receive promotional content from the Los Angeles Times.