Here's your new favorite fishing spot in California: Lee Vining
Anglers try their luck on Saddlebag Lake, west of Lee Vining, a California hamlet that's also a prime spot for fishing.
(Hugo Martin / Los Angeles Times)
Two anglers stake their spots on the banks of Saddlebag Lake. Some California anglers and hunters are upset about what they believe is a lack of representation on the state Fish and Wildlife Commission.
(Hugo Martin / Los Angeles Times)
Barbecue sandwich and sides from Bodie Mike's Barbeque in Lee Vining.
(Hugo Martin / Los Angeles Times)
El Mono Motel & Latte Da Coffee Cafe is a small motel and coffee shop in Lee Vining with a very homey feel, thanks to its lush lawn and gardens.
(Hugo Martin / Los Angeles Times)
Yosemite Gateway Motel offers panoramic views of Mono Lake.
(Hugo Martin / Los Angeles Times)
Tioga Lodge at Mono Lake is a restored toll station with 14 rustic cabins for rent.
(Hugo Martin / Los Angeles Times)
Tioga Lodge at Mono Lake is on the north end of Lee Vining.
(Hugo Martin / Los Angeles Times)
If you've driven U.S. 395 to Yosemite or Reno, Nev., you've zipped past Lee Vining, a hamlet of about 200 on the shores of Mono Lake.
Like most outdoor enthusiasts who love the Eastern Sierra, I have thought of Lee Vining largely as a spot to fill my gas tank or stock up on bait. But while researching new fishing spots in Mono County ("in season" fishing ends Nov. 15), I discovered that Lee Vining is a prime launching point for a weekend of angling. I also learned that despite being named for a prospector who accidentally shot himself to death, the roadside town is stocked with charm and hospitable people.
Road trips: where to go and what to know
------------
The bed
I booked a room at the Tioga Lodge at Mono Lake, where the property includes 14 rustic cabins, each with a bathroom, mini fridge and access to free Wi-Fi.
The meal
Downtown Lee Vining includes several eateries, but I was surprised to hear locals recommend the Whoa Nellie Deli at the Mobil gas station at U.S. 395 and California 120.
The restaurant, which opens for the season on the last Saturday in April, is crammed behind shelves stuffed with gas station snacks, T-shirts and road maps, but the lineup of burgers, tacos, pizza and meatloaf offered the ideal down-home energy food I needed before a long day of trailblazing and fishing.
The find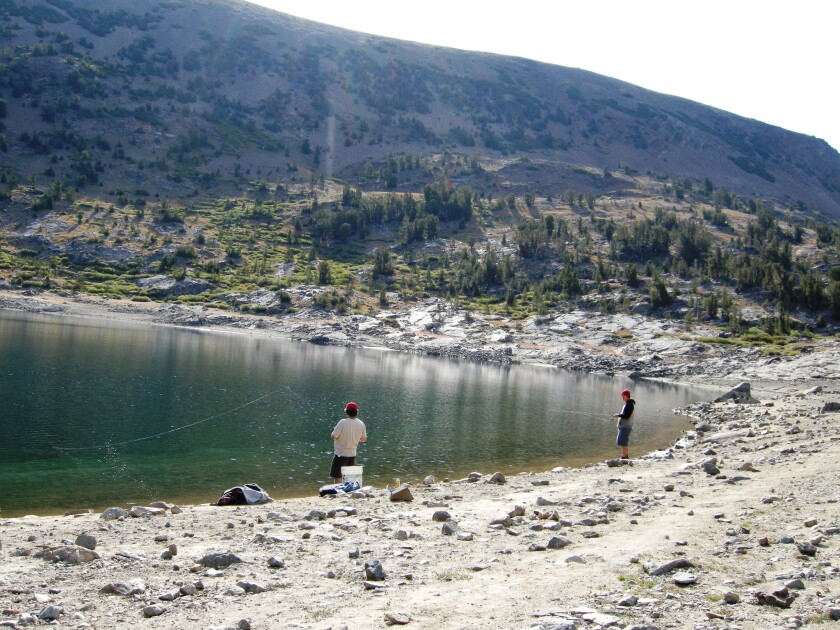 During my search for fishing nirvana, I drove about 13 miles west of Lee Vining along California 120 to the Saddlebag Lake Resort and Saddlebag Lake, a 325-acre body of water at the southeastern edge of a pine-studded basin.
An eight-mile hiking trail, starting at the top of the lake, circles the basin, accessing 20 alpine lakes. I took my time, hiking first to Wasco Lake, then cutting east across the basin to Z Lake, where I hooked my first golden trout.
The ring of lakes rests at about 10,000 feet above sea level, so the resort usually doesn't open until the snowpack melts, sometime near mid-June.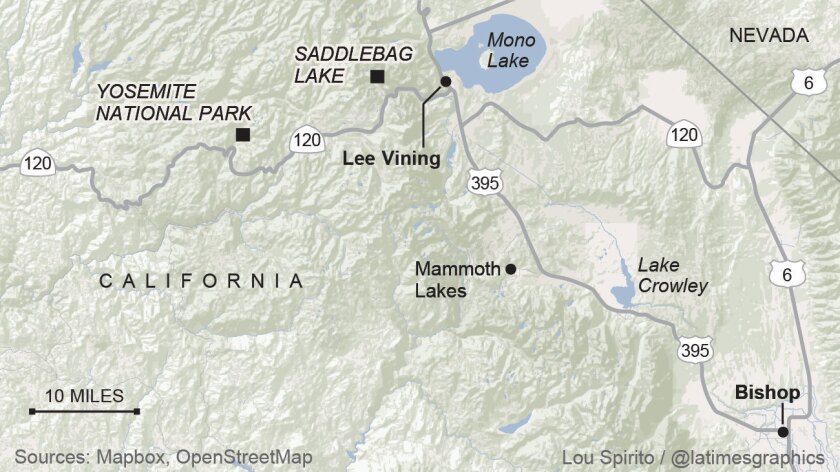 Miles, one way, from downtown L.A.
About 325
Resources
Tioga Lodge at Mono Lake, www.tiogalodgeatmo nolake.com; Whoa Nellie Deli, www.whoanelliedeli.com; Saddlebag Lake Resort, www.saddlebaglakeresort.com.
Have an incredible road trip story or a useful tip? Share your memories and suggestions with us in the comments.
---
Get inspired to get away.
Explore California, the West and beyond with the weekly Escapes newsletter.
You may occasionally receive promotional content from the Los Angeles Times.