A panoply of places to honor America's women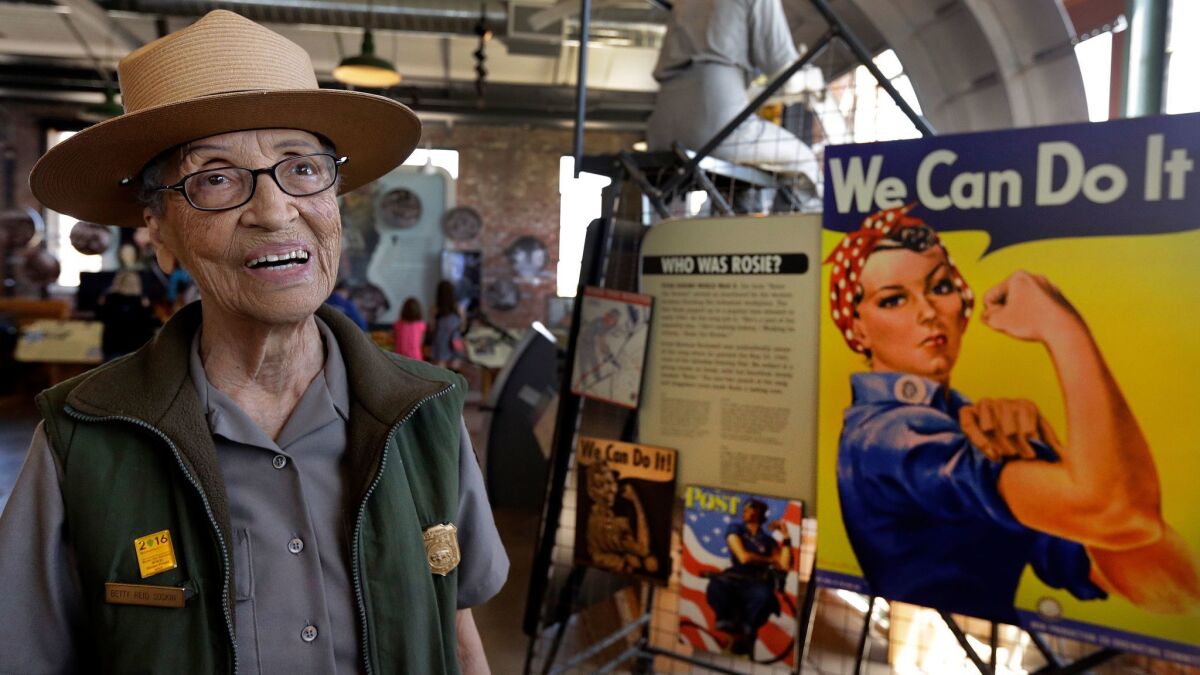 It's always worth celebrating National Women's History Month, which occurs every March. Given the tenor of the times and a certain five-letter hashtag that's been circulating on social media, it's an ideal time to visit places that celebrate women and women's issues.
You may know about the Women's Rights National Historical Park in Seneca Falls, N.Y., site of the women's rights convention in 1848 that shook the state and, ultimately, the nation.
About 50 miles northwest, in Rochester, N.Y., is the National Susan B. Anthony Museum & House, which honors this remarkable leader who pushed for women's voting rights and other causes.
Here are other places in the U.S. to celebrate the accomplishments of women.
Canton, Ohio
Someday there may be a national monument to female presidents of the U.S. Until then, there's the First Ladies National Historic Site in Canton, where you can read about such notable first ladies as Martha Washington, Jackie Kennedy and Michelle Obama.
There are also some fun bits from lesser-known first ladies. Speaking of her husband, President Warren Harding, First Lady Florence Harding once said, "I put him in the White House. He does well when he listens to me and poorly when he does not."
Info: First Ladies National Historic Site
Richmond, Calif.
Rosie the Riveter WWII Home Front National Historical Park is on the shores of San Francisco Bay a few miles north of Oakland. You'll find exhibits detailing how 100,000 American women entered the work force during World War II and how Rosie the Riveter became a symbol of women working long hours to support the war effort on the home front.
Women in crowded factories also had serious issues with health and child care and faced dangerous conditions. The website for the park notes that between the bombing of Pearl Harbor in December 1941 and the D-Day invasion in 1944, more people were killed in home-front industrial accidents than in military combat.
Info: Rosie the Riveter
Brooklyn, N.Y.
The Elizabeth A. Sackler Center for Feminist Art at the Brooklyn Museum is dedicated to creating awareness of feminism's cultural contributions as well as providing educational opportunities and exhibition space. Its centerpiece is a gallery devoted to feminist artist Judy Chicago's "The Dinner Party."
The center also hosts the annual Sackler Center First Awards for women who are leading the way in various fields.
Honorees have included retired Supreme Court Justice Sandra Day O'Connor, newscaster Connie Chung, author Toni Morrison and Miss Piggy, who needs no introduction.
Info: Sackler Center
Lorton, Va.
In November 1917, women who picketed the White House to demand voting rights for women were arrested and sent to Occoquan Workhouse in Lorton. There they were beaten, kicked and choked during the "Night of Terror." It has since become a center for artists.
Info: Workhouse Arts Center
Fort Worth
For something different, the National Cowgirl Museum and Hall of Fame in Fort Worth is deep in the heart of cowboy country. You'll find wonderfully rich stories of professional female bull riders and barrel racers.
One of the displays tells the story of Sandra Day O'Connor, "The Cowgirl Who Became a Justice." Honorees include country singer Reba McEntire and Frances Rosenthal Kallison, who co-founded the Texas Jewish Historical Society.
Info: National Cowgirl Museum and Hall of Fame
Honolulu
Iolani Palace, the former Hawaiian royal home, is where Hawaiian Queen Liliuokalani was kept under house arrest when the Americans pushed the royal family aside in the 1890s and declared the islands U.S. territory.
Plenty of men are represented in the stories told here, but Liliuokalani and other powerful Hawaiian women have prominent roles in the displays. Cool fact: Liliuokalani wrote the achingly beautiful "Aloha Oe."
Info: Iolani Palace
Cleveland
Ohio weighs in with another special spot that celebrates women: the International Women's Air & Space Museum.
You'll find marvelous exhibits on the WASPs (Women Air Force Service Pilots), a group of female pilots formed in World War II to do jobs that freed male pilots for combat missions.
There are fabulous old photos and stories about Amelia Earhart and WASP members such as Marilyn "Mitzie" Miller Saunders, who received her pilot's license at age 16.
Fellow WASP Margaret "Maggie" Ray Ringenberg flew more than 40,000 hours and circled the world twice.
Info: International Women's Air & Space Museum
Washington, D.C., area
The National Museum of Women in the Arts has what's said to be the world's most important collection of art by women. The museum's website states that 51% of visual art is created by women but that only 5% of the art displayed in major museum collections is made by women.
Info: National Museum of Women in the Arts
The Women in Military Service for America Memorial in Arlington, Va., is celebrating its 20th anniversary. It describes itself as "the only major national memorial honoring all women who have defended America throughout history."
Info: Women in Military Service for America Memorial
The Belmont-Paul Women's Equality National Monument was designated a national monument in 2016. The house was the headquarters of the National Woman's Party for nearly 90 years and was "the epicenter of the struggle for women's rights," its website says.
Info: Belmont-Paul Women's Equality National Monument
Los Angeles
The old Hotel Figueroa, just north of Olympic Boulevard, is open and taking reservations in time for National Women's History Month.
It was built in 1926 by the YWCA as a safe haven for women and hosted women's events and female artists over the years.
It became a Moroccan-themed hotel in the '70s but has been restored to Spanish Colonial style with sleek bars and stylish rooms.
Info: Hotel Figueroa
The Los Angeles Women's International Film Festival runs March 22-25 at LA Live Regal Cinemas, 1000 W. Olympic Blvd.
Get our L.A. Goes Out newsletter, with the week's best events, to help you explore and experience our city.
You may occasionally receive promotional content from the Los Angeles Times.