What to bring on a trip to Yosemite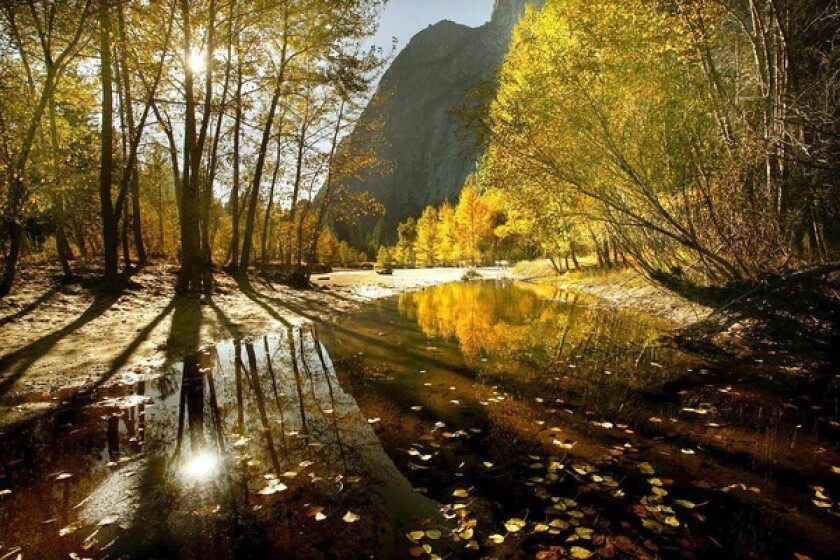 Los Angeles Times Staff Writer
Your sense of humor and intelligence. Most people forget there are more than 3 million visitors to Yosemite National Park each year. Many have traveled long distances by air, car and bus to reach this amazing destination. During peak summer season, be ready to deal with some long food lines, crowded shuttle buses and overflowing bathrooms. Drink plenty of water, bring maps of the area, know your physical limitations and give yourself time to acclimate to the high altitude.
Appropriate clothing. In summer, temperatures can soar into the high 90s and cool to the 50s at night; bring clothing for the entire range. In winter, it's 40s by day and 20s by night, so bring more warm clothing like jackets and sweaters than you think you'll need. And don't forget the sunscreen and a wide-brimmed hat to protect yourself from the sun.
Bug spray. At times, mosquitoes can be as thick as thieves in Yosemite because of all of the standing water created by snowmelt and natural springs. You'll need bug spray in summer, particularly in Tuolumne Meadows when mosquitoes can really be annoying.
Comfortable shoes. Don't pack a brand-new pair of boots or tennis shoes; it's a recipe for disaster. If you plan on hiking or rock climbing, bring shoes that are broken in and comfy to avoid getting blisters. Bring a first aid kit with a blister pack, just in case.
Lots of water. Carry bottles of water with you at all times. At 4,000 feet above sea level, the air is dry and it's easy to become dehydrated – even in winter.
Photo equipment. Keep it simple, but bring some extra digital cards and an extra battery or two. In Yosemite Valley, you can buy extra cards at the Ansel Adams Gallery and at the store, but they're expensive and sometimes not in stock. I usually pack two tripods: a larger, heavier-duty tripod that can extend and support my telephoto lenses and a smaller one that can be easily strapped to my backpack. A cable release is also a must. Some of the exposures are long, and you don't want to touch the camera or cause any vibration that will make the picture look out of focus.
Canned air, or dust blowers. Cameras get dirty and dusty when you hike and take pictures on the trail. The canned air is great for cleaning off the front of the lenses and camera body (never use it on your internal camera mirrors or sensors). Use a rubber hand blower to gently blow the dust off the internal parts of the camera.
Bring towels, plastic bags and rags. These are great for the camera treks around waterfalls and rivers. When the falls are roaring in spring, everything gets wet, including your camera gear. Some cameras and lenses are sealed better than others against moisture, but none are totally waterproof. When standing in waterfall mist, cover your cameras with plastic bags and take them out only when needed. The towels and rags are great for cleaning off the water and drying your gear.
---
Get inspired to get away.
Explore California, the West and beyond with the weekly Escapes newsletter.
You may occasionally receive promotional content from the Los Angeles Times.