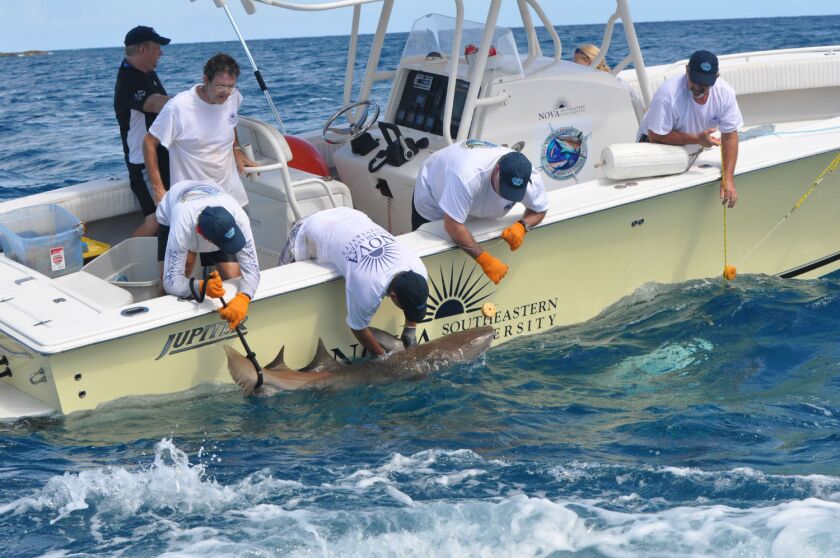 The great white shark that recently bit a swimmer near the Manhattan Beach pier raises summer fears of sharks at beaches from California to New York. Such attacks are rare, but that fact often doesn't allay people's fears.
Nova Southeastern University's Oceanographic Center's Guy Harvey Research Institute in Florida is out to change that. The center has entered into a novel hotel partnership to better educate people about sharks and their environment with a kind of immersion program.
Guests who stay at the Westin Beach Resort & Spa in Fort Lauderdale, Fla., have an opportunity to go on a shark-tagging expedition. They won't be encountering behemoth great whites, but they may see hammerhead, tiger, nurse and other types of sharks during a five-hour excursion at sea.
During the expedition, participants help researchers prepare equipment as well as measure and tag sharks, which are then released unharmed back into the water.
The package includes an evening reception with research scientist Derek Burkholder to learn about the voyage and a behind-the-scenes tour of the oceanographic center.
The cost is $249 a night for one person and $349 a night for two people; tax and fees are extra. The offer requires a minimum two-night stay and is available on selected weekends in summer starting July 25.
---