Burning Man in high gear in Nevada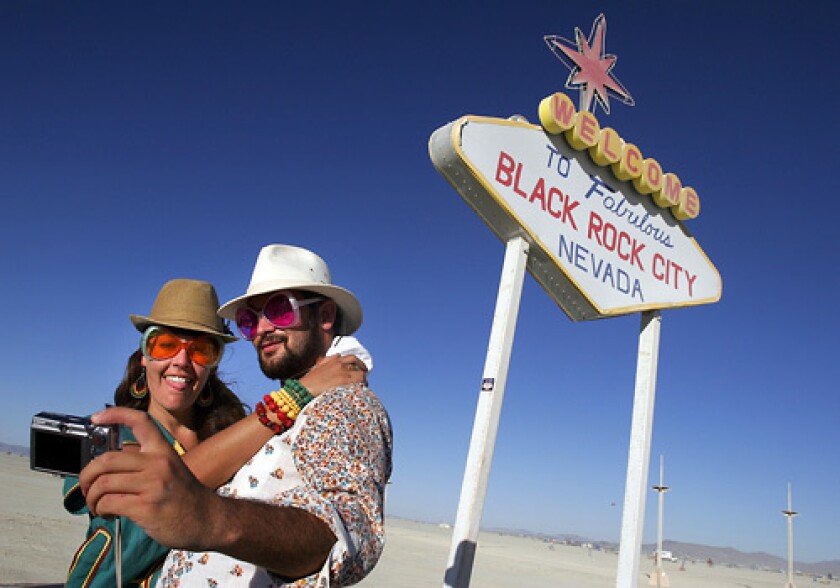 RENO, Nev. (AP) -- Burning Man organizers have contracted with the Nevada Highway Patrol to provide a dozen or more extra troopers a day through the weekend to assist motorists and help keep a remote 74-mile stretch of state highway safe between U.S. Interstate 80 and the counterculture festival.
Organizers of the celebration in the Black Rock Desert about 120 miles north of Reno are paying $64,321 to cover a total of 96 overtime shifts that began Monday and extend through Labor Day, Trooper Chuck Allen said Thursday.
Most of those are working this weekend. A dozen extra troopers will be spread over three eight-hour shifts on Friday, 14 on Saturday, 16 on Sunday and 15 on Monday, he said.
"It will allow us to provide a much quicker response to stranded motorists and any crashes that take place on this two-lane remote highway," Allen said.
Last year, Burning Man drew more than 47,000 people to the makeshift encampment dubbed "Black Rock City," which covers about 5 square miles north of Gerlach and for one weekend is one of the 10 most-populated cities in Nevada.
Sale of the $295 tickets to gain entry ended on Tuesday and any tickets left at the will call gate at the event have to be picked up by noon on Saturday.
"It has been a gradual trend of folks heading out there since Sunday. The numbers start to jump up beginning (Friday)," Allen said.
"And then on Monday is the mass exodus. Although some people leave early to get home and get back to normalcy by Sunday night so they have a day off before work," he said.
Rachael Pryor of San Francisco was among those loading up with supplies in Reno earlier this week for the trip to the desolate desert.
"We have lots of water," she told the Sparks Tribune. "You need water out there. We also have goggles, lots of sunscreen and a lot of food."
The extra troopers are stationed on Nevada State Route 447, the most traveled route to the event. It stretches from the Wadsworth exit on I-80 about 30 miles east of Reno, north through Nixon and past Pyramid Lake to Gerlach, just south of the festival.
There are no gas stations or stores the last 60 miles of the trip through high-desert range.
"The most calls are for service assisting motorists because there are no services at all from Nixon to Gerlach. You have one hour of nothing," Allen said.
"And a lot of times along there, there's not a lot of shoulder space. Sometimes you are just dead in the water when you run out of fuel or have a mechanical breakdown," he said.
Most of the calls so far have been related to flat tires, running out of gas, overheated engines and other mechanical breakdowns. But there's also another hazard not many travelers from the San Francisco Bay Area or other big cities are used to -- livestock on the road.
"One year I had a bull in the road and that guy would not move," Allen said.
As of Thursday, the state patrol had made only one felony arrest on the highway -- an Oakland, Calif., man who was charged with possession of cocaine, Ecstasy, marijuana and drug paraphernalia.
Rasheed Salik Lindsay, 38, was going faster than 70 mph about 10:30 p.m. Tuesday when a trooper saw him speeding and noticed he had expired license plates, Allen said.
After pulling him over, the trooper noticed an odor of marijuana and then learned that his driver's license was suspended, he said. He was booked into the Washoe County Jail and being held on $4,085 bail.
---
Get inspired to get away.
Explore California, the West and beyond with the weekly Escapes newsletter.
You may occasionally receive promotional content from the Los Angeles Times.