Unpaving paradise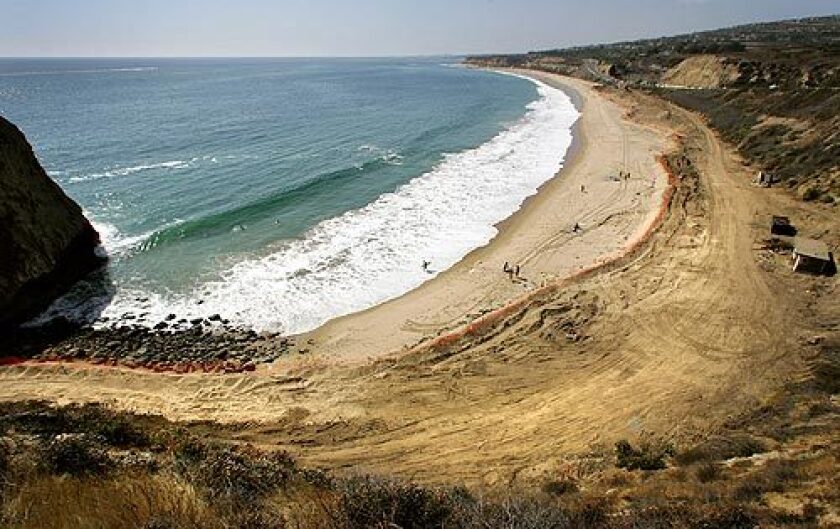 Los Angeles Times Staff Writer
All that's left of the 295 seaside trailers just north of Laguna Beach, once festooned with flowerpots and tidy patios, are some crumbling concrete slabs. And memories.
Dump trucks and earthmovers are scraping across 35 acres of canyon and beach, transforming the funky little enclave that was El Morro Village into Southern California's first coastal campground in two decades.
State parks officials and environmentalists trumpet the $12-million construction project, which began last month, as a victory for public access and the preservation of pristine Orange County coastline.
"Tens of thousands of added Californians and people from all across the nation can now enjoy this spot of Southern California paradise," said state parks spokesman Roy Stearns. "It opens up a whole new coastal ocean world."
But former residents, many still mourning the demise of their beachfront idyll, wonder why the site on Coast Highway has sat empty and padlocked for more than two years.
The scenic spot was at the heart of an impassioned turf battle between mobile home residents and state parks officials. The state bought the land from the Irvine Co. in 1979 for $32.5 million; tenants rented the property from the state for 25 years, then waged a legal and political battle to extend their lease. Residents made the state several offers -- including paying higher rents and expanding public access -- in exchange for staying put, all of which were ultimately rejected.
"The state really made a tremendous blunder in pushing forward on their plan that dooms to forever the loss of revenue," said Rolly Pulaski, 73, who lived at El Morro with his wife for eight years. State parks have been struggling because of California's budget woes and face a $1.2-billion backlog of deferred maintenance.
"There is a feeling of loss," Pulaski, now a resident of Newport Beach, said of his former home. But "we've all moved on. We had to move on."
Plans for the new El Moro Campground -- spelled with one "r" -- include 60 campsites, 200 day-use parking spaces, hiking trails, picnic areas, a restored Moro Creek and an amphitheater.
Since the neighborhood was emptied, contractors have hauled away more than 200 vacant mobile homes, cleaned up hazardous materials and closed down the antiquated sewage system.
Workers are now ripping out nonnative plants, removing concrete foundations, demolishing outbuildings, and taking out old power lines and other infrastructure, said Ken Kramer, Orange Coast District superintendent for California State Parks.
"Obviously, our goal is to return this to a pristine natural state and let Mother Nature flourish," he said.
Kramer estimates construction, funded with public bond money, will take 18 months to two years and projects the campground will open by summer 2010.
The park's prime cliff-top campsites overlooking the waves should make El Moro one of the most popular spots in California, with an estimated 250,000 visitors a year and reservations predicted to be booked solid. That should bring in about $1 million each year to the state, Kramer said.
Conservationists who lobbied to kick the trailers out laud the progress. "It's way overdue, thanks to the obstinacy of the former tenants," said Claire Schlotterbeck, a consultant to environmental groups and founder of the nonprofit Hills for Everyone.
"It's kind of the last piece of the puzzle, you might say, of Crystal Cove State Park that we worked on for about 30 years to get in place," said Fern Pirkle, president of Friends of Newport Coast. The patch of land is just a small slice of Crystal Cove's 2,791 acres. Next to the campground is El Morro Elementary School, and parks officials have been working with the school to ensure that they remain good neighbors.
With California's population swelling and a lack of low-cost spots to camp on the coast, "there is just no room anymore for these little private enclaves of people," said Elisabeth Brown, president of the nonprofit Laguna Greenbelt. "That was something from the past, and it couldn't continue -- there's this huge public pressure to get to the coast and be able to camp on the coast and enjoy it."
But former residents are frustrated that the state hasn't moved faster to create the new parkland since the last El Morrites were evicted in February 2006.
"Watching it just sit there in a really bad physical state has really disappointed us," said Jeanette Miller, 72, a retired teacher in Newport Beach who used to vacation at El Morro in the summer with her children. "There had to have been some way for the state and the residents of El Morro to work together to see that that didn't happen, that there was a more orderly transition."
Kramer says hauling the trailers away and adjusting the planning and design of the park was time-consuming.
Atop the terrace where neatly tended lawns sat, piles of branches with withered leaves are stacked alongside sections of 30-inch concrete storm drain. A few dark blue address numbers lie jumbled in the weeds; nearby, shuttered maintenance buildings sit empty. Orange construction zone netting lines the glittering curve of shoreline where 75 homes once stood.
The scrubby dirt of the hillside will eventually give way to indigenous plants such as California sage, coyote bush and sticky monkey flower.
"It's just taken us nearly three decades to get to the point where the public will really enjoy this," Kramer said.
Former residents are eager to return to the beach they cherished.
"The spilled-milk part is over," said Jay Wallace, 41, a Newport Beach builder whose family members used their trailer as a gathering place for generations.
"I'd just like my kids to be able to enjoy that spot like I was able to enjoy it."
susannah.rosenblatt@
latimes.com
---
Get inspired to get away.
Explore California, the West and beyond with the weekly Escapes newsletter.
You may occasionally receive promotional content from the Los Angeles Times.