Spring flowers and cherry trees bloom 24/7 at this Las Vegas resort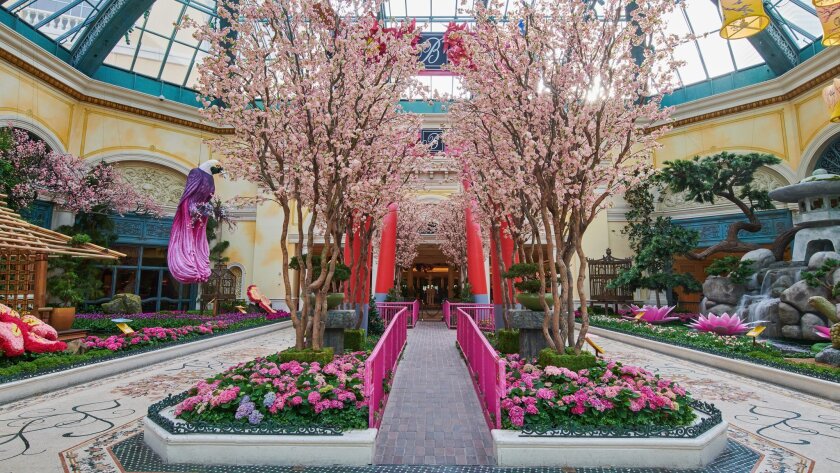 Spring comes to Las Vegas — indoors, anyway. The Bellagio Conservatory & Botanical Gardens has just unveiled a Japanese-themed spring exhibit full of fragrant flowers and seasonal symbolism.
It's a sure-fire place to see cherry trees and the delicate pink and white blossoms. The gardens, inside the Bellagio hotel and casino, are free and open to all.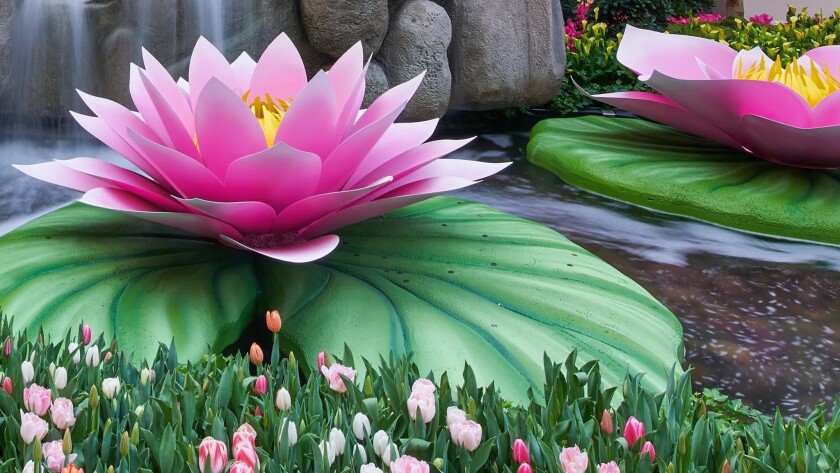 Visitors enter the conservatory through two 25-foot torii gates, similar to those found outside Japan's Shinto shrines.
Adorned with pink and white flowers, the gates rise beside a pathway lined with eight cherry trees. In Japanese culture, their delicate, pink blossoms are symbolic of the fleeting nature of life.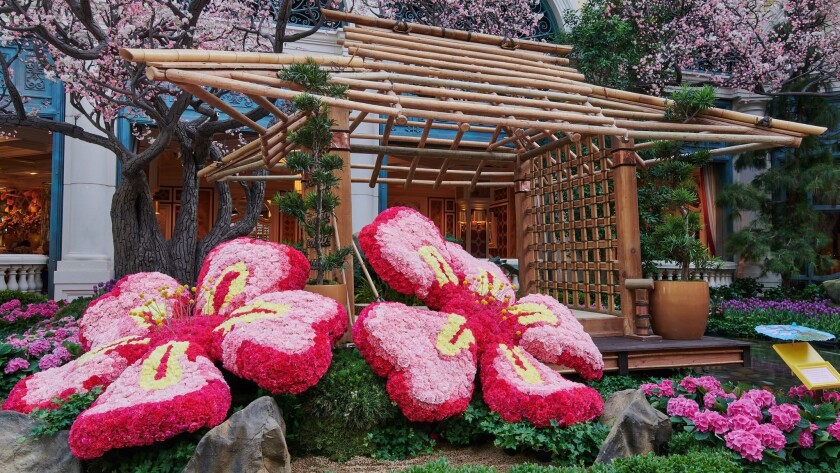 Other symbolic blooms — giant lotus flowers — float atop a pond beside a rushing waterfall in the South Garden. In Japan, the lotus is revered for its ability to flower in even the murkiest water. It's emblematic of the journey to enlightenment.
A few steps away in the West Garden, the whimsical shape of a woman rises from another pool. In the palm of one of her outsize hands rests a pearl that's 12 feet in diameter. It represents the Japanese wish for prosperity. Hanging from the figure's arms are vines of wisteria, which symbolize longevity. Wisteria can live for 100 years.
A team of 125 workers helped create the Conservatory's remarkable displays, which contain roughly 65,000 flowers.
The celebration of spring continues through June 3 and can be viewed 24 hours a day.
Info: Bellagio Conservatory & Botanical Gardens
ALSO
Spring shows up with a splash at these eight California places
Las Vegas Monorail offers virtual ticketing for Android users
How tourists at California's most popular landmarks could create electricity as they walk
---
Get inspired to get away.
Explore California, the West and beyond with the weekly Escapes newsletter.
You may occasionally receive promotional content from the Los Angeles Times.