On the last day of November, the Bellagio Conservatory & Botanical Gardens was buzzing with the sound of Christmas carols — and chain saws. Crowds gathered in anticipation of the opening of elaborate holiday decorations that transform the indoor garden and draw 30,000 people a day.
Through Jan. 6, Vegas visitors will explore the gardens around the clock, taking in everything from horses pulling a gleaming carriage to a polar bear poised atop an iceberg, swaying in a pool of water.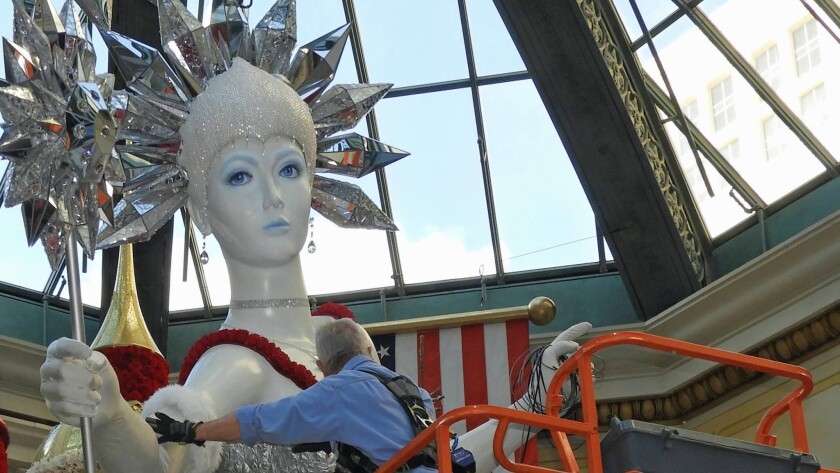 "Friday is like a week of manic Mondays all in one day," said Ed Libby, event designer and the visionary behind Bellagio's "Majestic Holiday Magic" floral display.
Then there's a 42-foot Christmas tree adorned with 2,500 ornaments and 7,000 lights, perfect for the selfie and Instagram crowd.
But on the last day of November, there was still so much to be done.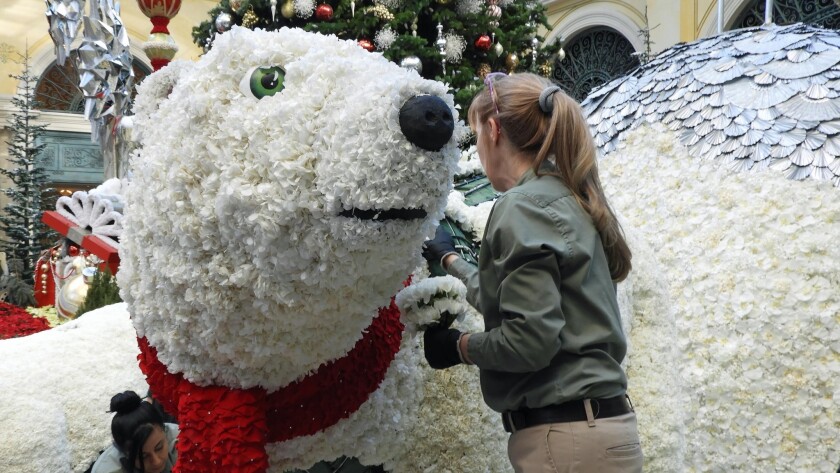 The white carnations that would create a polar bear's coat still had to be painstakingly installed, one flower at a time. Windows needed to be added to the Winter Castle to create a more Gothic look. Rhinestones had to be glued to the eyelids of the Ice Queen to make her sparkle. A soaring evergreen tree needed to be significantly shortened to avoid obscuring a silver star hung from the ceiling.
Months and months of intricate planning go into the botanical displays, which also change for Chinese New Year, spring, summer and fall, or harvest time. The displays at the 14,000-square-foot space make this one of the best free attractions in Las Vegas.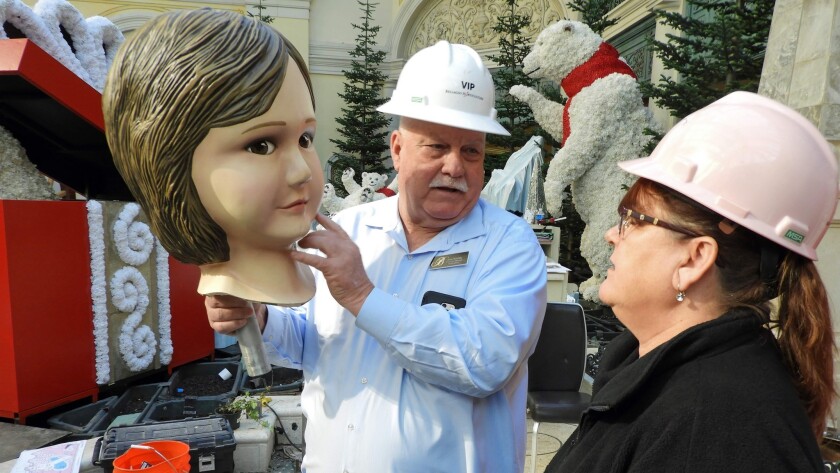 "This show would be like building a home in six days," said Jerry Bowlen, the resort's executive director of horticulture. "There are that many parts to it." Bowlen was in charge of guiding 100 workers tasked with turning Libby's dreams into reality.
Starting early in the morning on Nov. 25 and continuing around the clock for six days, workers in hard hats first dissembled the autumnal display, "Falling Leaves," to make room for the transformation to winter.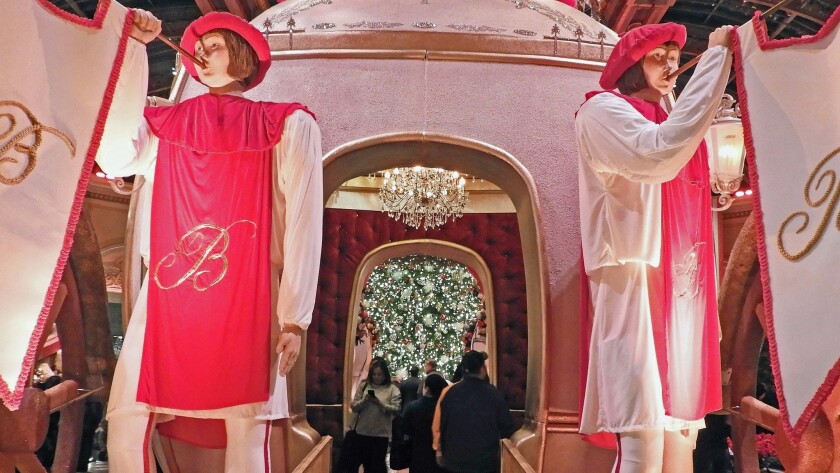 By the evening of the first day, enough had been cleared away to make room for the giant fir tree. Furnishings and guests, who get to watch from the sidelines, were moved out of the way as the tree was carefully maneuvered along hotel hallways and into the conservatory.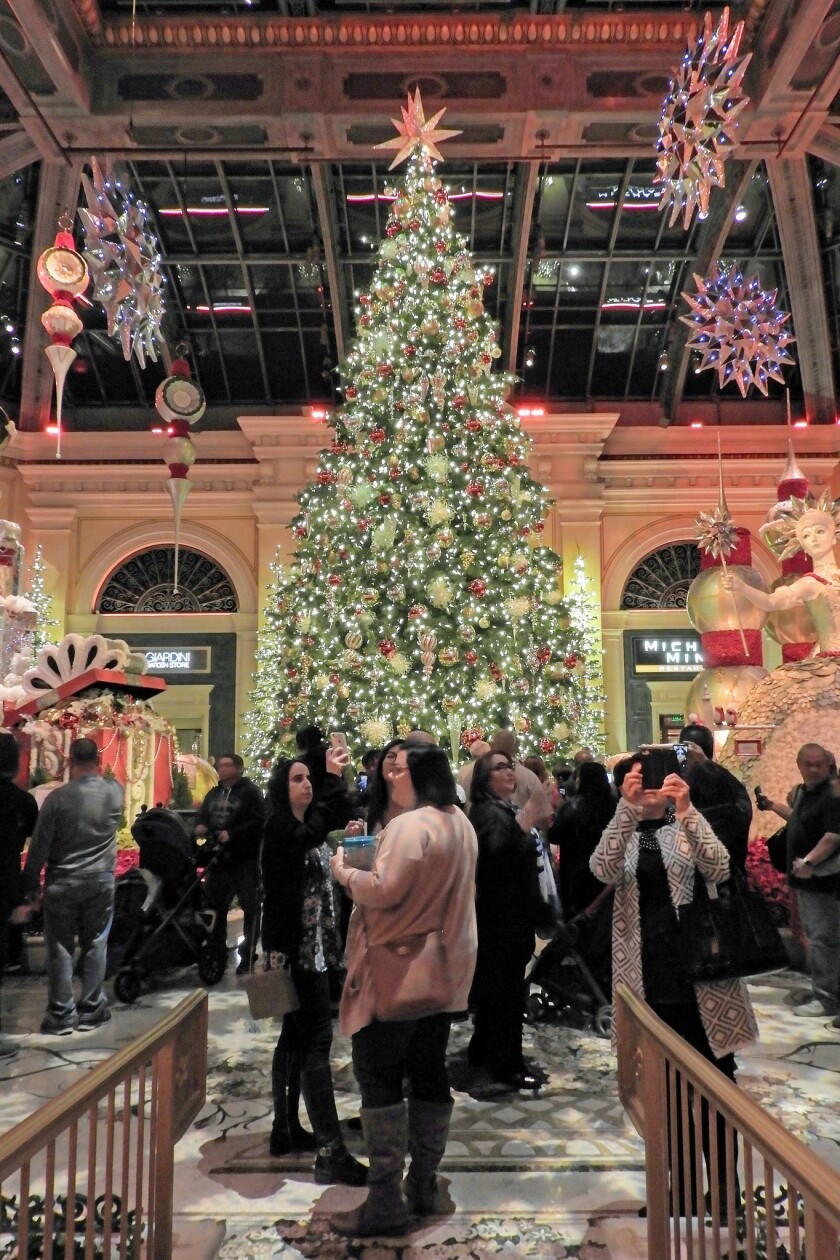 Bowlen discovered the tree two summers ago in a forest near Mt. Shasta in Northern California. It received special care, including necessary watering to keep it healthy during drought. The Christmas trees that will be used in 2019 and 2020 are now getting the same attention.
By midweek, decoration of the fir was in full swing. Workers scoured it, looking for bare spots. A boom lift was deployed, its basket carrying two workers plus a Santa-size bag stuffed with oversize ornaments.
Amid the busy scene, the smell of machine exhaust fumes and paint mixed with the scent of freshly cut flowers and boughs.
Near the hotel lobby, visitors enter the conservatory through a 22-foot tall, Cinderella-style carriage. In keeping with the horticultural team's mission to use as many botanical species as possible, the carriage's exterior is covered with 1,000 pounds of tapioca pearls. Its wheels contain 300 pounds of brown and gold flax seeds. The fenders are coated with black lentils.
Four massive, white horses pulling the coach are adorned with sweet rice; decorators discovered that white rice won't do because it has a gray tinge. Black poppy seeds provide contrast.
"I'm trying to follow as closely as possible, where it's possible, the Tournament of Roses Parade guidelines," Libby said. "We're using natural materials wherever we can."
(The annual Pasadena parade floats are required to be covered in natural materials, such as flowers, plants, seeds, bark, vegetables or nuts.)
At the Bellagio, beds of red poinsettias abound. Above them, various creations contain thousands of flowers. For example, the Ice Queen's torso sits atop a flowing skirt made of 600 orchids, 1,800 hydrangeas and 2,300 palmetto leaves.
Each morning, gardeners replace cuttings as they brown and wilt.
"When we have a piece that has 1,500 flowers on it, more than likely we'll replace 100 or 200 flowers on that every day," Bowlen said.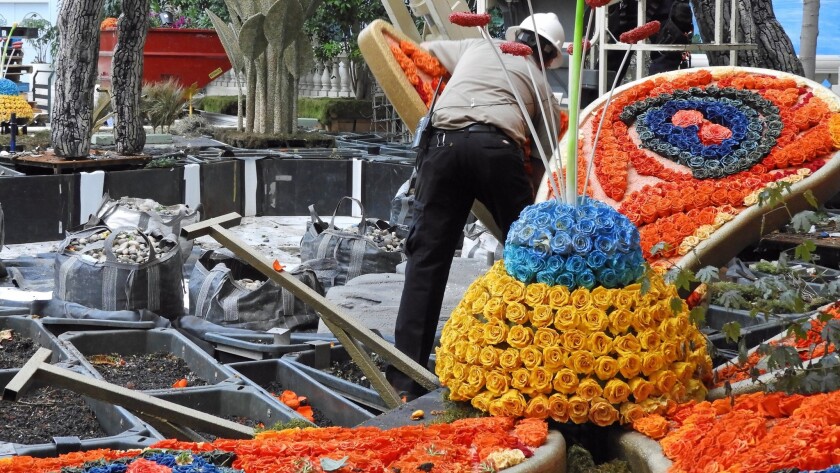 Tyler Rhodes, a Virginia businessman in town for a conference, watched the display take shape throughout the week.
"I'm utterly astonished at how quickly they're able to make this, to accomplish this effect," he said. "Seeing what they're able to do, something so beautiful in such a short period of time, is remarkable."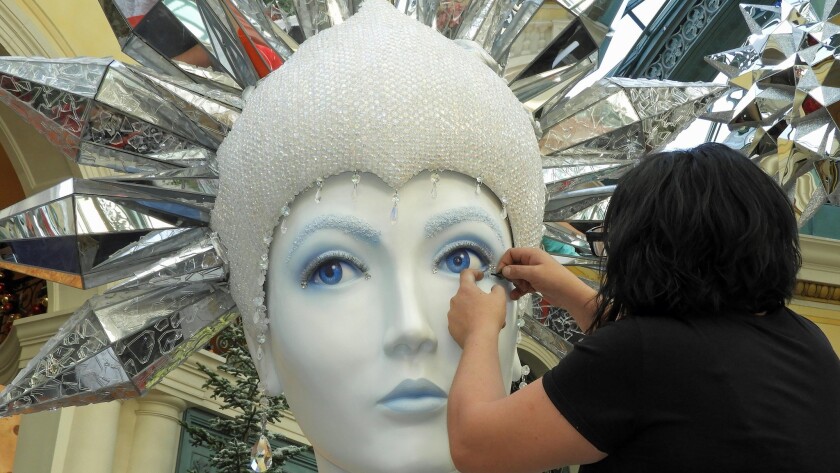 By the evening of Nov. 30, Libby proclaimed the exhibit ready for public viewing. As a throng flowed in, he departed for still more holiday displays in his homes in New York City and the Hollywood Hills.
As in Las Vegas, he assigns the hands-on work to others. "I design them each year and they're all ready when I get there," he said.
Info: Bellagio Conservatory & Botanical Garden
ALSO
12 ways to celebrate the holidays in Las Vegas, where a hotel's cool pool becomes an ice-skating rink
Eataly Las Vegas plans December opening in Park MGM. In a first for the brand, it will stay open 24/7
---