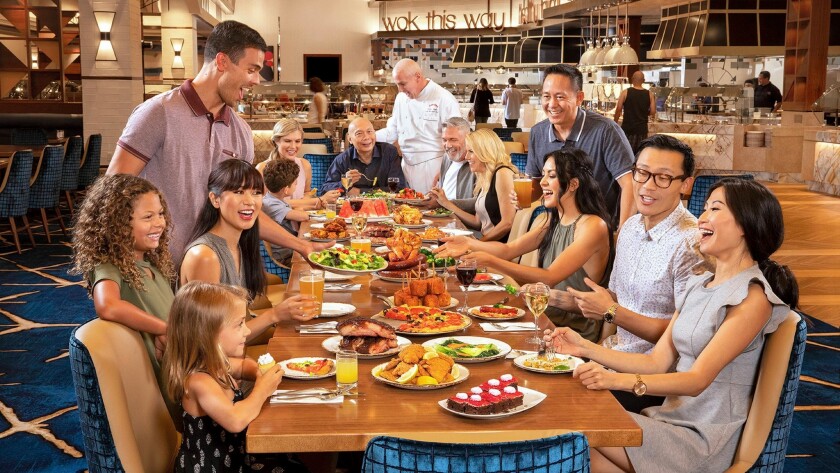 The inexpensive Las Vegas buffet hasn't vanished. The Feast Buffet at the Palace Station hotel-casino offers all-you-can-eat dinner options for $17.99 — a price hard to beat in the city that has moved on to reinvented, more upscale and pricier buffets.
The spread at Palace Station, about a mile west of the Strip, opened 30 years ago in the golden age of Vegas buffets. But that doesn't mean it's stuffy and old school.
Recent changes to the menu and the venue have raised the bar to a standard that competes with higher-priced options on the Strip.
Expect to find Kung Pao Wow Low Mein Noodles at the Asian station; kielbasa, ham and pork belly at the carving station; and small plates in the dessert area designed for sampling.
"I would stack the new Palace Station buffet up against any buffet on the Strip," said David Kellaway, director of culinary services for parent company Station Casinos. "Our guests are experiencing … a bright, opulent, many-textured experience of extremely well-prepared food presented with flavor and imagination."
The breakfast buffet costs $10.99; lunch costs $12.99.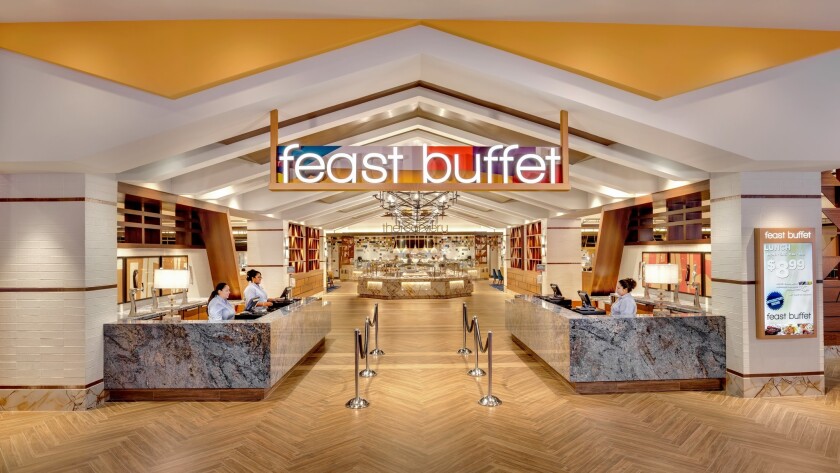 The Las Vegas Advisor, a monthly newsletter for frequent visitors, described the dinner experience in its August issue as "stellar" and an incredible value.
Three decades ago, the Feast Buffet was the first in town to create "action stations" at which chefs make dishes to order. Such stations play an expanded role at the new buffet, which has moved from its second-floor location to a more expansive and inviting space on the main floor.
In case you worry about overeating, you'll find lighter, more healthful plant-based choices among Italian, American and Chinese stations.
"The goal is to pass into the health and wellness section and never know you got there," Kellaway said. "Everything looks just as savory and decadent as the last station.However, if you pay closer note, you'll notice that everything is plant-based. There are nice, rich sauces, but prepared without the use of heavy fats and creams."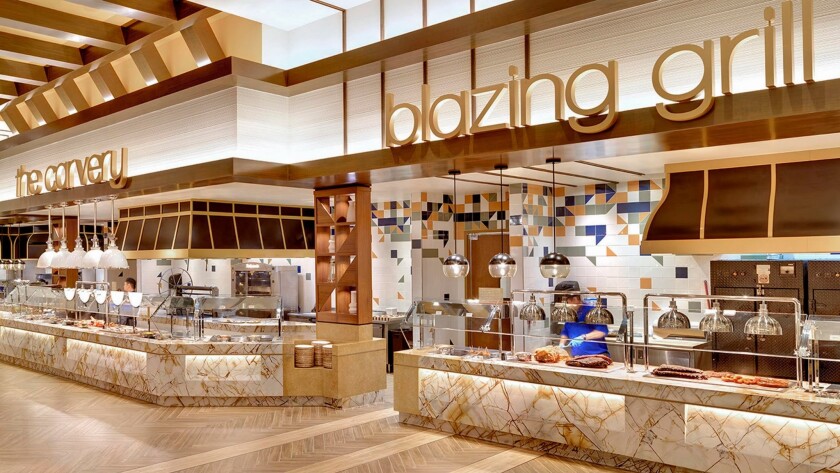 Cheese lovers will find a station devoted to raclette, a cheese usually served melted, which you can use as a topping for pasta and other foods. In Switzerland, Kellaway said, melted raclette is traditionally served over boiled potatoes and gherkins.
"That's a high Alpine, Swiss tradition and we've brought a little bit of that to the buffet," he said.
The new buffet is part of Palace Station's $192-million face-lift.
Info: Palace Station, 2411 W. Sahara Ave., Las Vegas; (702) 367-2411
ALSO
Las Vegas buffets are legendary — and now, reinvented. Here are four offering fresh takes
Penn & Teller return to their namesake Las Vegas theater at the Rio
W Las Vegas disappears from the Strip; the hotel within a hotel is no more as former partner SLS plans upgrades
---