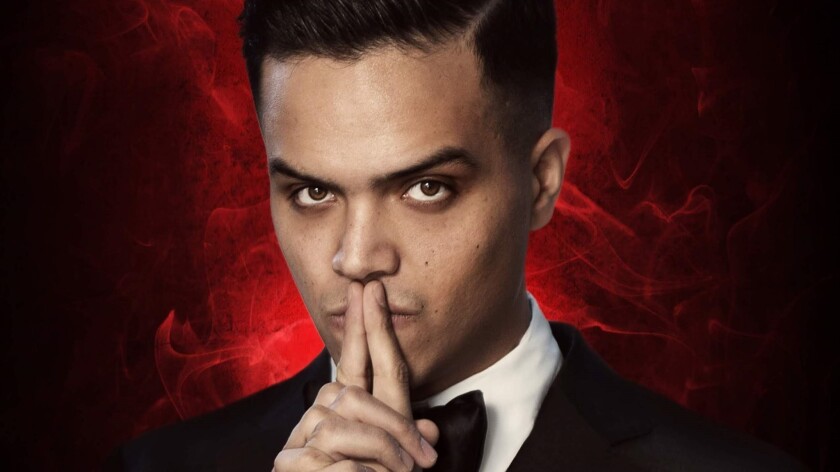 A Mexican mind reader is luring people to the Las Vegas Strip with a performance entirely in Spanish. Santiago Michel claims that his 65-minute performance is the "first and only wholly Spanish-speaking show" on the Strip.
"¡Totalmente en Español!" is plastered across the top of the web page for Ilusión Mental, which stars the Mexico City native who describes himself as a "mind reader/mentalist." His show opened at Planet Hollywood Resort & Casino's Sin City theater in December and moved to Paris Las Vegas in april.
Michel, who will mark his 100th show Thursday, performs at 5 p.m. on Thursdays, Saturdays, Sundays and Mondays. Tickets cost from $50 to $99.
"The attendance has been better than we originally expected," said Michel, 24.
"The reaction has been good. People come from all over the place," he said, adding most audience members are from Southern California, Mexico and South America.
His web page proclaims that Michel "will beckon you into a landscape ripe with promise and lead you into a playground for the collective unconscious."
"I like to describe it as a journey for me and the guests towards the goal of entertaining and then realizing that we're connected by mind-reading," he said.
And as for being the only Spanish-speaking performance in Vegas, he said: "There have been some shows that come for one or two days and then leave town, like for Mexican Independence or for Cinco de Mayo."
The performer added that word of the show is spreading in the Spanish-speaking community and that people "want to support it."
And he doesn't leave out English speakers either. "I try to make it visual," Michel said, "so even people who don't speak Spanish have fun at the show."
Info: Ilusión Mental, Sin City at Planet Hollywood, (855) 234-7469
ALSO
Las Vegas buffets are legendary — and now, reinvented. Here are four offering fresh takes
X Games champ Travis Pastrana is out to bust Evel Knievel's stunt records in Las Vegas. But can he master a jump over the fountains at Caesars?
It's back to the big trees. Yosemite's Mariposa Grove of Giant Sequoias reopens after three-year restoration project
Spend 49 seconds in Tulsa and be startled
---