New Kaos club at Palms Las Vegas to unleash a monster of a centerpiece
Kaos will reign in Las Vegas. The club at the newly re-imagined Palms casino-resort will open Thursday, unveiling a massive bronze monster towering 60 feet above pool-side cabanas. The centerpiece of the club is "Demon With Bowl" by Damien Hirst.
It's big, and so is the club.
Palms closed its pools two years ago to make way for the renovation, which brings a 73,000-square-foot day club with two main pools, many lesser pools and 39 cabanas with their own pools. The day club transforms into a nightclub with a rotating DJ booth and entertainment stage.
Blockbuster residencies by Cardi B, G-Eazy, Skrillex, Slushii and others are planned, but first "Demon" rules.
What that $200,000 stay in the Las Vegas suite by Damien Hirst gets you »
For scale, the sculpture is:
►taller than the Hollywood sign's letters (each one is 45 feet high);
At these Las Vegas party pools, it's rarely about the swimming »
►taller than most Paul Bunyan statues in the U.S., including one at the entrance to Trees of Mystery in Klamath, Calif., and one claiming to be the world's largest in tiny Akeley, Minn.; and
►as tall as the highest lighted pylons at LAX, which range from 25 to 60 feet.
9 places on the Vegas Strip where you can still find free parking »
It doesn't hold a candle, however, to the world's tallest statue, the 497-foot-tall bronze statue of India's first deputy prime minister, Sardar Vallabhbhai Patel. (It would take a bit more than eight "Demons" stacked on top of each other to reach the top.)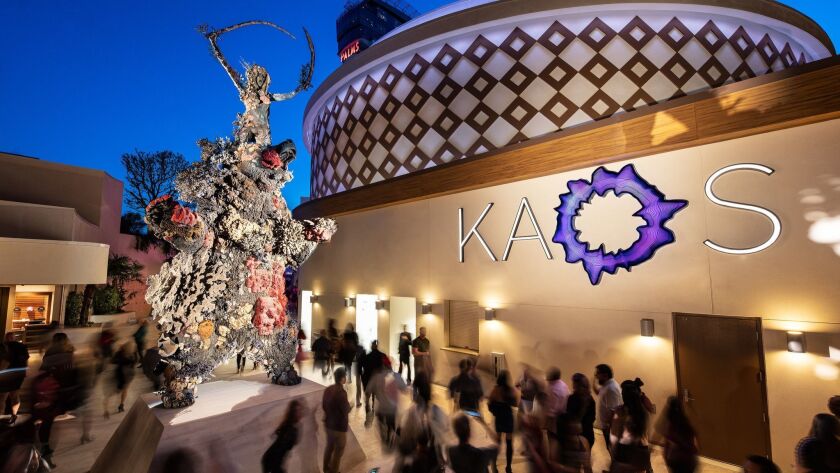 The resort bought the artwork featured at Hirst's 2017 exhibition in Venice, Italy, that was "billed as the imaginary art collection of a first-century freed slave, newly raised from the ocean depths." ARTNews said the cost of the art sale wasn't disclosed, but "Demon" carried a price tag of $14 million.
A second Hirst sculpture, "Warrior and the Bear," also part of the exhibition, also will be on display at Kaos. The artist also decorated a suite at Palms, (which goes for $200,000 a stay), featuring more of his works with butterfly motifs, 12,500 diamond look-alikes (cubic zirconia) instead of pills inside a medicine cabinet, and two bull sharks suspended inside a tank filled with formaldehyde.
Info: Kaos at Palms
---
Get inspired to get away.
Explore California, the West and beyond with the weekly Escapes newsletter.
You may occasionally receive promotional content from the Los Angeles Times.