At these Vegas party pools, it's rarely about the swimming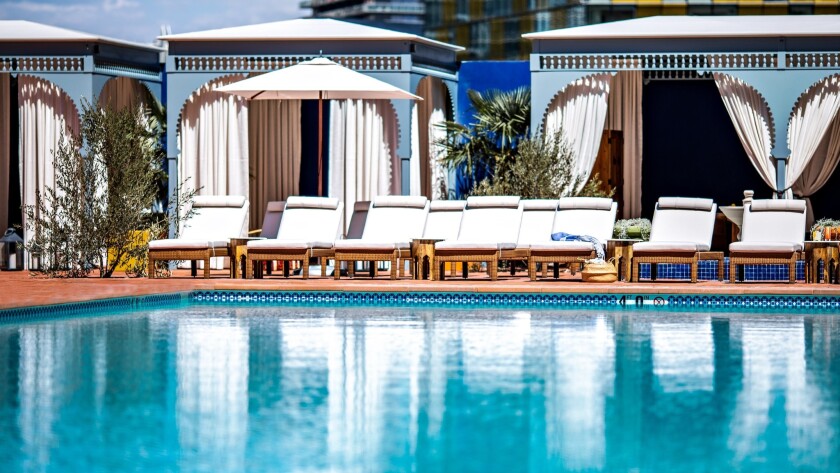 The swim season is already underway at some Las Vegas resorts, with completely new pool scenes at NoMad and Palms sure to generate buzz when they open next month.
Debuting April 4, the NoMad pool, on a third-floor rooftop, takes its cue from a famous Moroccan garden, including the interiors of the tastefully decorated cabanas that are available to rent.
On weekends, a very different vibe - "JEMAA – the NoMad Pool Party" — takes over. On April 12, DJ Mayer Hawthorne will enliven JEMAA's first bash. Other headliners will perform in the days and weeks to come.
KAOS is what Palms is calling its new poolside dayclub and nightclub. At 100,000 square feet, it is being billed as Vegas' biggest party spot.
Grand-opening weekend is April 5-7. Alicia Keys will launch the venue's entertainment lineup with a concert April 5 at 9 p.m. Limited tickets remain, starting at $295.
The Palms pool area is still under wraps, but artist Damien Hirst's 60-foot bronze statue, "Demon With Bowl," will tower over the space, no doubt creating countless opportunities for selfies. The 2014 work — a resin version was most recently displayed at a museum in Venice, Italy — had to be disassembled for shipment to America.
Event info and tickets online.
As the popularity and number of poolside parties grow in Vegas, an oldie-but-goodie is celebrating its 10th anniversary.
Temptation Sundays, the city's longest-running gay pool party, begins May 12 at Luxor's North Pool.
Data from Accuweather shows that the average daytime high in Las Vegas does not routinely rise above 80 degrees until April 23. It is another month later, on May 22, that highs begin to typically top 90.
---
Get inspired to get away.
Explore California, the West and beyond with the weekly Escapes newsletter.
You may occasionally receive promotional content from the Los Angeles Times.