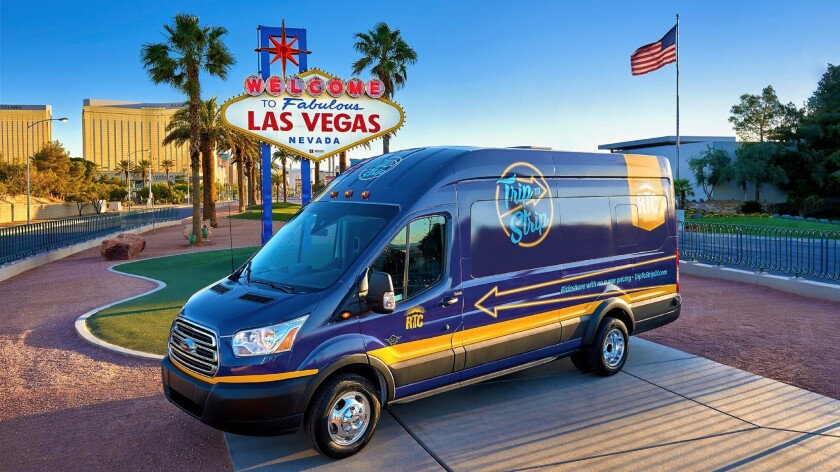 Going from Las Vegas' airport to the Strip can cost as little as $6 thanks to a new on-demand ride-hailing program called Trip to Strip. Riders pay a fixed price 24/7, unlike Lyft and Uber, which may charge more during peak travel times, to travel from the airport to their hotel or the convention center.
The service, operated by the Regional Transportation Commission of Southern Nevada with a fleet of 12 vehicles, charges riders based on the distance traveled and the number of passengers (vans can carry up to 11 people).
One potential drawback: Trip to Strip doesn't offer door-to-door service. Passengers are picked up and dropped off at the nearest existing bus stop, many of which are near popular sites and resorts.
Stops include McCarran International Airport, resorts on the Strip, the Las Vegas Convention Center, downtown Las Vegas and the M Resort on Las Vegas Boulevard, 12 miles south of the popular resort corridor.
In a comparison last month by the Las Vegas Review-Journal, Trip to Strip was the cheapest ride, even for a single passenger. A Tuesday morning ride from the airport to the MGM Grand cost $8.40 with Trip to Strip, $8.85 with Lyft's shared-ride option and $10.70 with Uber Pool. Super Shuttle charges $11 for the same shared ride.
To use Trip to Strip, download the mobile app, which operates like other ride-sharing services.
Info: Trip to Strip
---