Vegas' Rock 'n' Roll Fantasy Camp lets you live the dream, if only for 4 days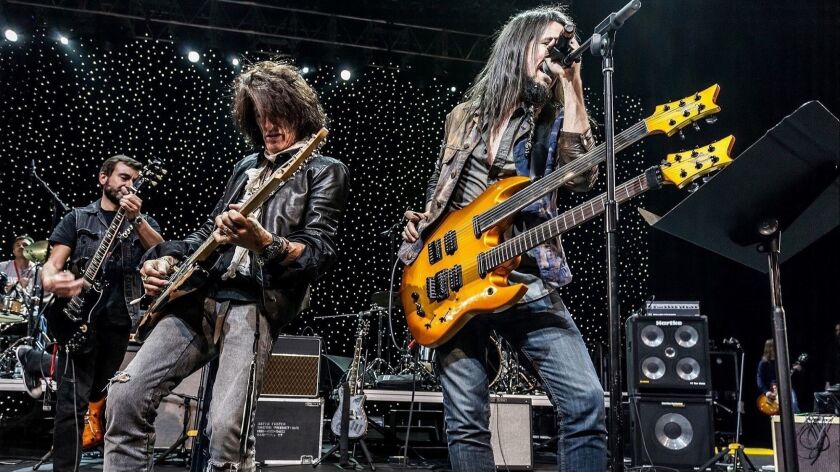 Whether you're an aspiring musician looking for rock star tips or want to brag to your friends that Joe Perry (Aerosmith), Vince Neil (Mötley Crüe) and Lou Gramm (Foreigner) play in your new band, Rock 'n' Roll Fantasy Camp in Las Vegas can make both dreams come true — if you have $5,000 in your real-life bank account to fund it.
The intensive music workshop is June 27-30 at the Hard Rock Hotel & Casino, but participants don't have to be particularly talented to attend, said Aerosmith's Perry.
The camp promotes a noncompetitive atmosphere where programs are tailored to accommodate all skill levels, from beginners to seasoned players. There's also a separate program for 10- to 16-year-olds. Each amateur musician will have an opportunity to meet some of his or her favorite headliners, ask questions and receive personal instruction from them.
"Some people…. come to meet me and get my autograph or learn a lick or learn how I played something," said Perry, 68, Aerosmith's lead guitarist and a veteran Rock 'n' Roll Fantasy Camp teacher. "I look forward to doing this. For a couple of days, you talk about guitars and amps and music, and there's not a lot of chances to do that anymore."
Participants will be divided into bands based on skills and goals. A group of experienced professional musicians then works directly with each band for four days, honing skills, teaching techniques and guiding the band toward a final concert performance.
Each day, a different headliner (Neil, Gramm or Perry) will work one-on-one with each band, answering questions, offering advice and rehearsing a song. On June 29, each band will take to the Hard Rock stage with Neil to perform before a live audience the song they've rehearsed with him.
Perry hopes he can inspire participants "to create some new stuff."
"It's the one-on-one interactions that I look forward to most," he said. "It's a learning experience for me too, an intimate setting where I get to meet a lot of young guitar players, hear what they're listening to and what they like, and hope they realize I'm a just another guitar player with more miles."
But campers shouldn't look for Perry in the audience when their bands perform that Saturday night; he'll be headlining his own residency show with Aerosmith at Park MGM that night, before teaching at the fantasy camp the next day.
"It'll be a great experience and a lot of fun for everybody," Perry said. "The music business has been set up over the years to benefit the record companies, the managers, the lawyers, but that's slowly breaking down as musicians get smarter about the business. It's really important for people like me to share how to succeed."
Rock 'n' Roll Fantasy Camp, founded 25 years ago by music industry veteran David Fishof, aims to provide a rock-star experience for musicians of nearly any instrument, including drums, keyboards, guitars, bass, horns and vocals. Headliners have included Jeff Beck (the Yardbirds), Roger Daltrey (the Who), Bret Michaels (Poison), Gene Simmons (Kiss), Slash (Guns N' Roses), George Thorogood (George Thorogood and the Destroyers), Steven Tyler (Aerosmith) and Brian Wilson (Beach Boys).
The Las Vegas-based company holds similar camps throughout the year at its Hard Rock home base and at occasional pop-ups in the U.S.
Info: Rock 'n' Roll Fantasy Camp
---
Get inspired to get away.
Explore California, the West and beyond with the weekly Escapes newsletter.
You may occasionally receive promotional content from the Los Angeles Times.