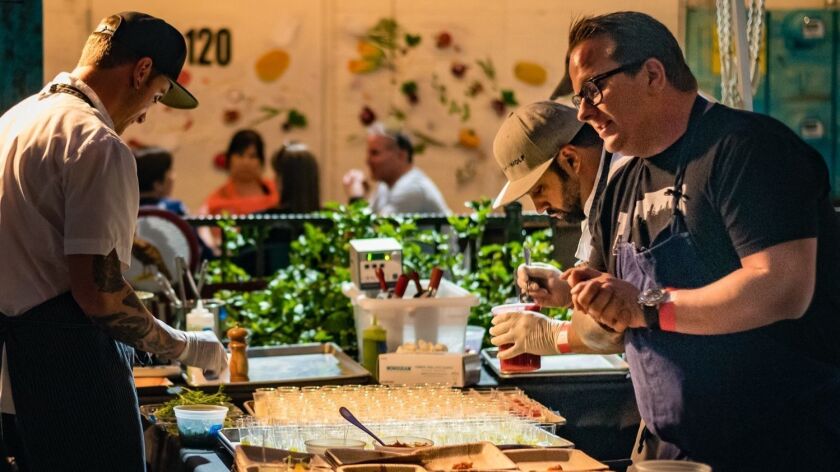 The date is set and the chefs announced for the second Vegas Unstripped by Locals, a one-night culinary event that showcases Las Vegas' top independent chefs.
Sixteen off-Strip chefs are to participate in the dine-around event, scheduled for 8:30 p.m. May 11 in the downtown Las Vegas Arts District. The date coincides with Vegas Uncork'd by Bon Appétit, another popular annual food and wine festival that takes place at resorts along the Strip.
"Uncork'd brings a lot of attention to the Strip's restaurants and celebrity chefs, but it overlooks many of Vegas' talented chefs who helped make those restaurants successful, then left to strike out on their own," said Eric Gladstone, the founder of Unstripped.
"We created Vegas Unstripped to celebrate those chefs and their off-Strip restaurants. It's a way to help locals and visitors in town for Uncork'd discover that our city's culinary talent extends way beyond the Strip."
Participating chefs include Jamie Tran (the Black Sheep), Jason Olson and Mike Plourde (Paid in Full), Khai Vu (District One, Mordeo), Sheridan Su (Fat Choy, Flock & Fowl), Chris Decker (Metro Pizza, Lulu's Bread & Breakfast), Gina Marinelli (La Strega), Ralph Perazzo (bBd's), Saipin Chutima (Lotus of Siam), Yuri Szarzewski (Partage), James Trees (Esther's Kitchen), Brian Howard (Sparrow & Wolf) and Oscar Amador (EDO).
Each chef is asked to serve two dishes, one from their restaurant's current menu and another that will be exclusive to the event.
"I'm sure Lotus of Siam will do something interesting, and I plan to do a play on Hong Kong dim sum," said Sheridan Su, a current James Beard Award nominee who once helmed popular Strip kitchens such as Joël Robuchon at MGM Grand, Wazuzu at Wynn and the now-closed Comme Ça at the Cosmopolitan Resort before striking out on his own in 2011.
"The local culinary scene has exploded in the last ten years," Su said. "We used to be cheap buffets and free cocktails. The next wave was celebrity chefs and their hotel restaurants.
"People didn't usually leave the security of a high-paying Strip job to do their own thing, but as diners have become more sophisticated about food, they want interesting new restaurants.
"Now, a lot of talented chefs are opening independent restaurants and turning out food and beverages as good as anywhere in the world."
Tickets to Vegas Unstripped will go on sale April 2 through the event's website, vegasunstripped.com. A part of the $75 ticket fee is earmarked for local charities assisting the city's growing homeless population.
Info: Vegas UnStripped
---