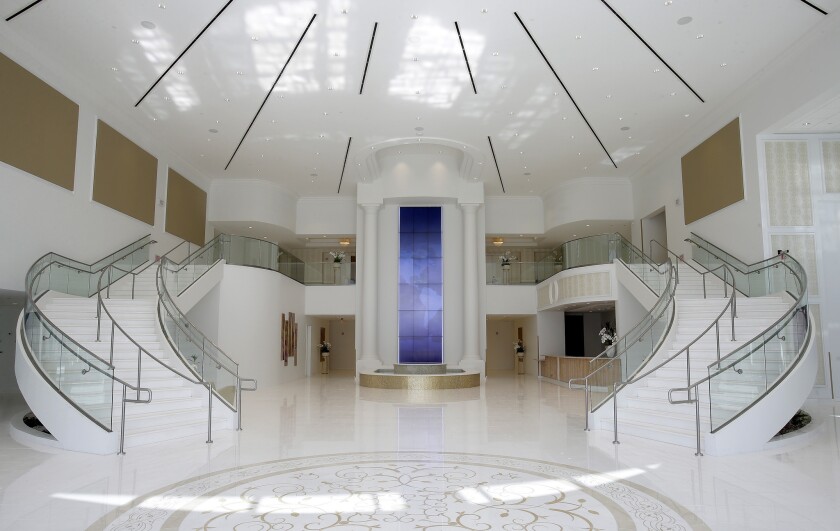 Reporting from Las Vegas —
Take a meeting or event to the newest facility opening in Las Vegas. The International Peace Education Center (IPEC), debuting on Saturday, Aug. 8, features more than 20,000 square feet of meeting space just south of McCarran International Airport.
The space, dubbed the Peace Palace, was originally planned as a Unification Church education and training center by followers of the late Rev. Sun Myung Moon, according to the Las Vegas Sun.
The flexible space accommodates between 50 and 720 people in a freestanding building, and guests who use the facility can stay overnight in one of 49 rooms.
The tour of the space starts with a white 5,000-square-foot front foyer featuring 29-foot-high ceilings. One room, a 10,000-square-foot ballroom, fits weddings, birthday parties, anniversary celebrations and reunions. Six conference rooms have space for 22 to 61 guests with lecture seating or theater-style seating.
Services include LED screens, including a 22-foot-high version in the foyer, audio/visual, wireless and production services, a 2,500-square-foot kitchen, a registration area, business center services, security and parking for 200 vehicles.
Only guests who participate in an event at IPEC can stay on-site in the rooms. Most have two queen beds, a bathroom, desk and sitting area. Two one-bedrooms have a master bath, living room and wet bar, while one four-bedroom space offers three baths, a living room, dining room and kitchen.
Info: Catherine Price, (401) 261-1210
---