The hike to Eaton Canyon Falls in the San Gabriel Mountains. (Myung J. Chun / Los Angeles Times)
9 hikes with waterfalls that are flowing majestically after L.A.'s storms
Call it a winter miracle, a gift from the recent storms. Waterfalls — lots of them — have been spotted on Southern California trails that were previously dry.
A group of Times staffers and contributors recently laced up their hiking boots to witness the cascades and came back giddy. The 50-foot waterfall at Millard Canyon Falls near Altadena is breathtakingly loud. ("It will fill your eardrums," says Food editor Daniel Hernandez.) Placerita Canyon in Santa Clarita now has a series of stream crossings that take you to the small-but-mighty falls — a rocky jaunt that writer Chloe Caldwell says is "all part of the adventure." And Pasadena's ever-popular Eaton Canyon Falls has people hiking en masse to see the stronger-than-usual rapids. ("Come early for the most serene experience," recommends outdoors writer Matt Pawlik.) Read all of their reports here in this guide.
The best advice for seeing any of the waterfalls is to go soon — it's uncertain how long they'll stick around. Just make sure to use proper trail etiquette (here's a guide for that) and take all the rainy season safety precautions. Check forecasts (avoid hiking when it's actually raining), wear hiking boots (don't forget to bring extra socks) and tread carefully on slimy rocks and muddy slopes (use poles if you can).
Once you get to the falls, perch yourself on a boulder and enjoy the view. Because here in SoCal, all that water is a sweet, sweet sight.
Switzer Falls
Los Angeles County
Mountain Trail
You'd be hard-pressed to find a SoCal hike under four miles that has as many features as this classic Switzer Falls trek in the Angeles National Forest. It's got chaparral, oak and riparian woodland habitats, epic canyon scenery, panoramic views of the San Gabriel Mountains, unique historical ruins and — behold, the grand finale — a gorgeous 50-foot cascade.
Start at the Switzer Picnic Area (get there early to get a parking spot in the lower lot) and cross the charming footbridge to start your canyon caper. For about a mile, you'll follow along the Arroyo Seco river (where you might
spot a bobcat
) under the shade of towering oaks, sycamores and alders. Look out for the occasional stone ruin from the area's days as a resort.
When you reach Switzer's Trail Camp, you'll find some wood burning stoves and a trail junction. To the left is a spur trail that deposits you above Upper Switzer Falls. A side trip is worthwhile, but be careful when checking out the cascade from the precipice.
Otherwise, head right and take switchbacks out of the canyon for some truly incredible vistas of the surrounding San Gabriels — you can actually spot the upper falls here, too. At the 1.3-mile mark, leave the Gabrielino Trail and take the Bear Canyon Trail (left) back down into the canyon and at the canyon floor, take a left onto the Lower Switzer Falls Trail, which leads you a quarter mile to your water waypoint. With plenty of rocks flanking the pool, it's the perfect spot for a picnic while ogling at the flowing falls.
More Info
Brown Mountain Dam
La Cañada Flintridge
Mountain Trail
For a whirlwind workout, head to the Angeles Crest Fire Station a short ways up the Angeles Crest Highway. There, you'll find a secret, strenuous shortcut to the historic falls of the Brown Mountain Dam. An alternative to the
8.4-mile trip that starts near Jet Propulsion Laboratory (JPL)
, this route features a 600-foot descent on a narrow trail and offers stunning panoramas into the canyon.
Take a breather during the steep switchbacks to catch a unique perspective of the 81-foot falls peeking through a dense display of willows, oaks and sycamores. On your way to the canyon floor, you'll pass by a collection of interesting ruins and chaparral staples, like sage, chamise and laurel sumac. At the base, turn left to connect with the main Brown Mountain Dam Trail.
Follow this wide, dirt path as it parallels (and sometimes crosses) Arroyo Seco Creek under oaks, pines, firs and walnut trees. After passing the stone ruins at the Paul Little Picnic Area, you'll soon reach the dam, which was built in 1943 as the first project in the U.S. Forest Service Los Angeles River Watershed program. Now, it's the perfect waterfall destination. The 81-foot cascade surges after rainfall and even has a narrow ledge that allows brave hikers to experience the backside of the falls, too. From any angle, it's a truly awe-inspiring sight.
More Info
Millard Canyon Falls
Millard Canyon Falls in Angeles National Forest is just above Altadena — just take Fair Oaks Avenue north, take a left at Loma Alta Drive, then a right onto Chaney Trail Drive and into the campground parking area — and yet it feels like it could be hundreds of miles away.

Park at the Millard Canyon campground. A craggy, tree-lined ravine anchored by a creek leads hikers up on a gentle climb toward a clearing. Here, the breathtaking swoosh of a 50-foot-tall waterfall will fill your eardrums; the recent storms have given this wash a healthy wallop of fresh water. The water is icy, but that won't deter an occasional visitor from taking what looks like a soul-cleansing dip, even in winter. That said, novice hikers and families, be warned — with the creek full, water is currently reaching its bordering boulders and canyon walls, forcing you to cross the creek in a constant zigzag, on smooth rocks and loose logs, to reach the waterfall. Avoid creek tragedy by employing hiking sticks, waterproof shoes or water shoes.
More Info
Eaton Canyon Falls
Pasadena's Eaton Canyon is one of the most popular hiking destinations in Los Angeles County — and rightfully so. The scenery is idyllic, the trek is gentle and easy to follow, and the trailhead is incredibly accessible. What's more, the picturesque 40-foot waterfalls flow year-round (in the summer, swimming hole!), but they're best viewed after a good rain.
Park at the
nature center
lot, check out the interpretive exhibits (and native plant garden), and find the trailhead at the north end of the lot. The path follows a sandy, rocky wash alongside Eaton Creek (look for wildflowers in spring) as it heads deeper into the canyon. Ignore any side trails, such as those to Henninger Flats or Mt. Wilson, and continue north, following signs for the waterfall. At nearly the 1.5-mile mark, pass under a bridge and connect with a
shortcut route that starts at Pinecrest Drive
as the trail narrows and becomes enclosed by towering canyon walls.
Over the next half-mile, you will be doing plenty of stream crossings, so be prepared for a fun log-balancing and rock-hopping adventure. You may get wet! Come early for a more serene experience and the first pick of a boulder to perch on while you enjoy the mesmerizing cascade.
More Info
Paradise Falls
Thousand Oaks
Mountain Trail
With 27 miles of trails in its 1,765 acres,
Wildwood Regional Park
in Thousand Oaks is home to spectacular geological formations (standouts include Lizard Rock and Indian Cave), lush valleys, riparian canyons and abundant wildflowers in the spring. But perhaps the most iconic feature of this diverse landscape is the aptly named 40-foot Paradise Falls.
To get there, park in the dirt lot and find the wide Mesa Trail at the northwestern end that maneuvers through grasslands (look to your left for some towering volcanic outcroppings). Take a left on the North Tepee Trail (note that the signs will always direct you to the falls), which descends past a re-created Chumash teepee structure before diving into the canyon. Before taking the stairs down to the canyon floor, take a left on the Wildwood Canyon trail for a stop at the top of the falls.
At the bottom, any view of the falls is photo-worthy, but the best angle can be found by crossing the creek to the south to get a direct vantage point on the powerful flowing water. You can continue west farther into the canyon here, or head back up the stairs and back to the teepee, where you'll find benches to admire the panoramic vistas. On your way back, take the Moonridge Trail, a single-track offering to your right that heads east through cactus groves (look for a spur trail going to Indian Cave to extend your trip) all the way back to the lot to complete the loop.
More Info
Escondido Falls
If you're looking for waterfalls and wilderness, there's no better hike to escape the city's bustle than Escondido Falls. You'll first descend into Escondido Canyon Park, then follow a slightly upward incline for the remainder of the trail. Thanks to the recent rains, you'll pass lush green flora and flowing creeks. Wear shoes you don't mind getting wet or muddy, as you'll have to hop across several streams by way of loose logs and rocks. The trek is worth it once you reach the cascading 50-foot-tall waterfall. It's flowing steadily into a small pool, so you can dip your toes in the chilly water or rest in the shade under an oak tree.

Park in the small lot at the bottom of Old Road just off the Pacific Coast Highway for $12. If it's full, park on the right side of the highway. Follow the paved road through the neighborhood — complete with glamorous Malibu mansions and pristine ocean views — until you reach the trailhead.
More Info
Placerita Canyon Waterfall Trail
Los Angeles County
Mountain Trail
What is typically a dry and leisurely trail is now full of flowing water, toppled tree trunks and mud patches. The wet L.A. winter has created a fresh hiking experience in Santa Clarita's heavily trafficked Placerita Canyon. Come prepared to get your feet wet if balance isn't your strong suit. The trail is adjacent to a running stream and there are more than five water crossings to overcome with few dry boulders and logs to help — it's all a part of the adventure. Fortunately, there are plenty of benches and picnic tables along the way should you need to rest or stop for a snack.

Follow the signs to the first waterfall, which is small but mighty and flowing steadily. Climb over the boulders to the left to continue on the trail. The second waterfall will be your last stop, as there is a large fallen oak tree blocking the way forward.

Park in the large dirt lot at the Placerita Nature Center, and stop by the center to learn about the local wildlife. Make sure to keep your eyes peeled for bluebirds and woodpeckers on the trail.
More Info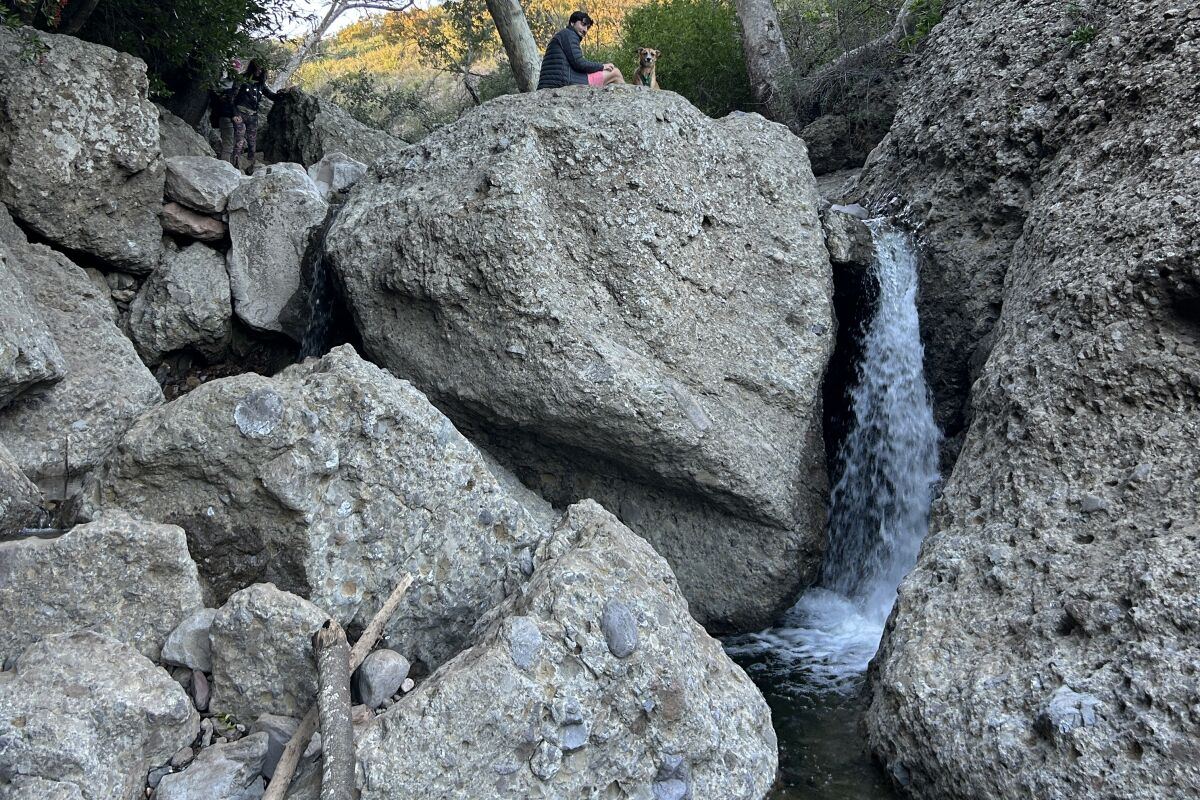 The Grotto at Circle X Ranch
In the farthest reaches of Malibu, the Grotto at Circle X Ranch is a two-and-a-half mile hike that contains the variety and scenery payoff of a much longer trek. At times, you'll be walking over a rolling trail through trees bursting with white flowers. Then, around a corner, you'll find a creek that requires something just short of parkour moves to ford.

That creek occasionally careens down some large drops, making for multiple dramatic waterfalls you can view, and even cross over. The end point, the grotto, is basically one big bouldery waterfall to explore.

The trail is well-marked and maintained, and a small parking lot up top makes the grotto trail a logistical breeze. But it's also a schlep. To get to the trailhead from Pacific Coast Highway, you'll have to actually cross into Ventura County before turning onto Yerba Buena Road. Creek crossing points could also be a gamble: While some have clear paths to follow, others are more choose-your-own-adventure, and kudos to you if your socks remain 100% dry. Hiking shoes or boots could help with this endeavor, and their grippy soles also come in handy for staying on the rocks and enabling grotto rock climbing.
More Info
Tenaja Falls
You'll need to drive through a narrow, winding pot-hole-filled road — and jump across some rocks over a river — to get to this low-key one-and-a-half mile hike near Murrieta. But once you're there, the fresh air will clear your lungs, and the panoramic views will calm your mind.

The trail takes you to the top of the waterfall, so you won't be able to splash or bathe in the streams, but if you're looking for something more scenic that makes you feel like you're on top of the world, there are unobstructed views of the waterfall along the path. There's also a longer seven-and-a-half mile option for the more adventurous. Parking is free, and it can get crowded, but there were only two other people and a dog on a required leash on a recent weekday morning.
More Info
Get our L.A. Goes Out newsletter, with the week's best events, to help you explore and experience our city.
You may occasionally receive promotional content from the Los Angeles Times.