Our first trip to Mexico was so amazing it opened the way for many happy returns — and a new world of travel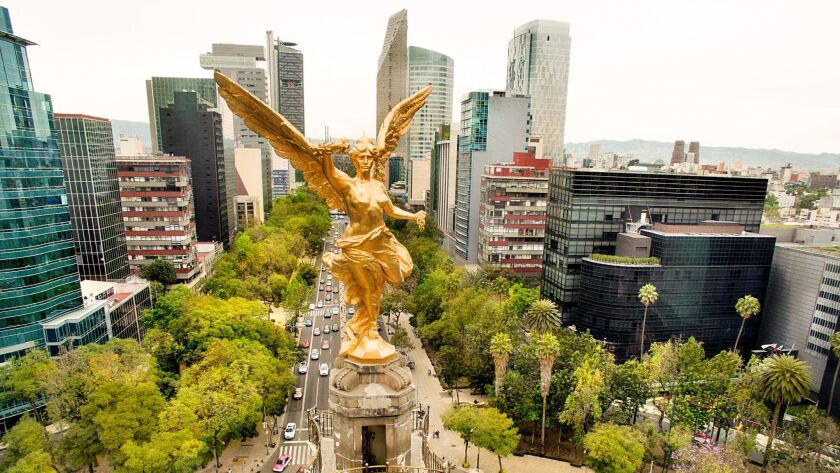 Travel offers more lasting pleasure than mere acquisition of things, numerous studies show, a concept that millennials seem to have made their own.
Before cellphones and social media and long before the word "millennials" signified a generation, my husband, Phil, and I tumbled to that mind-set by a serendipitous series of events.
Having left family and friends in Michigan, we faced our first Christmas as newlyweds alone in California. One evening Phil came home with an offer: A well-traveled couple from his workplace suggested we join them for a trip to Mexico City around Christmas.
Brilliant idea, we thought, and a hedge against homesickness. We coordinated flights and hotel reservations.
But shortly before our departure date, we learned that the other couple couldn't make the trip.
What to do? Neither of us was well-traveled; our honeymoon, for instance, consisted of driving across the country. In fact, we had never traveled outside the United States, and we didn't speak Spanish.
But we already had our plane tickets and hotel reservations. To calm our fears, we reminded ourselves that our relocation to California was relatively seamless. Could a short trip to Mexico really be that daunting or different? Of course we would go!
The first morning in the Mexican capital we left the hotel and stepped into the swirl of pedestrian traffic on the Paseo de la Reforma. We had counted on our sophisticated friends to recommend points of interest, but even if we'd had specific places in mind, we wouldn't have known how to get there.
We stood befuddled, gaping at a golden angel poised on her pedestal, cars streaming around the traffic circle beneath her.
"Can I help you find something?" The neatly dressed stranger who approached us introduced himself as Enrique and offered to be our guide for the day. Maybe he just expected to give us directions, but more likely he was trolling hotels looking for clueless tourists.
We fairly leapt at his offer, even though this is not and has never been a recommended method of hiring a guide. We got lucky.
Soon we found ourselves scaling the Pyramid of the Sun at Teotihuacan, about 30 miles from Mexico City.
By week's end, Enrique had shepherded us through a list of the capital's greatest hits: the cathedral and National Palace in the Zócalo, Chapultepec Park and its museums, folklórico dancing at the Palacio de Bellas Artes, colorful boats plying the canals in Xochimilco.
Enrique even drove us to the silver town of Taxco, about 110 miles from Mexico City, with a stop in Cuernavaca to admire Diego Rivera's stunning murals.
Then he proffered this invitation: "We're having a small party tomorrow evening, and my wife and I would be honored to have you come.
"If you agree, I'll pick you up about 8 o'clock."
We spent Christmas Eve with Enrique, his wife, Cristina, and the neighbors from their apartment building. In the spacious courtyard, they introduced us to Las Posadas, the musical reenactment of Joseph and Mary's search for shelter.
We followed the procession from one apartment to the next until finally the last door was flung open and the travelers were welcomed.
Then the children took center stage. Several blindfolded kids took a whack at the piñata, a papier-mâché donkey, until one boy found the sweet spot and candies and trinkets spilled out.
After the scramble for treasures, the adults drifted inside for drinks. Maybe it was the amiable crowd wishing us "Feliz Navidad" or maybe it was the vodka and grapefruit juice, but we basked in the warmth of the Christmas season.
Later, Cristina invited us for Christmas dinner. We dined on lechón, suckling pig with an apple clamped between its jaws.
It was another first and a fitting finale to our immersion into Mexican culture.
I had barely settled into my airline seat for the flight home before I vowed to return, and I have — to coastal resorts and colonial cities, to Cuernavaca for language lessons, to archaeological sites from Chihuahua to Chiapas.
We also have traveled to other countries, but nothing has ever topped that first trip. Mexico showed us its best: the attractions, of course, but especially the warm, welcoming people who introduced us to the pleasures of travel.
---
Get inspired to get away.
Explore California, the West and beyond with the weekly Escapes newsletter.
You may occasionally receive promotional content from the Los Angeles Times.