See the Big Boy train locomotive in L.A. for free on Thursday and Friday
The 1.2-million-pound Big Boy 4014 locomotive is coming to the Los Angeles area, and you'll have a chance to see it for free. The steam train will be on display 9 a.m. to 3 p.m. Thursday and 9 a.m. to noon Friday in Bloomington, 50 miles east of Los Angeles.
Visitors who want to see the train close up should hop a shuttle at Kessler Park (18401 Jurupa Ave.) in the neighborhood near Rialto. The event is open to all on a first-come, first-served basis. Also, crew members will also be selling Big Boy souvenirs.
Two can travel for the price of one on trips from L.A. to Seattle or New Orleans
The locomotive is in town as part of a three-part tour called "The Great Race Across the Southwest," which left Cheyenne, Wyo., on Sept. 27 and arrived Wednesday. Along the way, the train passed through Yermo, Barstow and Victorville and descended through the Cajon Pass into the Los Angeles Basin.
Tickets are no longer on sale for local train trips scheduled as part of the Great Race. Only ticketed passengers will be able to ride Saturday, when Big Boy will pull train cars from Colton to Barstow; and on Sunday when it makes the return trip.
Passengers had the option of choosing from four seating classes: streamliner, premier, first and executive. Rides cost $350 for a one-way ticket. Passengers riding in executive class reserved an eight-seat private business car at the end of the train at a price tag of $15,000.
No. 4014 is one of the 25 Big Boys built in 1941 exclusively for Union Pacific. Only eight survived, and were on display in various museums around the country.
Big Boy 4014 served for 18 years, then became an iron horse show pony at the L.A. County Fairgrounds. It spent five years being restored and was christened in May in Cheyenne, Wyo.
The restoration of Big Boy has brought a part of American rail history to life, said Peter Hansen, editor of Railroad History, a semi-annual publication.
"Stuck in a museum, it was lifeless," Hansen said. "It's exciting to see the steam puffing and the whistling; it makes Big Boy look dramatic and alive."
Once again full of life, Big Boy completed its inaugural tour to Ogden, Utah, for the 150th anniversary celebration of the driving of the golden spike that created the Transcontinental Railroad.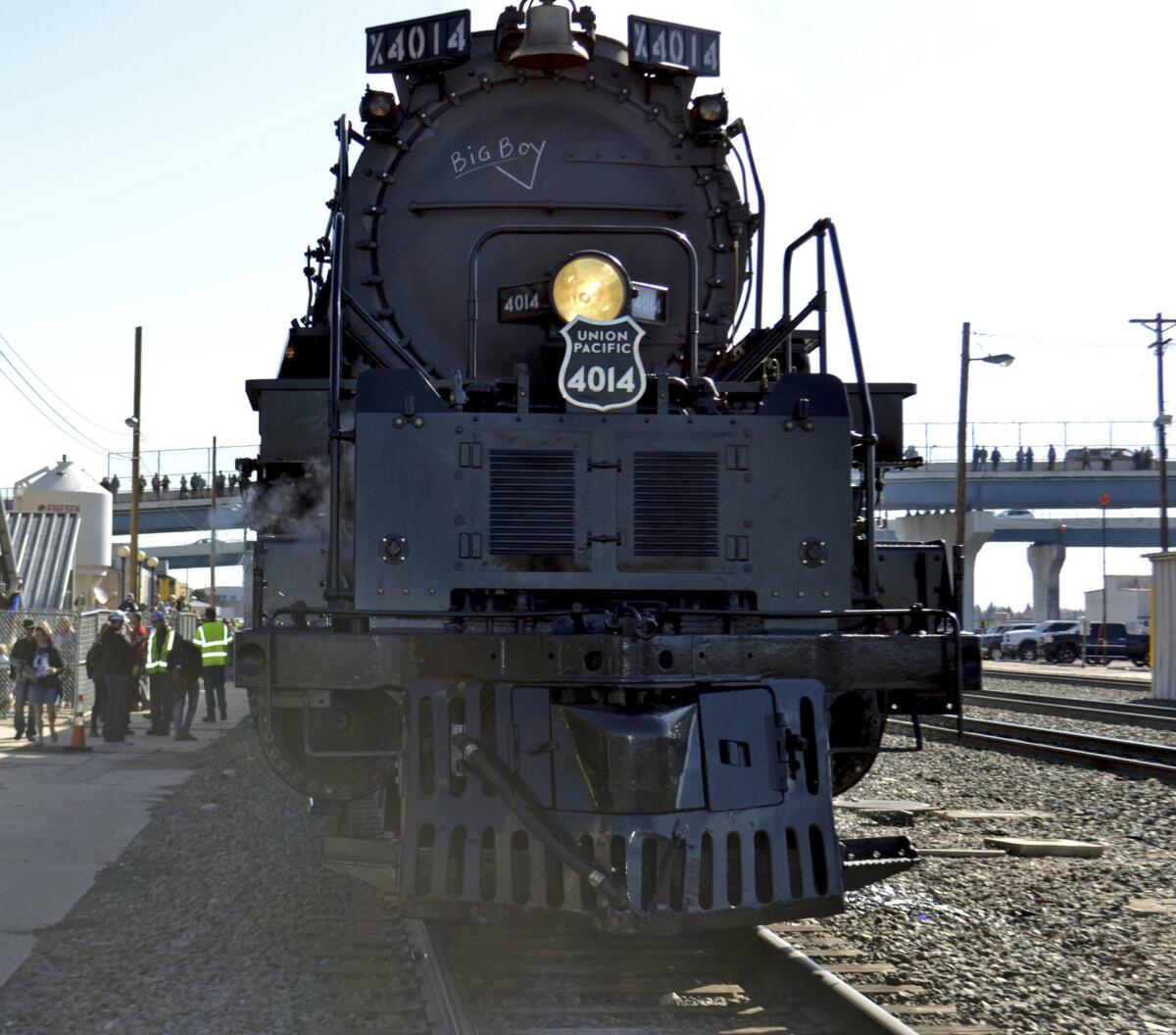 As soon as the Big Boy pulls up at stations, crowds gather to witness the locomotive puff and whistle as it comes to a stop, said Paul Guercio, vice chairman of Railway & Locomotive Southern California Chapter and member of the on-board crew.
Get our L.A. Goes Out newsletter, with the week's best events, to help you explore and experience our city.
You may occasionally receive promotional content from the Los Angeles Times.