Compact vertical coasters take thrills to new heights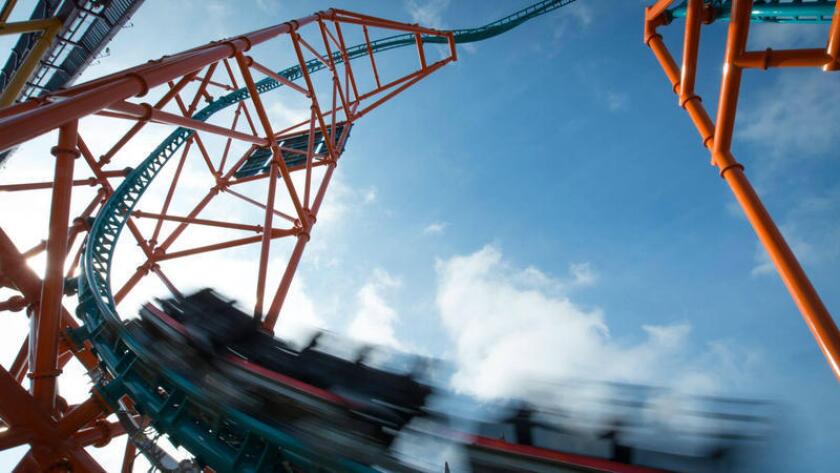 A new class of extremely compact and vertically oriented roller coasters popping up at theme parks around the world are packing lots of thrills into tight spaces.
The vertical rides do away with the traditional lift hill and stack the track perpendicularly rather than letting the course meander horizontally as roller coasters have done for more than a century.
The compact footprints allow amusement parks to squeeze a thrilling coaster into a space usually occupied by a smaller ride like a sedate carousel or leisurely Ferris Wheel.
These rides also share one common drawback: low capacity. Slower load times and longer waits make the vertical coasters better suited for smaller parks.
The new GaleForce, coming this summer to Playland's Castaway Cove amusement park in New Jersey, is the latest addition to a growing catalog of vertical coasters that include the Premier Rides Sky Rocket, Intamin ZacSpin, S&S Free Spin and Maurer SkyLoop.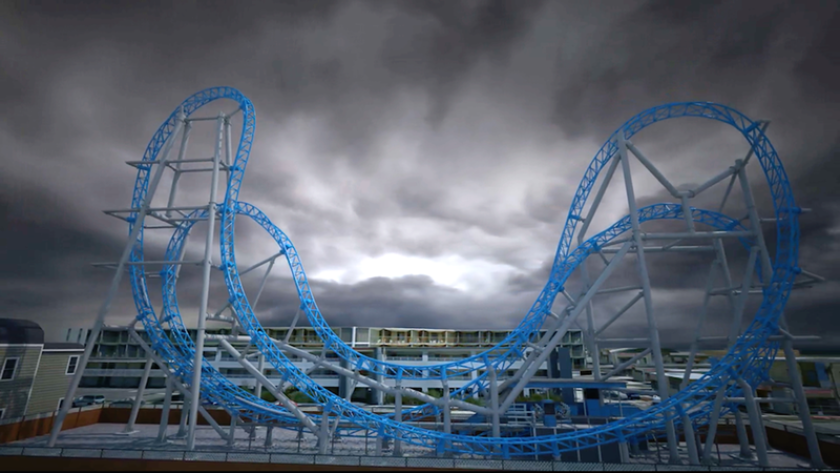 Triple-launch El Loco
The 125-foot-tall GaleForce will be the world's first launched El Loco coaster by Utah-based S&S Worldwide. The twisting and turning trip begins with a forward-backward-forward 65 mph electromagnetic launch that sends riders over a top hat element and through a series of corkscrews.
The relatively short ride time (1 minute) and single train (12 passengers) makes GaleForce a perfect fit for a small waterfront park on the Jersey Shore.
The new triple-launch version of El Loco is more vertical and compact than the original El Loco that debuted in 2008 at Indiana Beach with a traditional lift hill and a horizontal layout.
Sky Rocket II
The Sky Rocket II by Maryland-based Premier Rides may be small but it delivers a big punch. The first Sky Rocket went into Vallejo's Six Flags Discovery Kingdom in 2012. Since then, the vertical coasters have shown up in Mexico, China, Germany and Virginia, and will soon debut at Connecticut's Lake Compounce.
Like other Sky Rockets, Tempesto at Virginia's Busch Gardens Williamsburg sits on a compact footprint squeezed between an ice cream stand and a video arcade on a spot previously occupied by a water balloon game.
The Sky Rocket's relatively short ride starts with a forward-backward-forward launch that whips through vertical twists and loops as well as a towering 154-foot-tall barrel roll that ranks as one of the world's tallest inversions.
As you might expect, Sky Rocket suffers from capacity issues that can lead to lengthy wait times. With a single 18-seat train and tight seating rows that add to load times, Sky Rocket can theoretically handle only a few hundred passengers per hour.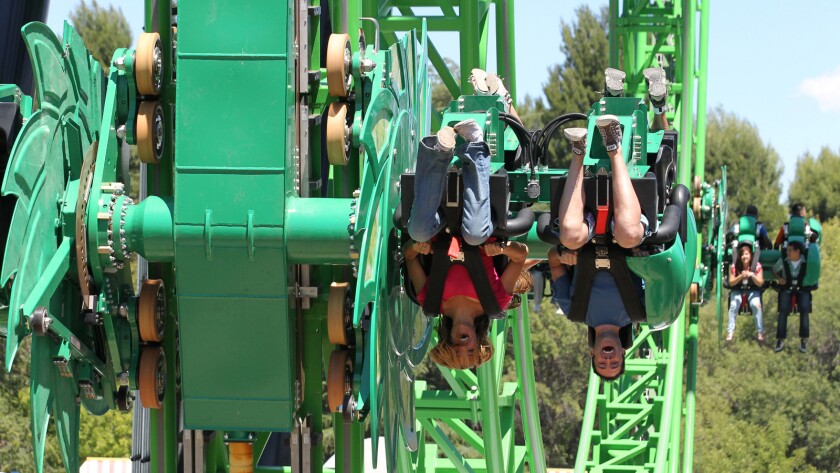 ZacSpin
The first Intamin ZacSpins appeared in 2007 at theme parks in Finland (Linnanmaki) and Spain (Terra Mitica) before a larger model popped up at Sweden's Grona Lund in 2009. The ZacSpin made its stateside debut in 2011 as Green Lantern: First Flight at Six Flags Magic Mountain.
Built vertically on a tight footprint, the ZacSpin fourth-dimension ball coaster features an 825-foot-long vertical zigzag track with cars that rotate forward and backward.
Upon boarding a train that straddles the track, eight riders per car face in two directions, forward and backward. A chain lift carries each car up an inverted curved section to a height of 107 feet. From there, the suspended trains rock back and forth on the straight-aways and rotate head over heels as the cars plunge over freefall drops.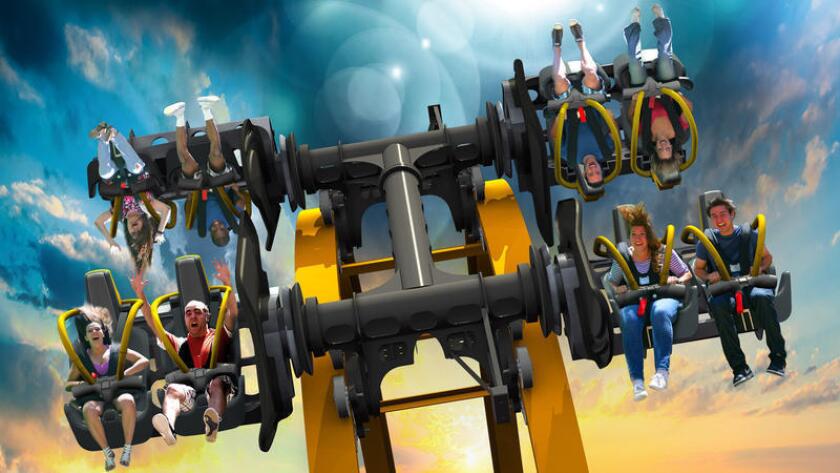 Free Spin
Free Spin is S&S' answer to Swiss-based Intamin's ZacSpin. Both rides feature a vertical track layout on a compact footprint with seats that spin forward and backward over a zigzagging track with undulating straightaways and free-fall drops.
Free Spin reaches a top speed of 40 mph over a 1,000-foot-long track that snakes back and forth like a demonic pachinko game.
After ascending a 120-foot-tall vertical lift, riders undulate over two hills while flipping forward twice before diving over a beyond-vertical raven drop. Following a reverse flip, riders spin backward while falling over another beyond-vertical raven drop before executing a final forward flip.
The first Free Spin debuted in 2015 at Six Flags Fiesta Texas as Batman: The Ride. A similar version dubbed the Joker opens this summer at New Jersey's Six Flags Great Adventure.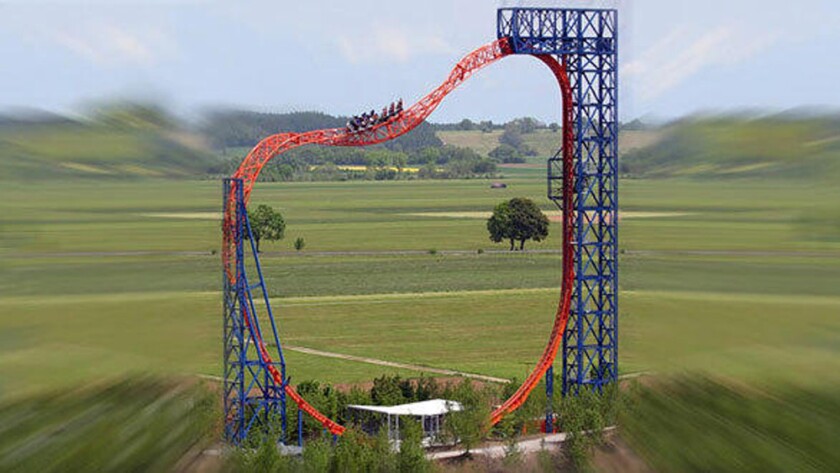 SkyLoop

The Maurer SkyLoop is the forebear to the latest generation of compact vertical coasters.
Squeezed between a pair of support towers, the ingenious yet simple German-based coaster features a vertical loop with a 152-foot-tall corkscrew inversion.
Since 2004, the SkyLoop has shown up at parks in Germany, Spain, Finland, Australia and China. The only stateside version is the X Coaster at Magic Springs and Crystal Falls in Arkansas.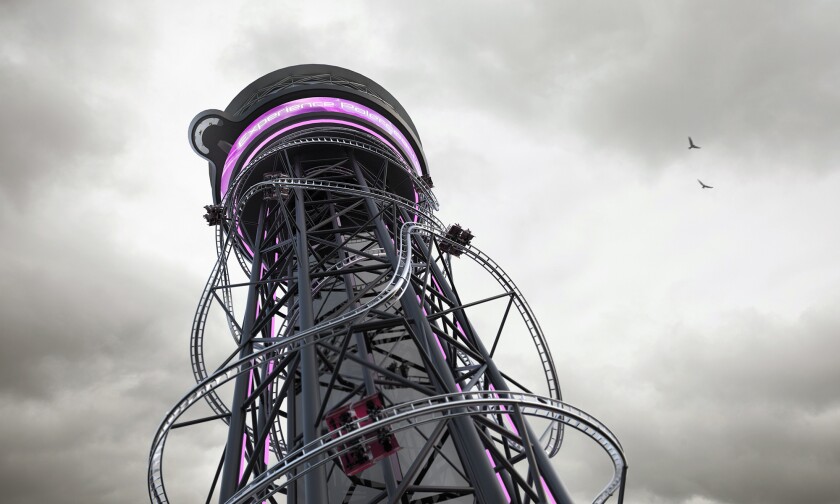 Polercoaster
The next generation of compact vertical coasters will stretch more than 70 stories into the sky and smash height records.
U.S. Thrill Rides is teaming up with Intamin on a prototype Polercoaster that combines a drop tower with a coaster track wrapping around the exterior of a 700-foot-tall tower.
Billed as the tallest roller coasters in the world, Polercoasters are expected to open this year or next in six U.S. cities -- Orlando, Atlanta, Atlantic City, New York, Las Vegas and Nashville.
MORE
32 best new theme park additions of 2016
8 unanswered questions about Disneyland's 'Star Wars' land
Disneyland 2055: What the future may hold for the original Disney park
Hey, Harry Potter fans, here's an exclusive sneak peek at Universal's Wizarding World
Everything you need to know about Shanghai Disneyland
21 creepiest abandoned amusement parks
> Sign-up for our weekly In the Loop theme park newsletter
> Follow the Los Angeles Times Funland theme park blog on Twitter, Facebook, Google+ and Instagram
---
Get inspired to get away.
Explore California, the West and beyond with the weekly Escapes newsletter.
You may occasionally receive promotional content from the Los Angeles Times.