Virtual reality coasters to take theme parks by storm this summer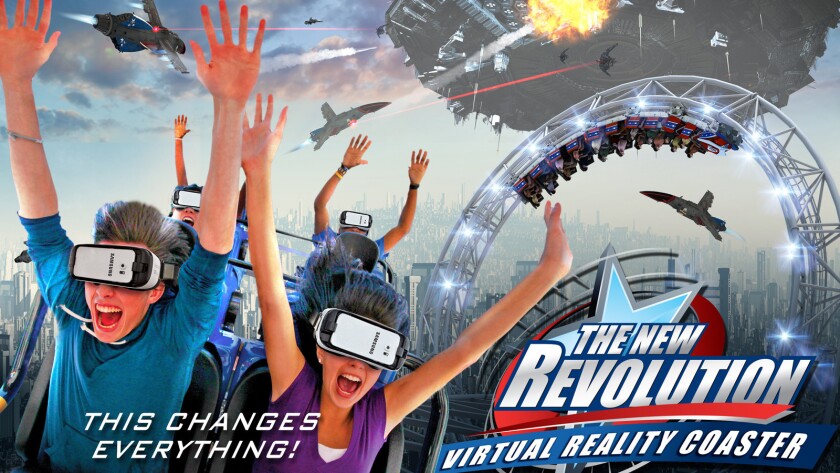 Two-dozen virtual reality roller coasters are set to debut this summer as theme parks around the globe prepare to take riders on a physical journey through a digital universe.
Theme parks across North America, Europe and Asia will equip coasters with VR headsets that will put riders on the back of a fire-breathing dragon, in the cockpit of a fighter jet and aboard a rocket ship headed for outer space.
Six Flags became the latest player to join the virtual reality frenzy with plans to add VR headsets this summer to nine aging coasters.
Three Superman-themed coasters -- at Six Flags New England in Massachusetts, Six Flags America in Maryland and Six Flags Fiesta Texas -- will let riders fly alongside the caped crusader as he battles Lex Luthor in the 360-degree comic book world of Metropolis. Using an anti-gravity gun, the supervillain will create chaos throughout the city as coaster riders zip past cars, taxis and buses floating in mid-air.
Six Flags Magic Mountain in Valencia will be among six parks that transform existing coasters into virtual reality experiences where riders are thrust into a futuristic battle to save the planet from an alien invasion. The 1976 Revolution, the world's first modern vertical looping coaster, will become the New Revolution with the addition of the VR overlay. On the lift hill portion of the coaster, riders can fire virtual weapons from their jet fighters using a button on the side of the VR headset. Sneak peek "technical rehearsals" on the New Revolution coaster are set to begin March 26 for Magic Mountain season passholders.
Five other coasters will add the alien invasion VR story line: Shockwave at Six Flags Over Texas, Dare Devil Dive at Six Flags Over Georgia, Ninja at Six Flags Over St. Louis, Steamin' Demon at New York's Great Escape and Goliath at Canada's La Ronde.
The VR experience synchronizes with the motion of the coaster to fully immerse riders in a virtual world of nonstop action. The trick is syncing the steep drops, airtime hills and G-forces of the ride with the visuals in the VR headsets so that coaster riders don't experience motion sickness.
Cedar Fair expects to add VR headsets to at least two coasters this summer, with plans to expand the technology to other locations if the attractions prove popular.
Canada's Wonderland amusement park outside Toronto will add VR headsets to the Thunder Run roller coaster for an up-charge fee after testing the devices on the ride during the off-season.
Thunder Run riders wearing VR headsets will fly on the back of a fire-breathing dragon above a medieval village and experience an imaginary corkscrew element on the inversionless mine train coaster.
Virtual reality headsets will likely be added to another coaster at one of the 11 locations in the Cedar Fair amusement park chain. Cedar Fair plans to use VR to boost ridership on coasters that aren't running at full capacity.
The Galactica virtual reality experience coming to the United Kingdom's Alton Towers combines the adrenaline rush of a flying roller coaster with the breathtaking viewpoint of a rocket ship hurtling through outer space.
Set to debut in April, the VR coaster experience will take riders on an intergalactic journey aboard the existing Air flying coaster.
Universal Studios Japan has transformed the Space Fantasy spinning indoor coaster into a VR experience starring Japanese fashion model and singer Kyary Pamyu Pamyu. The new attraction combines Japanese anime, manga and pop culture with the singer's music.
Germany-based Mack Rides expects to add VR headsets to nine coasters this year and is working with several intellectual property holders on branded VR ride experiences, according to Attractions Management magazine. A Sonic the Hedgehog VR is in the works for an as-yet-unannounced theme park, the magazine reports.
Mack Rides has already conducted tests with VR headsets on the Blue Fire and Pegasus coasters at Germany's Europa Park, which serves as a proving ground for the ride maker. VR headsets were recently added to the AlpenExpress coaster at Europa Park.
Other manufacturers are working on VR dark rides, flat rides and 3-D theaters. There are even VR haunted mazes in development that will allow operators to adjust each individual experience from extremely gory to family-friendly.
A new "mind-bending" thrill ride coming to the U.K.'s Thorpe Park combines virtual reality with magic illusions, 4-D video, CGI footage, live action and special effects.
Set to debut May 6, the Ghost Train virtual-reality dark ride will take visitors on a 13-minute journey with 12 different story lines and two possible endings.
MORE
32 best new theme park additions of 2016
8 unanswered questions about Disneyland's Star Wars Land
Disneyland 2055: What the future may hold for the original Disney park
Hey, Harry Potter fans, here's an exclusive sneak peek at Universal's Wizarding World
Everything you need to know about Shanghai Disneyland
21 creepiest abandoned amusement parks
> Sign-up for our weekly In the Loop theme park newsletter
> Follow the Los Angeles Times Funland theme park blog on Twitter, Facebook, Google+ and Instagram
---
Get inspired to get away.
Explore California, the West and beyond with the weekly Escapes newsletter.
You may occasionally receive promotional content from the Los Angeles Times.