From the Archives: Boulder enters Malibu garage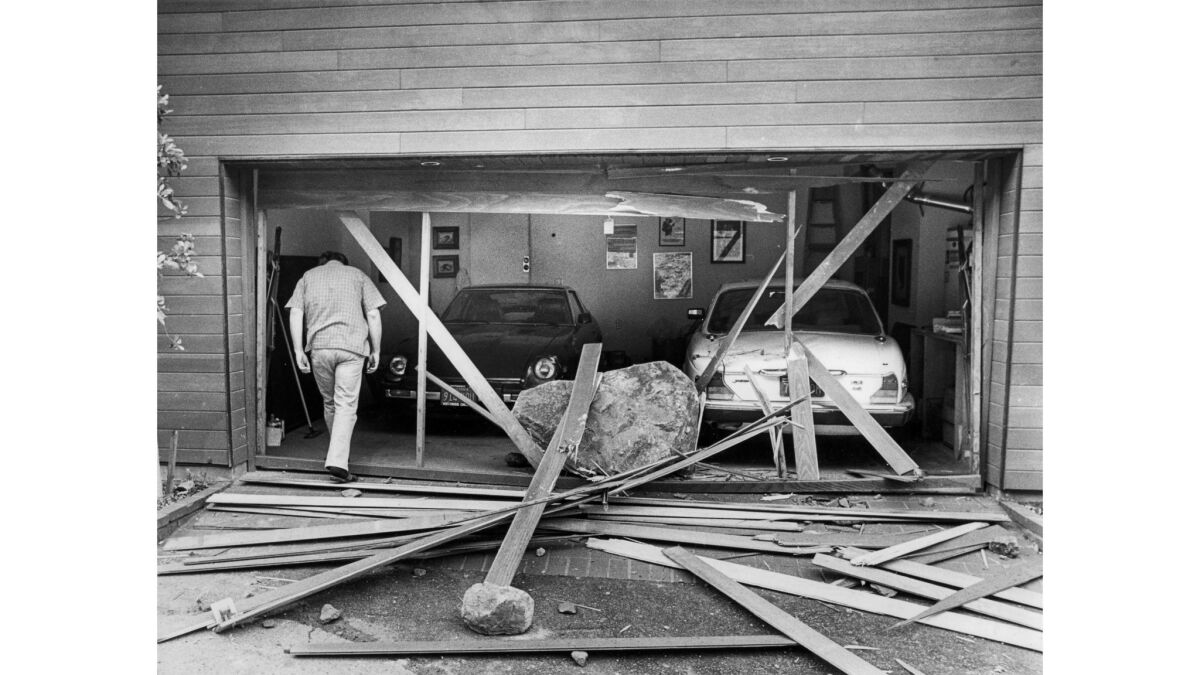 An early morning rock slide had again closed Pacific Coast Highway in Malibu. Awakened by the noise, Robert Teller found a large boulder in his garage.
Staff writers Jack Jones and Carol McGraw explained in the March 25, 1983, Los Angeles Times:
Tons of boulders and mud, loosed by the constant rains, spilled from the Malibu area cliffs early Thursday to force closure of Pacific Coast Highway for several miles and leave uncertain the immediate future of the vital route.
At least two early morning slides choked off the highway for seven miles between Topanga Canyon Drive and Malibu Canyon, also closing another stretch as far as Cross Creek Road to all but area residents.
Caltrans crews finally were able – despite continuing cliff crumbling and a constantly changing situation – to get at least one lane open in each direction by Thursday evening. …
The first slide began about 1 a.m., 300 yards south of Big Rock in the Topanga Canyon area, after an inch of new rain made the beachfront cliffs soggy. Mud and rocks spilled down in earnest shortly after 6 a.m., creating the worst situation there in several years.
That was just 20 yards from the site of the dislodging of a 116-ton rock in 1979, which forced closure for two days. That highway stretch was shut down tor three weeks that same year by a subsequent rock slide.
Thursday's slide consisted mostly of boulders, some weighing several tons. No injuries were reported, but several garages attached to beachfront homes were damaged by rocks.
One boulder crashed through a garage door on [the 19700 block of] Pacific Coast Highway, where Robert Tellier, a free-lance technical writer, estimated that his 1980 Jaguar and 1982 Datsun Z car sustained several thousand dollars' worth of damage.
He said that at about 6:30 a.m. he heard a noise that sounded like the road being graded and looked out to see the hillside pouring down with boulders bouncing on the pavement.
"It's a helpless feeling," he said. …
These two photos appeared in the March 25, 1983, Los Angeles Times.
For more From the Archives content click here.
---