Dramatic photos show devastation from wildfires in Southern California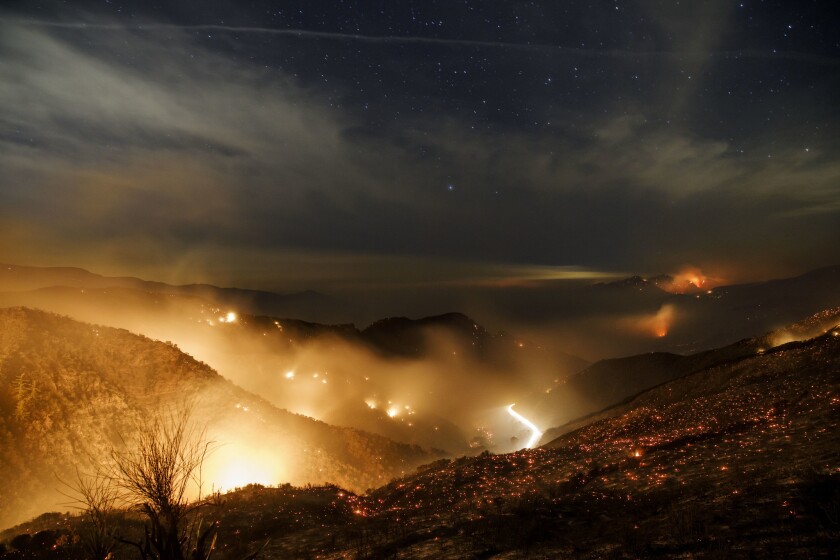 They all have had one thing in common — fierce dry winds from the interior that quickly turn a fire into an inferno.
More than drought or heat, winds can determine whether California burns or doesn't.
October's devastating Northern California wildfires exploded on a night when Diablo winds raged across eight counties. The fire siege claimed 44 lives and incinerated 8,900 buildings. More than 5,600 of them burned in the Tubbs fire.
The Thomas fire in Southern California started in a known wind corridor on the first day of dry Santa Ana winds. What's more, it had been eight months since a significant rainfall soaked the chaparral hillsides.
It's too dangerous to fly retardant- or water-dropping aircraft in high winds, which are also likely to blow any such drops off-target.
Indeed, when the winds are in full force, firefighters don't even try. They concentrate on defending structures and people.
A firefighter battles the Thomas fire in the town of La Conchita.
Smoke blows out of burning palm trees as a brush fire threatens homes in Ventura.
John Bain and Brandon Baker take cover from embers as they try to help stop the Thomas fire from burning a home.
Residents react as the Thomas fire burns in the hills above La Conchita.
A firefighter monitors the fire hazard in the Los Padres National Forest near Ojai.
A family prepares to evacuate as the Thomas fire approaches their home in Ventura.
A firefighter turns away from the heat as flames explode through the front windows of a home burning in the Lilac fire at Rancho Monserate Country Club in Pala Mesa.
Ventura County firefighter Aaron Cohen rests while battling the Thomas fire.
A home burns on a hillside overlooking Ventura.
A huge pyrocumulus cloud of smoke rises to the north of downtown Ventura as the Thomas fire threatens Carpenteria and Montecito.
Olivia Jacobson, 16, wipes away tears, as she looks at her family's home, destroyed by a brush fire on Island View Drive in Ventura.
Emma Jacobson, 19, center, gets a hug from a neighbor after her family's home in Ventura was destroyed by the Thomas fire.
Eva Smathers cries as the Thomas fire approaches the town of La Conchita.
A chimney is all that stands after the Thomas fire burned down a home in Ventura.
A Contra Costa County firefighter breaks down a wall while fighting a blaze in a home along Highway 29 north of Calistoga.
The Tubbs fire is responsible for a scene of devastation in the Coffey Park neighborhood in Santa Rosa.
A burned-out bus stands abandoned after the Thomas fire swept through residential neighborhoods along Maricopa Highway near Ojai.
A swimming pool remains after the Tubbs fire swept through the Coffey Park neighborhood in Santa Rosa.
Firefighters work on removing fuel as they battle the Calgary fire along Evans Road in Wofford Heights.
Jeff Lipscomb assures daughter Rachel, 11, that everything will be OK as they survey the wreckage of their home, destroyed in the Thomas fire.
From left, Georgia Crowley, 14; Grace Combs, 15; Muriel Rowley, 15; Olivia Jacobson, 16; Emma Jacobson, 19; Anna Niebergall, 20; and Sally Niebergall, 16, survey what's left of the Jacobson home after it was engulfed by the Thomas fire.
Casey Rodriquez helps a friend move belongings after the Thomas fire destroyed most of an apartment.
A home on Park Hill Lane in Montecito is in ruins after the Thomas fire.
Arnulfo Basabe weeps after discovering that his mobile home is still standing in a neighborhood that was mostly destroyed by the Thomas fire.
Destruction from the Thomas fire can be seen through a window in Ventura.
---