From the Archives: In 1949, Angelenos get a rare taste of snow at home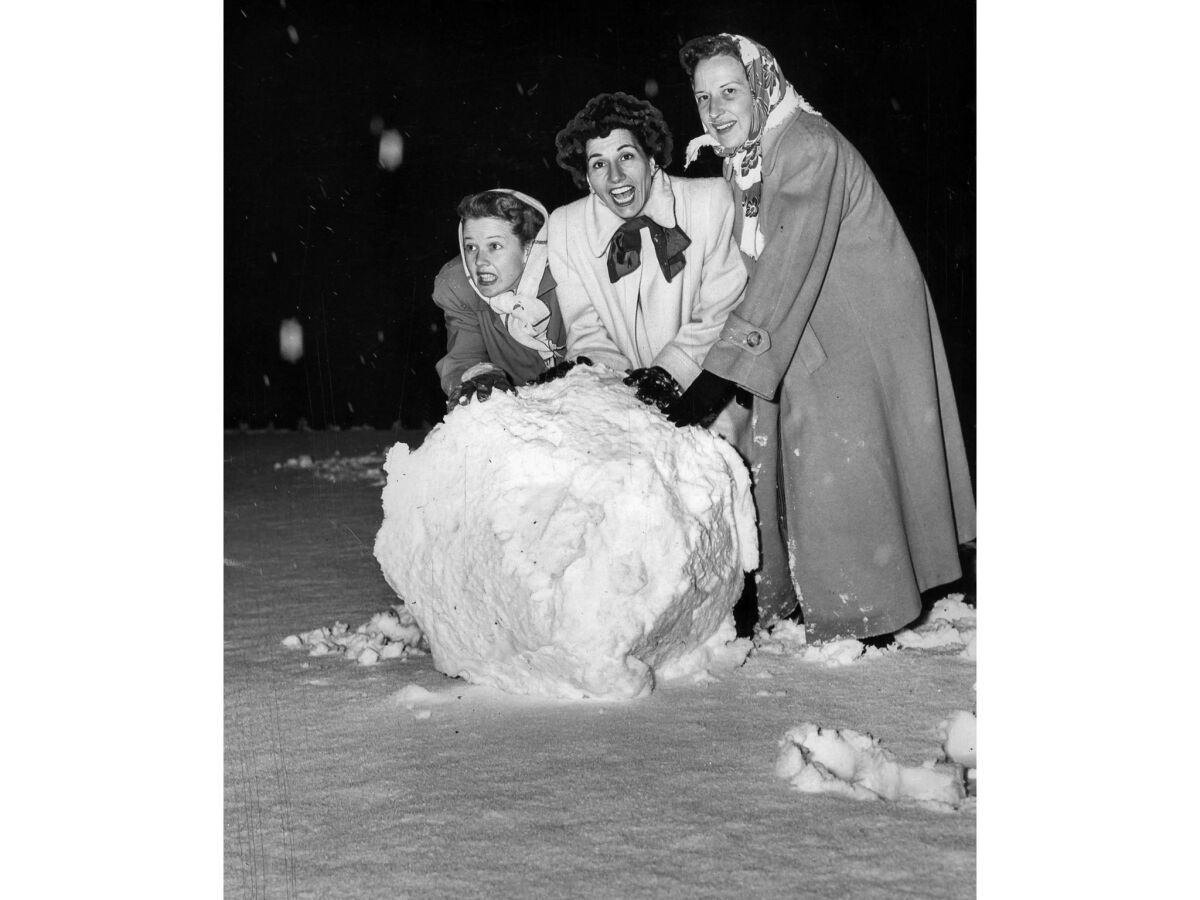 For four consecutive days in 1949, snow fell in Los Angeles. From Jan. 9 through Jan. 12, much of Southern California received measurable snowfall.
In 1999, on the 50th anniversary of the 1949 snowfall, Los Angeles Times columnist Cecilia Rasmussen wrote:
On Jan. 10, 1949, in the middle of the worst housing shortage in Los Angeles history, more than half an inch of snow covered the Civic Center. The San Fernando Valley was pelted with the unfamiliar white stuff for three days, accumulating almost a foot. The Rose Bowl was transformed into "a dishpan full of milk," by one account. An Alhambra hardware store put up a sign that said, "Snow Plows for Rent — Hurry!" A snowman appeared in Eagle Rock, wearing a sombrero, and the city of Reno, Nev., sent L.A. a snow shovel.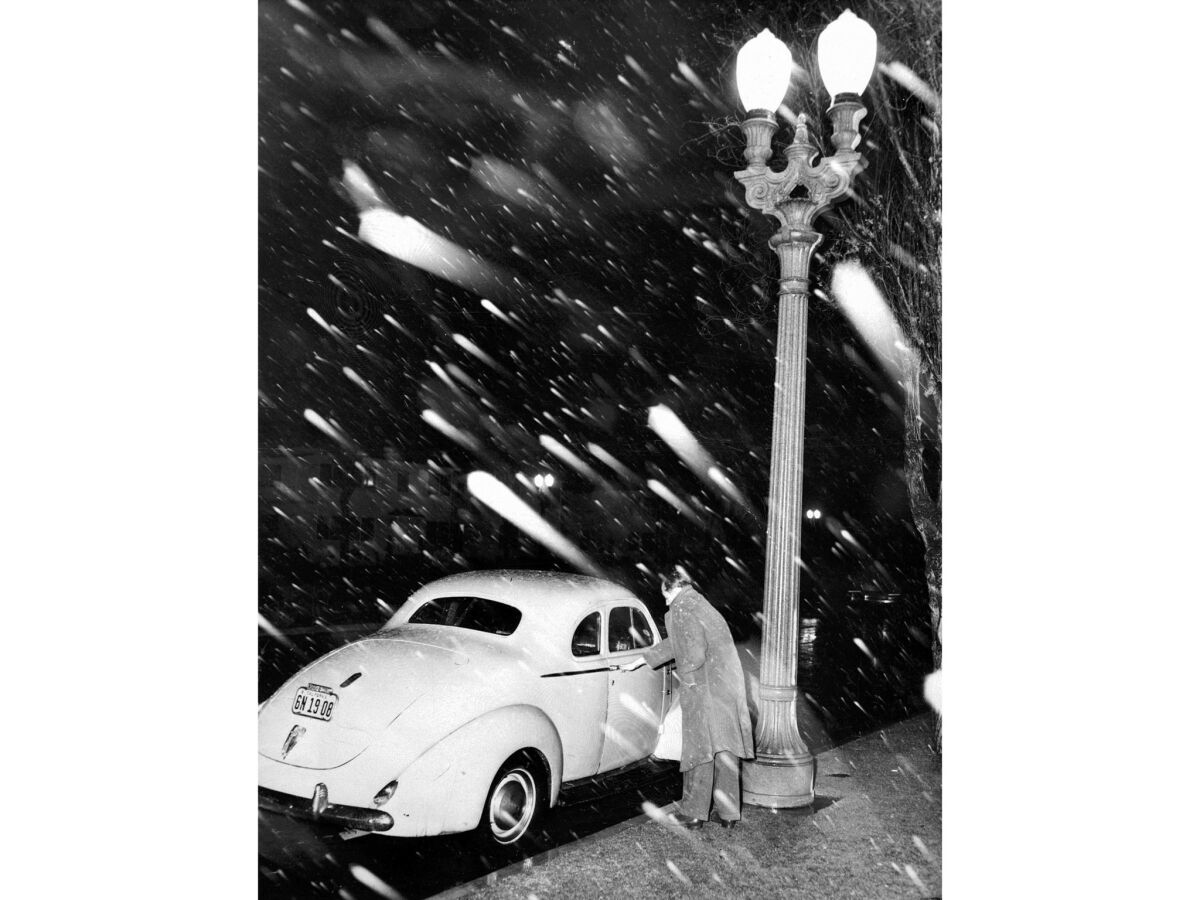 In a semitropical climate where January sometimes feels like June, palm-lined boulevards were transformed into winter wonderlands. Altadena residents turned their evergreen-lined Christmas Tree Lane on snow-swaddled Santa Rosa Avenue into a miniature ski run, and golfers swapped nine irons for snow skis.
Other fun-seekers toted sleds, inner tubes — almost every imaginable means of transport on a coat of snow that fell soft as confectioner's sugar as far away as Catalina.
Angelenos were forced to exchange their shorts and coconut oil for bulky jackets and gloves as flatland suburbanites scraped ice off windshields and downtown workers cursed the city's hilly terrain.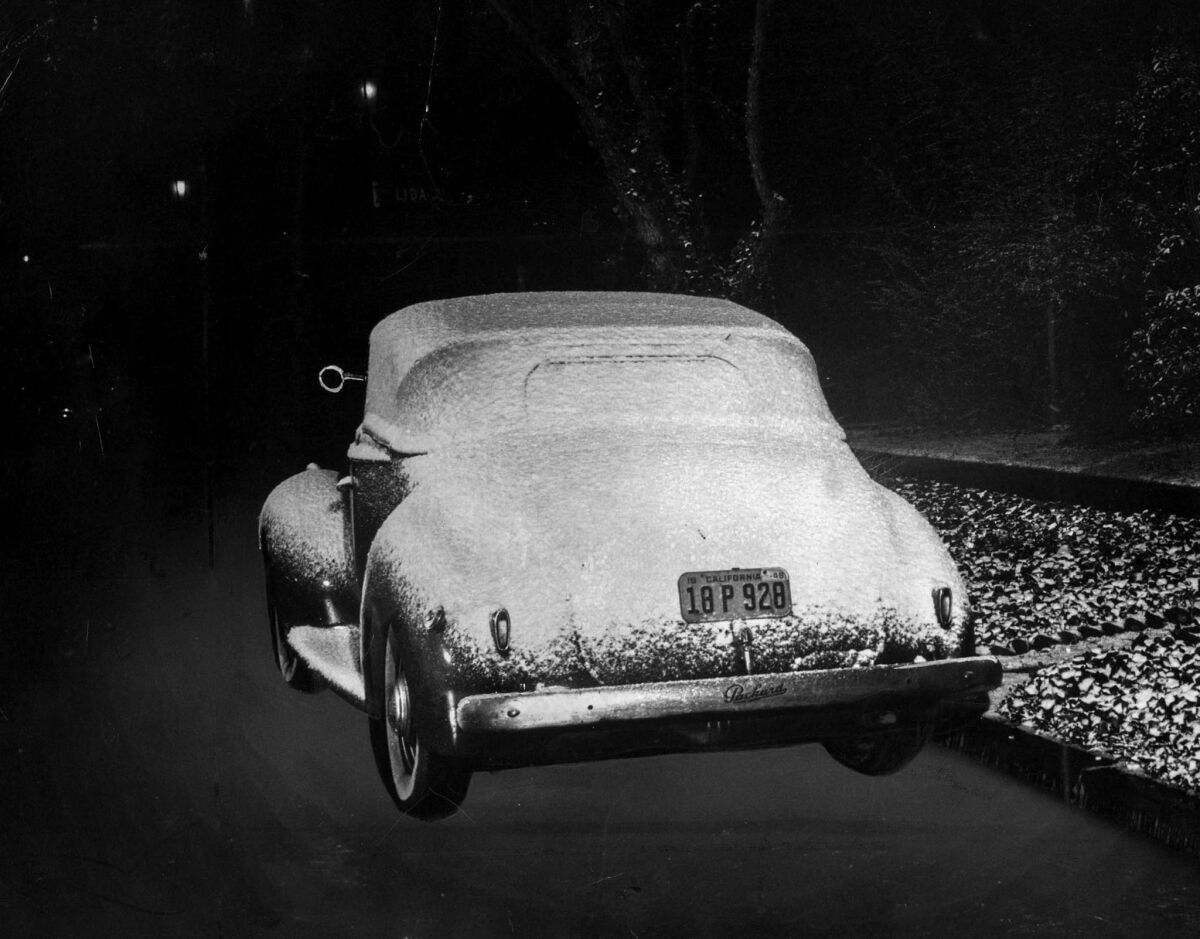 The rare snowfall produced wondrous vistas and unexpected difficulties, as some motorists besieged with frozen radiators were trapped in their cars in Laurel Canyon for several hours. Farther north, the engine of crooner Bing Crosby's green Cadillac froze near Castroville, where a kind motorist gave him a lift into town.
Snowball fights were fun and harmless, until three teenage boys began throwing snowballs at a streetcar stopped at Washington Boulevard and Hoover Street, breaking a window and injuring a woman passenger.
As with this winter's Central Valley freeze, the snow heaped havoc on Southern California's citrus growers, who fought day and night to keep their groves from freezing. When the mercury fell below 28, juicy oranges turned dry and tasteless. When temperatures dipped to 22 for three days in a row, growers fired up smudge pots.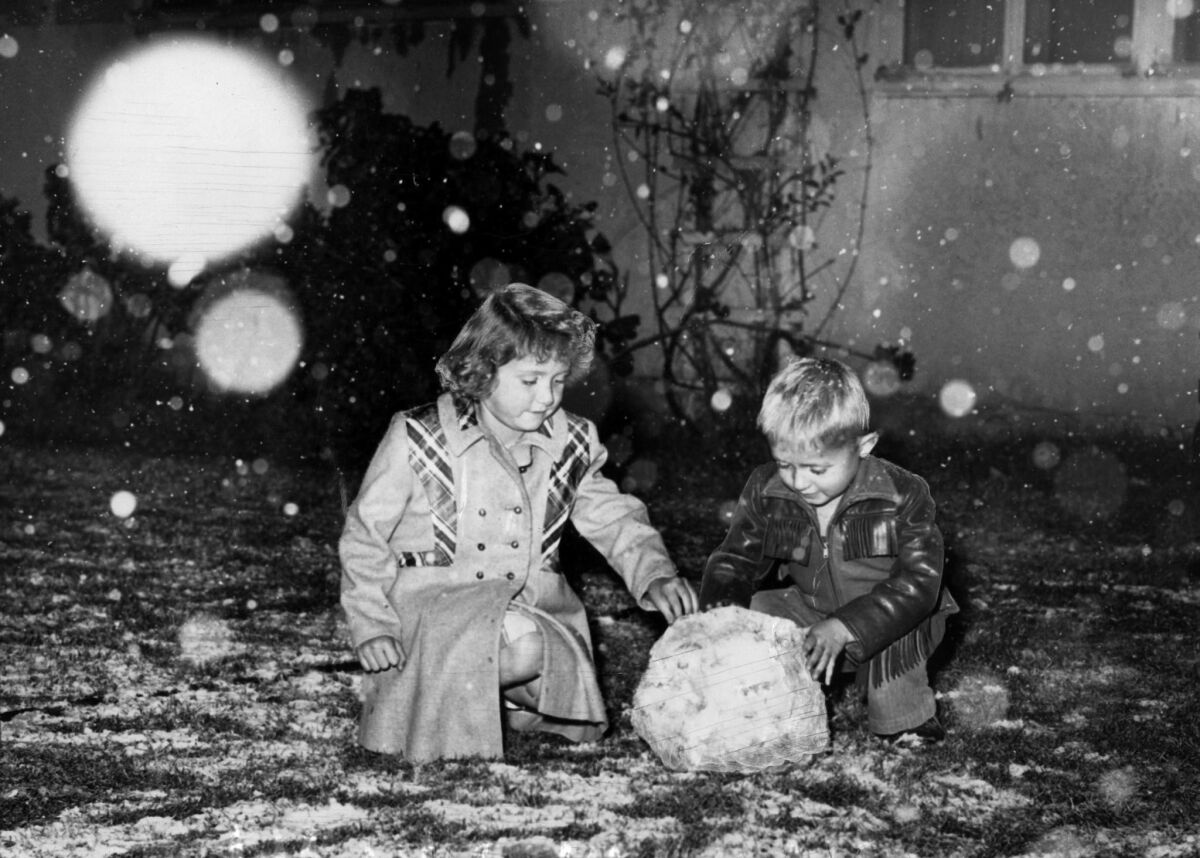 Jack Frost nipped at noses and snowflakes fell, while an advertising blimp tied down at Vail Field in Montebello was crushed when a three-quarter-inch crust of ice weighing 4,000 pounds formed atop the big balloon.
Weather-based promotional campaigns were temporarily put on hold in 1949, but barring the episodic arrivals of an annoying El Niño, they've been in full force ever since.
This photo gallery was originally published on Jan. 11, 2013.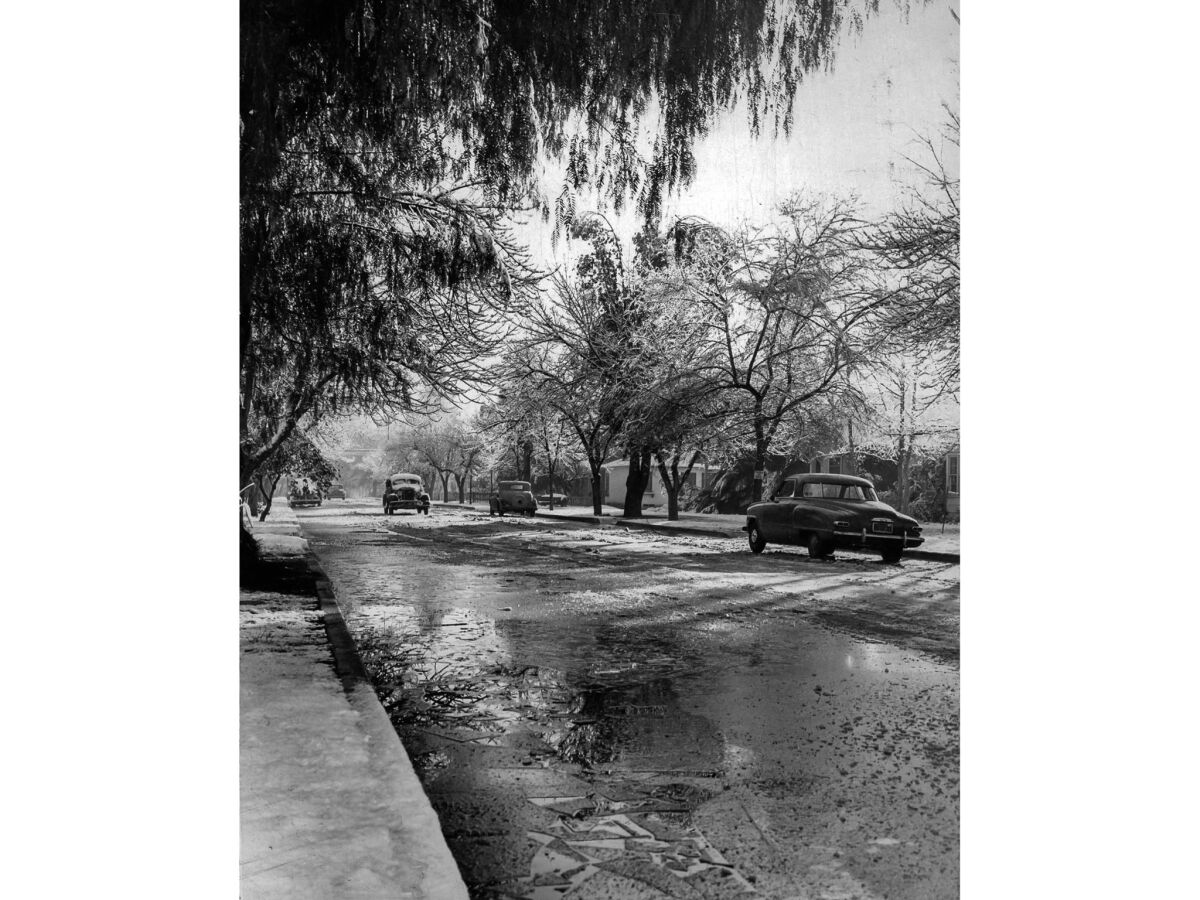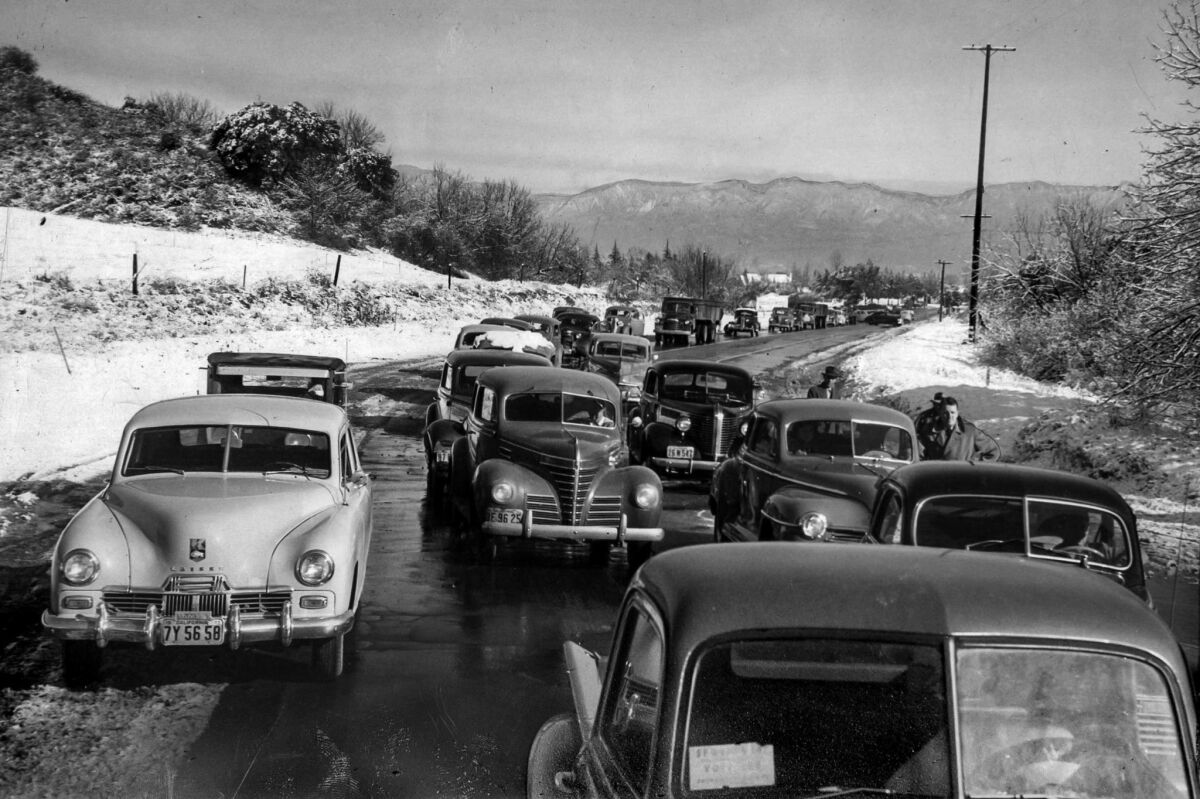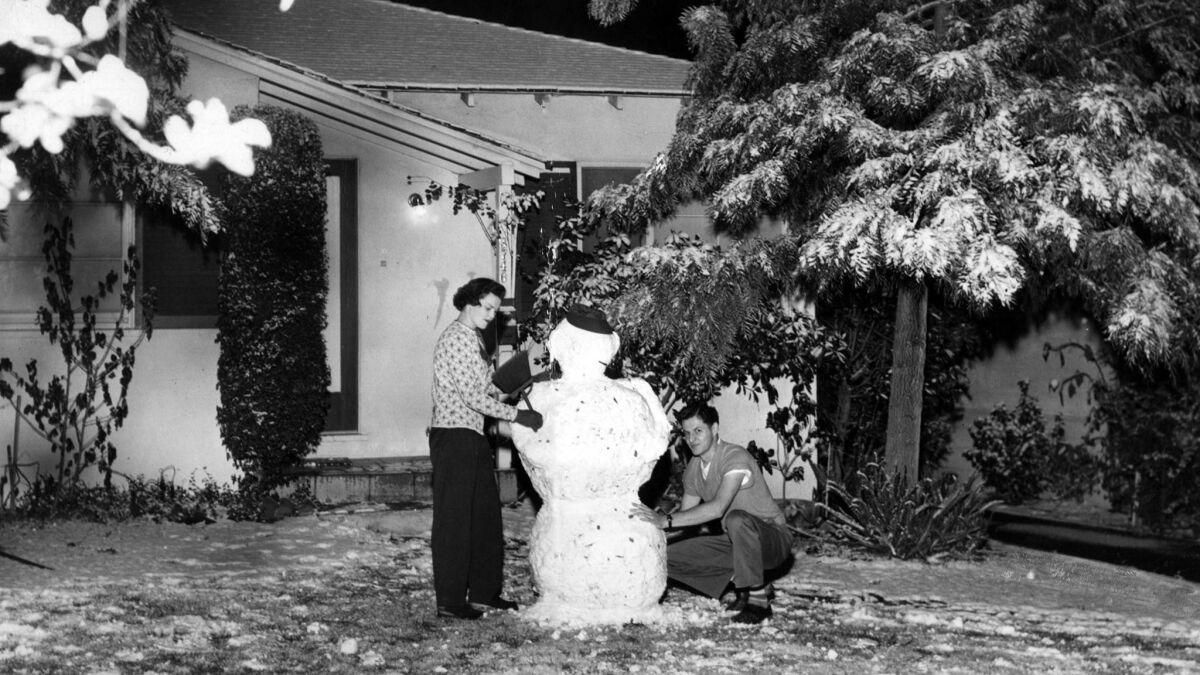 Get our L.A. Goes Out newsletter, with the week's best events, to help you explore and experience our city.
You may occasionally receive promotional content from the Los Angeles Times.