From the Archives: 1965 Dodgers fans listen to Vin Scully during Angels game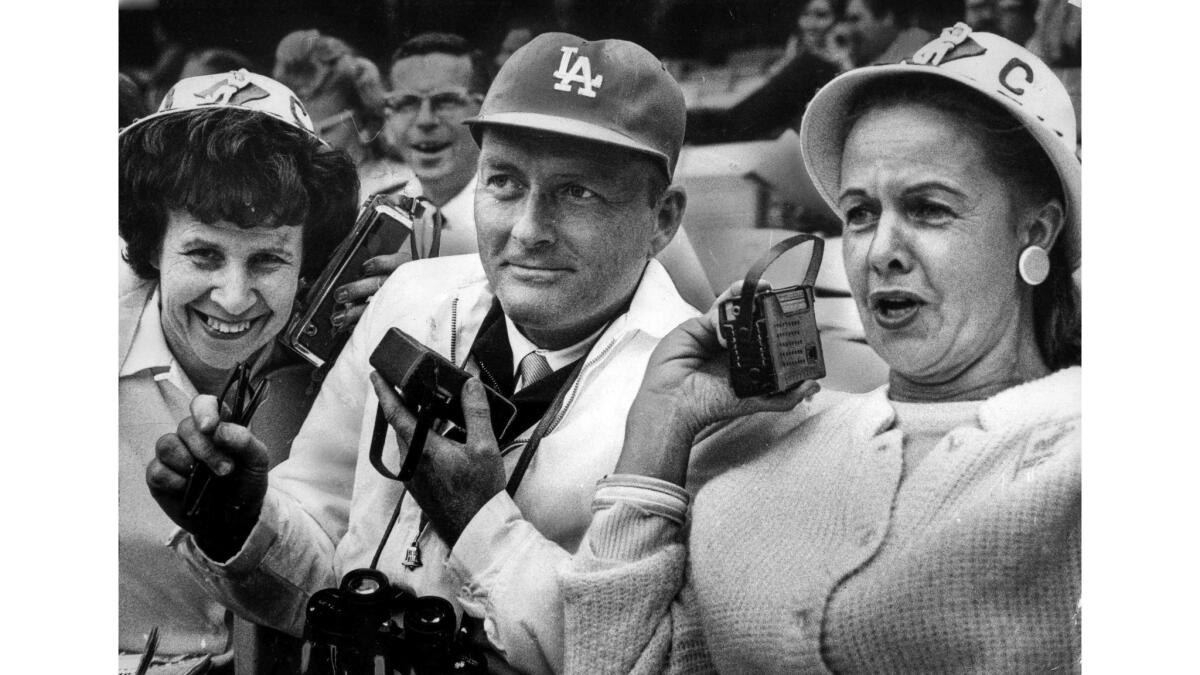 Members of the Dodgers Booster Club at Dodger Stadium listen to Vin Scully describe the Dodgers' 4-1 win over the Cardinals. Only problem — the Dodgers were playing in St. Louis.
These fans were rooting for former Dodgers playing for the Washington Senators during a double header against the Los Angeles Angels.
Staff writer John Hall reported in the June 3, 1965, Los Angeles Times:
It's still Dodger Stadium – even when the Angels are in town.
Big Frank Howard, Ken McMullen, Phil Ortega and the rest of the Dodger ex's now performing for Washington proved that fact rather embarrassingly here Wednesday night as they smashed out a twin-bill sweep over the Angels, 13-0 and 7-1.
Top noisemaker in the "homecoming party" was Frank the Tank, who ripped two homers and a double and drove in four runs in the first game romp that left Fred Newman (6-3) battered and bruised in his worst licking as an Angel.
But Howard wasn't the only giant. All the former National Leaguers had a ball – an American League ball, that is.
A crowd of 6,093 saw McMullen also belt at two-run homer in the first frame of the nightcap to get the Nats off and rolling over Aubrey Gatewood (0-2). ...
This photo by former staff photographer Cal Montney was published in the June 4, 1965, Los Angeles Times.
In 1966, the Angels moved to their own stadium in Anaheim.
This post was originally published on July 2, 2013.