From the Archives: Donald Duck's 50th anniversary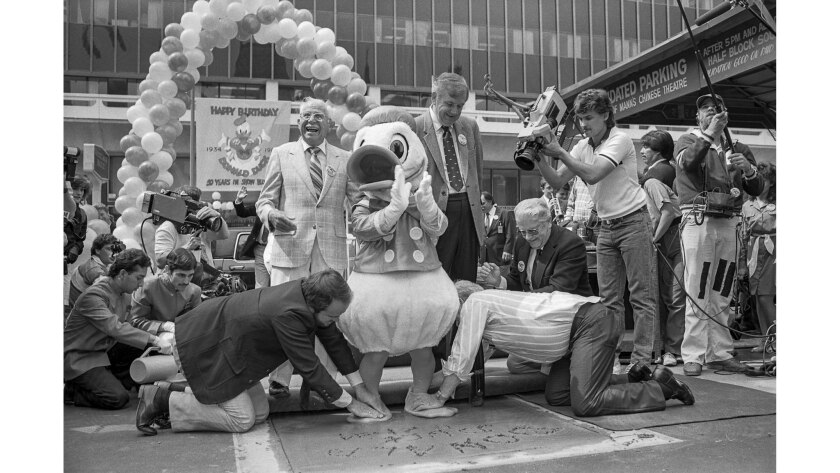 This photo by Times staff photographer Con Keyes was not published until June 9, 1984 – Donald Duck Day in Los Angeles. In a Los Angeles Times Calendar Section article, writer Charles Solomon reported:
Today is Donald Duck Day in Los Angeles: Mayor Tom Bradley has issued a proclamation honoring the 50th anniversary of Donald's first screen appearance. The mayoral recognition is just a small part of a yearlong celebration that may make Queen Elizabeth II's Silver Jubilee seem like a minor event.
Donald has already been saluted at the Academy Awards, the Kentucky Derby and the Indianapolis 500 Parade. His web prints were placed in the courtyard of Mann's Chinese Theatre in Hollywood last month. Later this year, Donald will be the subject of a four-week film festival in New York and the recipient of a star on Hollywood Boulevard. This fall the Motion Picture Academy will present an exhibit of Donald Duck animation art and CBS will air a one-hour special on his 50-year career.
"Donald is a character very much into one-upmanship," said Jack Lindquist, Disney executive vice president of marketing, "so we wanted him to have one-up on Mickey Mouse, whose 50th birthday was a national event."...
Although there was a reference to Donald Duck as one of Mickey's friends in a 1931 book, "The Adventures of Mickey Mouse," the character didn't appear on screen until 1934 in "The Wise Little Hen."...
Donald Duck's star on the Times Hollywood Star Walk database.
This post was originally published Feb. 29, 2012.
---